Potatoes
Homemade Potato Gnocchi: Rich flavour on a budget! Garlic roasted potato + cos lettuce salad with ricotta dressing. Given my heritage I was practically born with a leg of lamb in my hand.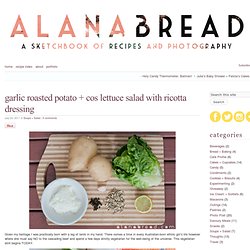 There comes a time in every Australian-born ethnic girl's life however where she must say NO to the cascading beef and spend a few days strictly vegetarian for the well-being of the universe. This vegetarian stint begins TODAY. Subtle hints of garlic embedded in soft potato beside fresh, crunchy cos and a citrusy creamy dressing; what you are about to experience is delicious, healthy and just… AAHHHHH. Roasted Fingerling Potatoes with Dipping Sauces: Inspiration at the market. For KSG, who is dying for pomme frites.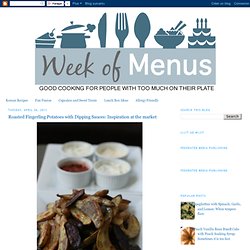 On free Saturdays that are not packed with activities, I like to take Son and Daughters to our local farmers market for some browsing and eating. Mostly I encourage Son and Daughters to taste the different seasonal fruits and to enjoy them in all of their glory. Daughter #1 is extremely adventurous and is willing to try (LOVES to try) all variety of samples, including baked goods and more unusual fare. Daughter #2 is far more cautious and wants to try things she recognizes, but only if I give it to her. Recipe: Accordion Potatoes. It has been brought to my attention that I have been writing a bit too much about chocolate.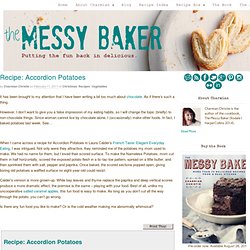 As if there's such a thing. However, I don't want to give you a false impression of my eating habits, so I will change the topic (briefly) to non-chocolate things. Since woman cannot live by chocolate alone, I (occasionally) make other foods. In fact, I baked potatoes last week. Un-Fried French Fries. Un-Fried French Friesadapted from In The Kitchen with Rosie5 large baking potatoes (about 2 3/4 pounds total)cooking spray2 large egg whites1 T Cajun seasoning Preheat oven to 400 degrees.Slice each potato length-wise into quarter-inch by quarter-inch fries (I have an attachment to my apple slicer that makes perfectly shaped fries).Line a rimmed baking sheet with parchment paper.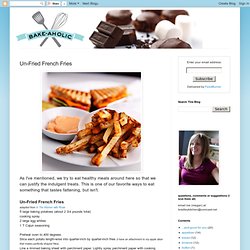 Lightly spray parchment paper with cooking spray.Combine egg whites and Cajuns seasoning in a bowl. Add the potato sticks and toss to coat. Pour the coated potatoes onto the prepared baking sheet and spread them out into a single layer (I always make too many, so they are overlapping quite a bit).Place the baking sheet on the bottom shelf of the oven. Bake for 40-45 minutes, until fries are crispy, turning them every 8-10 minutes with a spatula so they crisp evenly.Serve immediately.Being from Utah, we like to serve these with "fry sauce". Baked Taco Potato Chips: Guilt-Free Superbowl Snacking | The Family Kitchen.
By Babble Editors | 24 Crowd-Pleasing Recipes for the Big Game Cherry Chipotle Chicken Wings More on Babble About Babble Editors Babble Editors.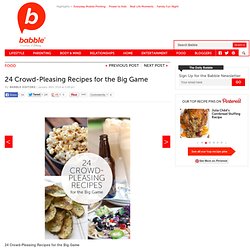 Crispy Oven-Baked Garlic Parmesan Fries | The Family Kitchen. By brooklynsupper | While it's available year round, when you start to see garlic scapes, green garlic, and young garlic arriving at the farmer's market, you know spring has arrived.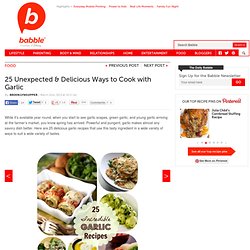 Powerful and pungent, garlic makes almost any savory dish better. Here are 25 delicious garlic recipes that use this tasty ingredient in a wide variety of ways to suit a wide variety of tastes. nggallery id='131282′ Potatoes Vesuvio. Parmesan Smashed Potatoes Recipe : Ina Garten. Garlic Mashed Potatoes Recipe. Method 1 Preheat the oven to 400°F.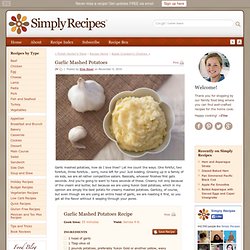 Remove the outer layer of papery skin of the whole garlic head, leaving the head itself intact. Smashed Parmesan Potatoes Recipe : Giada De Laurentiis. Garlic Mashed Potatoes Recipe : Paula Deen. Smoky Cheese Fries Recipe : Rachael Ray. Baked Potato Skins Recipe. Applebee's Garlic Mashed Potatoes Copycat) Recipe - Food.com - 101299. Fingerling Potatoes with Aioli Recipe : Ina Garten. Directions Rinse the potatoes and put them in a large saucepan.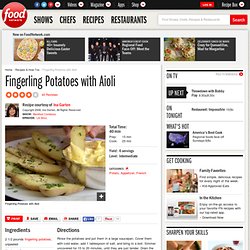 Cover them with cold water, add 1 tablespoon of salt, and bring to a boil. Simmer uncovered for 15 to 20 minutes, until they are just tender. Drain the potatoes in a colander and place a kitchen towel on top, allowing them to steam for 5 to 10 minutes. For the aioli, tear the slice of bread into pieces and place in a bowl. Hot Potato Chips with Blue Cheese Sauce Recipe : Bobby Flay. Herbed New Potatoes Recipe. Sour Cream Mashed Potatoes Recipe : Ina Garten. Potato Chowder. Southern BC is currently going through a cold front - we had our first snow a few days ago and it's been severely windy and cold since.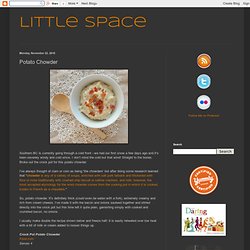 I don't mind the cold but that wind! Straight to the bones. Sweet Potato Oven Fries With Avocado Dip Recipe. When I had some friends over to try Bobby Flay's award-winning burger, there was only one thing I thought to pair the burgers with: fries.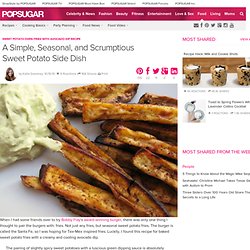 Not just any fries, but seasonal sweet potato fries. The burger is called the Santa Fe, so I was hoping for Tex-Mex inspired fries. Luckily, I found this recipe for baked sweet potato fries with a creamy and cooling avocado dip. PARMESAN GARLIC ROASTED POTATOES.
---