Cookies
Cappuccino Hearts with Mocha Drizzle. Ingredients for the Cookies 3 egg whites 250 grams powdered sugar 6 tablespoons instant cappuccino mix (such as the International Coffees) 2 tablespoons instant coffee 400 grams blanched ground almonds (or almond meal/almond flour) for the Glaze/Drizzle 1 11.5 oz package semi-sweet chocolate chips 1 tablespoon espresso powder 4 tablespoons butter Directions Preheat the oven to 350F.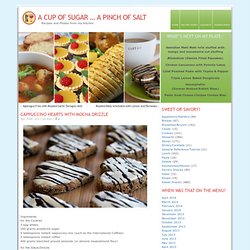 Grind the almonds as fine as possible; essentially the almonds will become your flour. Separate the eggs into a small bowl, discarding the yolks or save for another purpose. Whisk until you have firm peaks, but do not over-whisk. Translate. Just Putzing Around the Kitchen: Turtle Cheesecake Truffles. I meant to make these for Dan's mom on Mother's Day, since turtle chocolate is one of her favorite candy treats.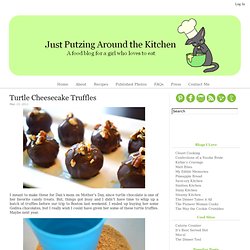 But, things got busy and I didn't have time to whip up a batch of truffles before our trip to Boston last weekend. I ended up buying her some Godiva chocolates, but I really wish I could have given her some of these turtle truffles. Maybe next year. Word on the street is that grocery stores actually sell bags of crushed graham crackers. I don't know which stores these are, but I've never seen one that sold graham cracker crumbs. Perfectly Round Chocolate Chip Cookies. A few weeks ago, I finally had the opportunity to stop by Levain Bakery in New York City.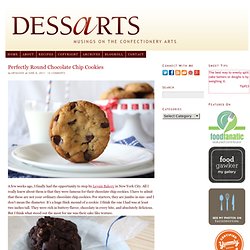 All I really knew about them is that they were famous for their chocolate chip cookies. I have to admit that these are not your ordinary chocolate chip cookies. For starters, they are jumbo in size- and I don't mean the diameter. It's a huge thick mound of a cookie. Hidden Treasure Cookies. Butter recipe cake mix.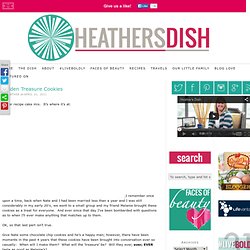 It's where it's at. I remember once upon a time, back when Nate and I had been married less than a year and I was still considerably in my early 20′s, we went to a small group and my friend Melanie brought these cookies as a treat for everyone. And ever since that day I've been bombarded with questions as to when I'll ever make anything that matches up to them. Crash. 24 Aug/10 I'm sick of being sick.
I've been flat on my back eating nothing but handfuls of chicken noodle soup and crackers. Before you start to wonder how exactly you go about clutching a fistful of soup let me distract you with these cookies. Feel better? Buttered Up: Chocolate Cake better known as: "Finished Already" Preheat the oven to 160°C.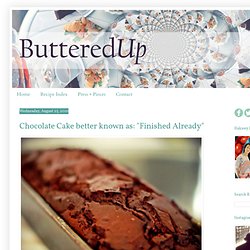 Butter and lightly flour a loaf pan. In a large bowl, on the medium speed of an electric mixer, cream the butter until smooth. Giant S'Mores Cake. My friend Marissa has seen and tasted many elaborate birthdaytreats that I've made for our friends, but since I started this blog last October and her birthday's not until late August, she's had to wait patiently (or not) for her turn.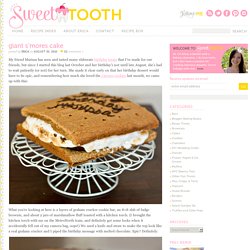 She made it clear early on that her birthday dessert would have to be epic, and remembering how much she loved the s'mores cookies last month, we came up with this: What you're looking at here is 2 layers of graham cracker cookie bar, an 8×8 slab of fudge brownie, and about 2 jars of marshmallow fluff toasted with a kitchen torch. (I brought the kitchen torch with me on the MetroNorth train, and definitely got some looks when it accidentally fell out of my camera bag, oops!) We used a knife and straw to make the top look like a real graham cracker and I piped the birthday message with melted chocolate. The trouble with writing a food blog... Makes 18 5-inch cookies. 2 cups minus 2 tablespoons (8 1/2 ounces) all-purpose flour 1 2/3 cups (8 1/2 ounces) bread flour.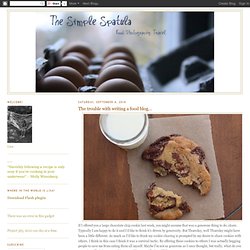 Caramel Popcorn. Happy Labor Day, everyone!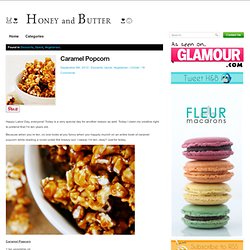 Today is a very special day for another reason as well. Today I claim my creative right to pretend that I'm ten years old. Because when you're ten, no one looks at you funny when you happily munch on an entire bowl of caramel popcorn while reading a novel under the breezy sun. I swear, I'm ten, okay? Cake Cubes | cheesecake for all. The Eid came to an end, and my Eid celebration recipes too ..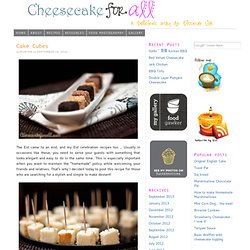 Usually in occasions like these, you need to serve your guests with something that looks elegant and easy to do in the same time. This is especially important when you want to maintain the "homemade" policy while welcoming your friends and relatives. Foodbuzz 24×24: Making Candy in the Spirit of Halloween | The Food Addicts. When we think of Halloween, we automatically think of costumes, scary creatures, pumpkins, and candy – and the latter usually has to do with kids trick-or-treating! Making candy is something we haven't attempted to do before, so for this special October edition of Foodbuzz 24×24, we were selected to feature a post that revolves around the joys of children to help bring awareness to Save The Children's Charity, on behalf of Frigidaire.
With the Halloween spirit in the air, we thought it would be fun to make a batch of candy that is easy enough for kids to help make in the kitchen. We were actually inspired by the October issue of Every Day with Rachael Ray Magazine where she has DIY recipes of various candies that seemed simple enough to prepare. We ventured to make Peanut Butter Cups, Chocolate-Covered Coconut Bars, Goin' Nuts Candy Bars, and White Chunky Chocolates. Sea salt & cracker toffee and secret recipes. A little while ago I got to taste some caramels made by a lovely lady I used to work with.
I put a piece in my mouth and bang! It was love at first bite. The caramels tasted just like Daims, which are little Swedish caramels with bits of almond covered in chocolate and are a staple on my duty free shopping list. Psh, caramel covered in chocolate doesn't sound too flash, I hear you say? Well my friend, it's not just any old caramel we are talking about here, this caramel is brittle and crunchy without being sticky, buttery smokey and salty sweet without being toothachingly sugary.
A day in the kitchen. Homemade Pretzel Twix. I have to admit that these weren't the easiest, most fool-proof thing I've ever baked. The pretzel crust is temperamental, the caramel has to be at the right temperature to cut, and you have to work quickly to get the chocolate to cover the entire candy bar. Despite all of that, they were still worth it. They tasted delicious. Pumpkin Cheesecake Muffins. Hello, my new favorite pumpkin treat! Nice to meet you. Where have you been all my life?
Oh... are you expecting me say more about these? Are the pictures not enough to make you want to go bake them RIGHT NOW. Caramel Apple Turnovers. Apple Cinnamon Doughnuts. Pumpkin Swirl Cheesecake. Easy Triple Chocolate Biscotti Recipe. Creamy Homemade Peppermint Patties. Perfect Pairing | Slice of Feist.
---