Lifehacking
This guest post was written by Blair Mathis from LaptopLogic.com – your premier source for the latest laptop software news and best laptop accessories. Computer passwords are like locks on doors – they keep honest people honest. If someone wishes to gain access to your laptop or computer, a simple login password will not stop them.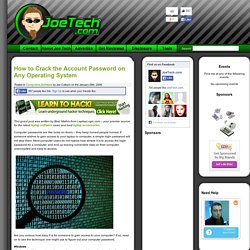 Setup a DIY Network 'DropBox' (aka PirateBox)
PirateBox allows you to quickly setup a mobile wireless file sharing network. Basically, it's a P2P file-sharing device that can turn any space into a temporary, but secure wireless file sharing network. Multiple users within range of the device can connect to the network without any log-in and immediately start downloading or uploading files via their computers or mobile devices. As it is not connected to the internet, the system is secure from outside attacks. Also, users remain anonymous as no user logs are generated.
Open Hardware Summit
Thanks everyone for coming to this years Open Hardware Summit at MIT. The flickr and twitter hashtag is #ohsummit. We will post the link to the archived footage once it is available.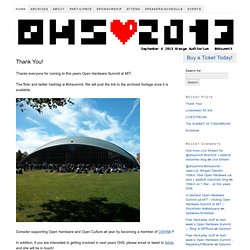 Ene - 8 | Filed Under Talleres | Leave a Comment En el marco de la Bienal de Video y Artes Mediales haremos haremos el Taller ELECTRÓNICA MUTANTE por SUDAMÉRICA EXPERIMENTAL (Crowe, González, Mestizo, Piña) los días 11, 12 y 13 de enero de 10:00 a 14:00 hrs. Avenida Italia 850, Providencia Inscripción a info@bvam.cl El taller estará orientado a la experimentación electrónica audiovisual con elementos reciclados y de bajo costo, incorporando materialidades orgánicas y diversos materiales conductivos.