PyBuilding
Python AEC interoperability module. Focused on Rhino, Revit, Inventor, DProfiler, Tekla, and others.
South. Mozilla Firefox Start Page. PostgreSQL: The world's most advanced open source database. Nathan's Revit API Notebook. <<< Return to the Program Lab This page is my personal diary for exploring the API for Revit and Vasari.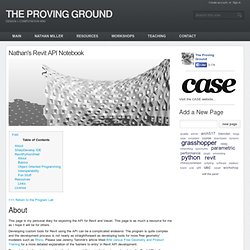 This page is as much a resource for me as I hope it will be for others. Developing custom tools for Revit using the API can be a complicated endeavor. The program is quite complex and the development process is not nearly as straightforward as developing tools for more 'free geometry' modelers such as Rhino. Inventor Customization.
---