Data
Big Data Baseball FIELDf/x. Your E-Book Is Reading You. Release of cancer figures marks an era of open data | Politics | The Observer. Patients will be able to compare how well each GP performs in saving the lives of people with cancer after the government announces the release online of a new wave of data.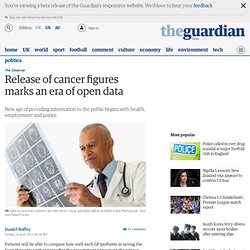 Survival rates within every practice in England and Wales will be available, along with details on how many patients are urgently referred to cancer consultants and the number of patients they successfully diagnose. The figures, released as part of the "open government" agenda, will be updated regularly as they change. At the same time, data about primary care trusts will be released, allowing patients to compare survival rates in different parts of the country. Ministers believe the radical move will drive up standards of care as people will be able to see variations between GP practices and turn their backs on those whose performance has cost lives.
Social Media Data : quelle valorisation des données ? La numérisation des informations combinée à l'adoption massive des réseaux sociaux a fait exploser le volume des données, amenant de nombreux domaines d'activités à développer l'analyse statistique.
Marketing, sociologie, production de contenus : la masse de données issues des conversations en ligne constitue une mine d'or pour qui sait les valoriser. Entre business intelligence et web analytics. Infographics / #Infographic : How #Mobile #Apps are invading your privacy #data. Babolat teste une raquette connectée, Roland-Garros : l édition 2012. Tim Berners-Lee: demand your data from Google and Facebook | Technology. Tim Berners-Lee, the father of the world wide web, has urged internet users to demand their personal data from online giants such as Google and Facebook to usher in a new era of highly personalised computer services "with tremendous potential to help humanity".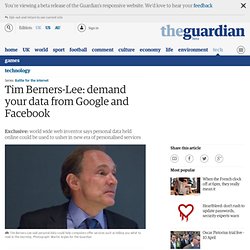 Berners-Lee, the British born MIT professor who invented the web three decades ago, says that while there has been an explosion of public data made available in recent years, individuals have not yet understood the value to them of the personal data held about them by different web companies. In an interview with the Guardian, Berners-Lee said: "My computer has a great understanding of my state of fitness, of the things I'm eating, of the places I'm at. My phone understands from being in my pocket how much exercise I've been getting and how many stairs I've been walking up and so on. " How Companies Learn Your Secrets.
"Big Data" « Search Results. Big Data, grande illusion. Par Daniel Kaplan le 11/04/12 | 15 commentaires | 9,841 lectures | Impression La cause serait entendue : après le cloud computing et l'internet des objets, les "big data" constitueraient la prochaine "révolution" apportée par le numérique.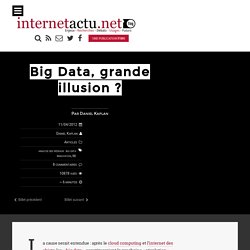 Alan Mitchell, cofondateur et directeur de la stratégie du cabinet britannique Ctrl-Shift, n'est pas d'accord. Pour lui, les Big Data auraient presque un côté contre-révolutionnaire : le chant du cygne d'une informatique productiviste, centralisatrice, centrée sur les grandes organisations. "Les Big Data se fondent entièrement sur la statistique : dégager des schémas et des tendances à partir de grandes collections de données. La statistique fournit une manière extraordinairement puissante et utile de remettre en questions les suppositions et les inférences que les cerveaux humains produisent naturellement – et souvent de manière erronée.
Quand vous ne voyez pas le service, c'est que vous êtes le produit ! La lecture de la semaine, il s'agit d'un article de l'hebdomadaire américain The Nation, il est signé par Ari Melber, journaliste et spécialiste des réseaux sociaux, il s'intitule "Le secret de la valorisation de Facebook".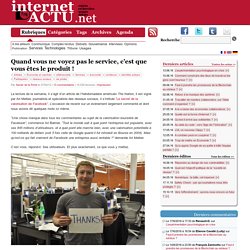 L'occasion de revenir sur un événement largement commenté et dont nous avions dit quelques mots ici même. "Une chose manque dans tous les commentaires au sujet de la valorisation boursière de Facebook", commence Ari Balmer. "Tout le monde sait à quel point l'entreprise est populaire, avec ses 845 millions d'utilisateurs, et à quel point elle marche bien, avec une valorisation potentielle à 100 milliards de dollars (soit 5 fois celle de Google quand il fut introduit en Bourse en 2004). Mais qu'est-ce qui fait vraiment de Facebook une entreprise aussi rentable ?" Demande Ari Melber. Nous faudra-t-il payer pour préserver notre vie privée ? - Blogs InternetActu.net. "Dans le business de la publication, les lecteurs sont les produits et les consommateurs sont les publicitaires", affirme Dave Winer, paraphrasant une citation célèbre : "Si vous ne voyez pas le produit, c'est que vous êtes le produit".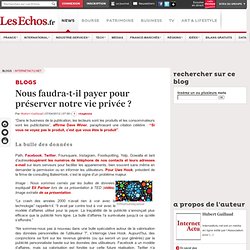 La bulle des données Path, Facebook, Twitter, Foursquare, Instagram, Foodspotting, Yelp, Gowalla et tant d'autresrécupèrent les numéros de téléphone de nos contacts et leurs adresses e-mail sur leurs serveurs pour faciliter les appariements, bien souvent sans même en demander la permission ou en informer les utilisateurs. Pour Uwe Hook, président de la firme de consulting BatesHook, c'est le signe d'un problème majeur. Facebook et Instagram : une nouvelle bulle gonflée ? - L'actu Médias / Net. Quand « big data » rime avec « big business », Technologies.
---