SOCIAL
The term "social media" is way overused — I.M.H.O. Just because it's on the Internet or created by a single person doesn't make it social.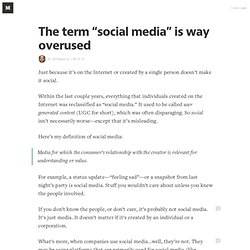 Within the last couple years, everything that individuals created on the Internet was reclassified as "social media." It used to be called user generated content (UGC for short), which was often disparaging. So social isn't necessarily worse—except that it's misleading. We Are Social / The Six Dimensions of Highly Engaged Fans. A Generation's Facebook State of Mind - Digits. Les veilles : Toute l'actualité de la pub TV et de la TV surveillée pour vous par le SNPTV - Syndicat National de la Publicité Télévisée. Dans le cadre du lancement de sa nouvelle solution fanObserver®, Harris Interactive dévoile les résultats de son enquête de cadrage(1) sur les internautes français fans de pages sur Facebook, dont voici les principaux enseignements : La France compte plus de 16 millions de fans actifs sur Facebook Fin 2011, 80% des utilisateurs de Facebook sont membres d'au moins une page fan, qu'il s'agisse de la page Facebook d'une marque, d'une entreprise, d'une association, d'un personnage public… Et 80% de ces fans sont « actifs » au sens où ils suivent les publications des pages dont ils sont membres.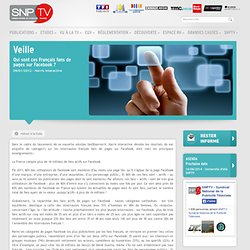 Par ailleurs, ces fans « actifs » sont de très gros utilisateurs de Facebook : plus de 80% d'entre eux s'y connectent au moins une fois par jour.
FACTS&FIGURES. Can Social Shopping Finally Take Off? Analog shopping is inherently social.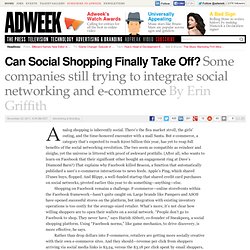 There's the flea market stroll, the girls' outing, and the time-honored encounter with a mall Santa. But e-commerce, a category that's expected to reach $200 billion this year, has yet to reap full benefits of the social networking revolution. The two seem as compatible as reindeer and sleighs, yet the universe is littered with proof of awkward pratfalls. (After all, who wants to learn on Facebook that their significant other bought an engagement ring at Dave's Diamond Barn?) Medias sociaux retour vers le futur. The End of the Social Media Era. What The Fuck Is My Social Media Strategy? Les entreprises françaises de plus en plus soucieuses de leur e-réputation. 01net. le 04/07/11 à 10h17 Les internautes français sont-ils influenceurs ou influencés ?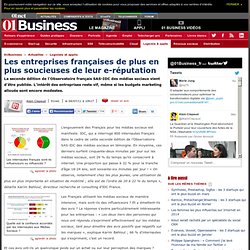 L'engouement des Français pour les médias sociaux est manifeste. Brand Autism: Why Brands Still Don't Get Social Media [Report. Those who've heard us speak at conferences will know we use the concept of 'brand autism' to paint a picture of the inability of many brands and businesses to put themselves in their customers' shoes (clinically, autism is precisely this inability to see the world from the other's perspective, a compromised theory of mind) (of course brands are not literally autistic, a very real and debilitating condition not to be trivialised)).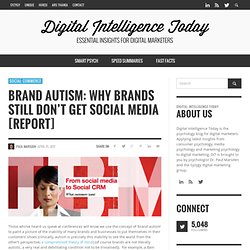 For example, a Bain research study found that 70% of CEOs believe their business delivers a superior customer experience, only 7% of their customers agree. Untitled. Could Facebook become the internet?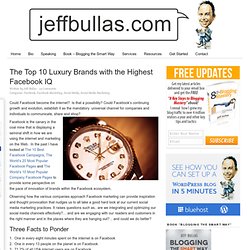 Is that a possibility? Could Facebook's continuing growth and evolution, establish it as the mandatory universal channel for companies and individuals to communicate, share and shop? Facebook is the canary in the coal mine that is displaying a seminal shift in how we are using the internet and marketing on the Web. Quelles marques de luxe ont les plus gros "QI Facebook"? Annoncer ici Les marques de luxe sont de plus en plus présentes sur les réseaux sociaux et tout particulièrement sur Facebook.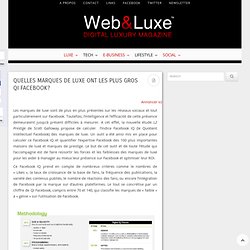 Toutefois, l'intelligence et l'efficacité de cette présence demeuraient jusqu'à présent difficiles à mesurer. A cet effet, la nouvelle étude L2 Prestige de Scott Galloway propose de calculer l'indice Facebook IQ (le Quotient Intellectuel Facebook) des marques de luxe. Meebo Rolls Out Web Site Check-Ins - Advertising. "If you're a daily user of a Web site, most of the time they treat you pretty anonymously," said Martin Green, president of Meebo, which calls itself a consumer Internet company.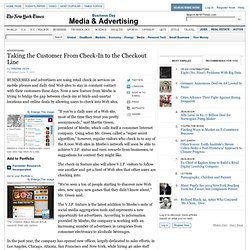 Using what Mr. Green called a "super secret algorithm," however, regular visitors who check in to any of the 8,000 Web sites in Meebo's network will soon be able to achieve V.I.P. status and earn rewards from businesses, or suggestions for content they might like. What's the ROI of your mother? Une présentation sur le ROI dans les... Digital, mobile and social media in China / we are social.
Hello, we are social.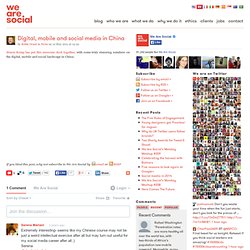 We're a global conversation agency, with offices in London, New York, Paris, Milan, Munich, Singapore, Sydney & São Paulo. We help brands to listen, understand and engage in conversations in social media. We're a new kind of agency, but conversations between people are nothing new. Neither is the idea that 'markets are conversations'. We're already helping adidas, Heinz, Unilever, Heineken, eBay, Jaguar, Intel, Moët & Chandon & Expedia. GBE03391USEN.PDF (Objet application/pdf)
---