DIGITAL
::
'Moreing' -- Boosted Inspiration Series Part 1. 32 Innovations That Will Change Your Tomorrow - Interactive Feature. The 13 Things to Take Away from SxSW (Besides a Crippling Hangover) Boulder Digital Works joined the hordes of nerds and hipsters at this year's SxSW Interactive, and they left with some good memories.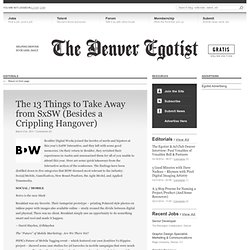 On their return to Boulder, they revisited their experiences in Austin and summarized them for all of you unable to attend this year. Here are some quick takeaways from the Interactive section of the conference. The findings have been distilled down to five categories that BDW deemed most relevant to the industry: Social/Mobile, Gamification, New Brand Practices, the Agile Model, and Applied Transmedia. Retro is the new black Breakfast was my favorite.
SOUNDS
STARTUP. TECHNOLOGIES. Mary Meeker's Annual Internet Trends Report - Digits. MOBILE. HYLOCAL.
---