DIGITAL
::
With biosensors and facial recognition systems increasingly embedded in daily life , real-time algorithms will automate mood management.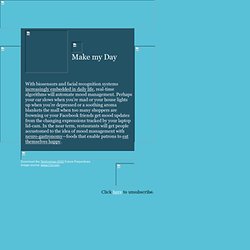 'Moreing' -- Boosted Inspiration Series Part 1
32 Innovations That Will Change Your Tomorrow - Interactive Feature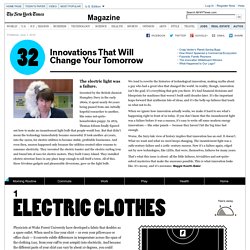 Electric Clothes Physicists at Wake Forest University have developed a fabric that doubles as a spare outlet. When used to line your shirt — or even your pillowcase or office chair — it converts subtle differences in temperature across the span of the clothing (say, from your cuff to your armpit) into electricity.
Boulder Digital Works joined the hordes of nerds and hipsters at this year's SxSW Interactive, and they left with some good memories. On their return to Boulder, they revisited their experiences in Austin and summarized them for all of you unable to attend this year.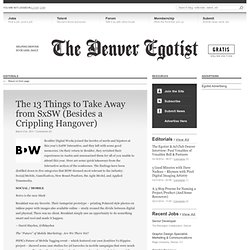 The 13 Things to Take Away from SxSW (Besides a Crippling Hangover)
Mary Meeker's Annual Internet Trends Report - Digits
Mary Meeker, the former Internet analyst known during the dot-com boom as the "Queen of the Net," has released her annual (and always massive) slide deck on the latest Internet trends. The 112 slides are heavily focused on rapid mobile adoption and runs through a number of examples of business models that are being re-invented thanks to fast-evolving devices, better connectivity and new interfaces.