Digital
At the Nordic Exceptional Trendshop (NEXT) conference in Aarhus, Denmark yesterday, we were treated to some thoughts about the future from Tom Uglow, a Creative Director based at Google's Creative Lab in London. Here are seven ideas he has for future tech innovations. It's worth noting that Google isn't necessarily working on these, but it shows some of the ideas that float arounds in the heads of Googlers.
7 tech predictions for the future from a Google Creative Director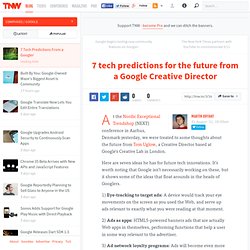 4 Hot Social Gaming Trends to Watch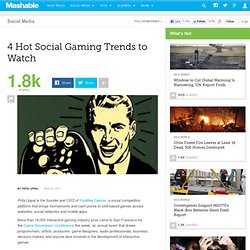 Prita Uppal is the founder and CEO of YooMee Games, a social competition platform that brings tournaments and cash prizes to skill-based games across websites, social networks and mobile apps.
Razorfish's Chief Technology Officer, Ray Velez, led the production of a report that focuses on how companies can work with emerging trends in technology including: Near Field CommunicationsThe Interface RevolutionOpen APIs and Digital ServicesHolistic Data ManagementBusinesses Shifting To Cloud Computing The 45-page report starts by pointing to data regarding Apple's expansion, Android's growth, and the introduction draws heavily on Ray Kurzwell's The Singularity is Near. Moving on, it delves deeply into 5 main areas that will impact the business of brands in the near future. 1. Near Field Communications (NFC) includes contactless and incremental payments using mobile technology.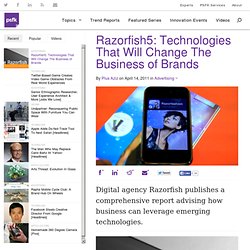 Razorfish5: Technologies That Will Change The Business of Brands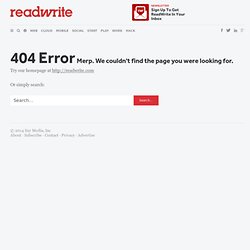 2011: The Year the Check-in Died
Early last year, "checking in" was the cool new craze. No visit to your favorite tech news site could be had without getting buried in an avalanche of articles about Foursquare, Gowalla, Loopt, BriteKite or a myriad other startups. The big guys quickly followed suit: Yelp introduced "Check-Ins" while Facebook launched "Places" and most recently, Google Latitude updated to incorporate check-ins and check-outs. But here's the thing: the trends aren't actually that good. Let's look at Foursquare and Facebook.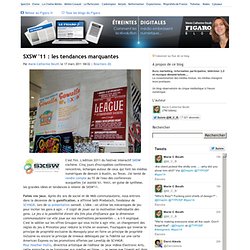 SXSW '11 : les tendances marquantes
C'est fini.
Yes, ladies and gentlemen, it's that time of year again. That time when we stop for a moment to look back on the last six months of the year and wax philosophical, poetical, nostalgic, or quixotic about those trends that have emerged during the first half of the year that appear poised to dominate the advertising and marketing landscape. Or are they? Following are four of the biggest trends we've seen since the dawn of 2011.
6 months in review: Digital's biggest trends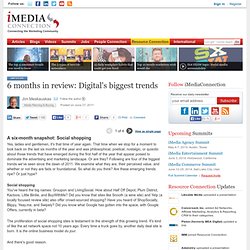 Future of Innovation 2011 - Where technology is going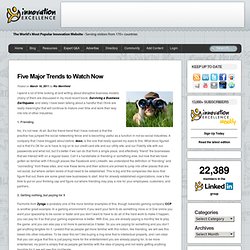 Blogging Innovation » Five Major Trends to Watch Now
I spend a lot of time looking at and writing about disruptive business models (many of them are discussed in my most recent book, Surviving a Business Earthquake, and lately I have been talking about a handful that I think are really meaningful that will continue to mature over time and work their way into lots of other industries.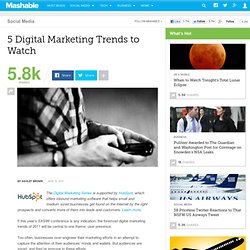 5 Digital Marketing Trends to Watch
The Digital Marketing Series is supported by HubSpot, which offers inbound marketing software that helps small and medium sized businesses get found on the Internet by the right prospects and converts more of them into leads and customers.
Digital media, as many a Mashable reader is aware, is evolving at a rapid pace.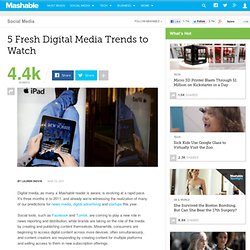 The 2011 social media trends watch continued as Steve Rubel, SVP and director of insights at Edelman Digital, highlighted predictions and recommendations for this year while speaking at the BRITE '11 conference hosted by Columbia Business School's Center on Global Brand Leadership in New York on Wednesday. Brite is a global conference series focused on topics like culture and technology. Click through for seven key trends that should be on your radar.
7 Digital Trends Worth Your Attention - PRNewser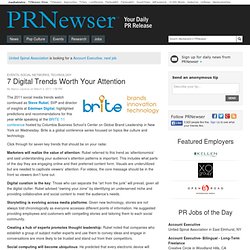 Isobar a présenté jeudi dernier, sa Digital Road Map conçue comme une cartographie dynamique des tendances digitales qui, comme le précise Florence Trouche, Présidente d'Isobar "s'inscrit dans le prolongement des cahiers de tendances générales d'Aegis". L 'objectif de cette cartographie est de partager le point de vue de l'agence sur les évolutions majeures qui se déssinent aujourd'hui, Internet entrant dans une nouvelle phase d'évolution... L'explosion des réseaux sociaux, la démocratisation vidéo, l'explosion des usagers smartphones d'ici 2014 ; les tablettes, la progression des utilisateurs avec notamment ces deux dernières années la progression des + de 60 ans passant de 37% à 68% (source Credoc) sur leur accès Internet.
Heidi Cohen | January 10, 2011 | 23 Comments
10 technologies that will define 2011
10 Digital (and Nondigital) Resolutions to Make '11 a Win - Advertising Age - CMO Strategy
La vidéo en ligne en 2011 : télés connectées, recommandations sociales et guerre des standards
in Share 0 in Share
17 digital marketing trends for 2011, by Econsultancy CEO Ashley Friedlein
2010 was a busy year for social media and the web.
95+ Predictions for the Web in 2011
Après le succès de la note de tendance 2010 nous vous proposons la vision de l'agence de 2011
Introduction à la note de tendances 2011 par Vanksen
Tendance # 1: Le digital, les media sociaux et le mobile continuent de progresser et deviennent incontournables
Tendance #4 : #SOCIAL MEDIA FATIGUE
Tendance #8: #VIR2RL
Tendance #7 : #GAMIFICATION
Tendance # 2 : #REALTIME
Tendance #11 : #brandcontent
Tendance #12 : #PRISE DE RECUL
Tendance #10: #Géolocalisation
Tendance #6 : #E-REPUTATION partie 2
Tendance #5 : #BACKCLASH
Tendance # 1 Le digital, les media sociaux et le mobile continuent de progresser et deviennent incontournables
Tendance # 3 : #SPLINTERNET
Five Trends to Keep an Eye on in the New Year - Advertising Age - Guest Columnists
Eleven Digital Trends to Watch in 2011
Armano & Rubel: 11 Trends To Watch For 2011