CONNECTED TV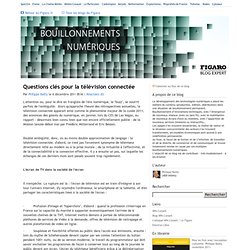 Questions clés pour la télévision connectée - Bouillonnements numériques
L'attention ou, pour le dire en franglais de l'ère numérique, le "buzz", se nourrit parfois de l'ambiguïté. Alors qu'approche l'heure des rétrospectives annuelles, la télévision connectée apparait ainsi comme le phénomène majeur de la cuvée 2011, des annonces des géants du numérique, en janvier, lors du CES de Las Vegas, au rapport - désormais bien connu bien que non encore officiellement publié - de la Mission lancée début mai par Frédéric Mitterrand et Eric Besson. Double ambigüité, donc, ou au moins double approximation de langage : la télévision connectée, d'abord, ce n'est pas forcement synonyme de téléviseur directement relié au modem ou à la prise murale ; de la virtualité à l'effectivité, et de la connectabilité à la connexion effective, il y a ensuite un pas, sur laquelle les échanges de ces derniers mois sont passés souvent trop rapidement. L'écran de TV dans la société de l'écran
Télé connectée : une offre complexe autour d'enjeux cruciaux
Pour une stratégie européenne de la TV connectée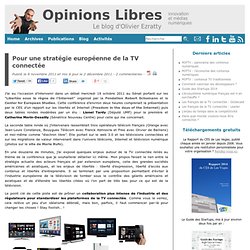 J'ai eu l'occasion d'intervenir dans un débat mer­credi 19 octobre 2011 au Sénat por­tant sur les " Liber­tés sous le règne de l'Internet " orga­nisé par la Fon­da­tion Robert Schu­mann et le Cen­ter for Euro­pean Stu­dies . Cette confé­rence d'environ deux heures com­pre­nait la pré­sen­ta­tion par le CES d'un rap­port sur les liber­tés et Inter­net ( Free­dom in the days of the Inter­net ) puis deux tables rondes modé­rées par un élu : Lio­nel Tardy (Député UMP) pour la pre­mière et Cathe­rine Morin-Desailly (Séna­trice Nou­veau Centre) pour celle qui me concernait. La seconde table ronde où j'intervenais ras­sem­blait trois opé­ra­teurs télé­com fran­çais (Orange avec Jean-Louis Constanza, Bouygues Télé­com avec Franck Abhis­sira et Free avec Oli­vier de Baillenx) et moi-même comme "élec­tron libre".
www.snptv.org/_files/veilles/fichiers/veilles-237-232.pdf
Future of Connected Television - Avi Joseph
www.forum-avignon.org/sites/default/files/editeur/Bain_Avignon_2011_FR.pdf
Google, enormously successful in online advertising, might be casting an envious eye toward the $150 billion-per-year pay television market. Such a venture has the potential to turn today's business of television advertising and distribution upside down. The company's already announced plans to build a fiber-optic high-speed Internet service in Kansas City, Mo. and Kansas City, Kan ., and according to The Wall Street Journal [subscription required], now Google might be thinking about ways to expand that into pay video and telephone services. That would put Google in direct competition with cable companies and phone companies that have expanded into what's called the "triple play" of communications: cable television, telephone and high-speed Internet.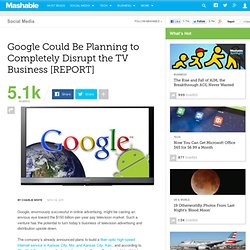 Google Could Be Planning to Completely Disrupt the TV Business [REPORT]
www.adjustyourset.tv/pdf/connected2.pdf
TV Connectée
Connected Television White Paper - Insights into innovation in social TV
nnected TVs are commerce platforms, says Google TV's Donagh O'Malley