Google
api-javascript-client - Google APIs Client Library for JavaScript - Google Project Hosting - Vimperator
Unofficial Google Advanced Search - Vimperator
The JWebNet.net main page > Unofficial Google Advanced Search Google Search Box Table of Contents Back to the table of contents 1.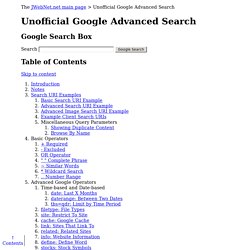 SPDY: What I Like About You.
I've been working on implementing SPDY as an experiment in Firefox lately. We'll have to see how it plays out, but so far I really like it. Development and benchmarking is still a work in progress, though interop seems to be complete.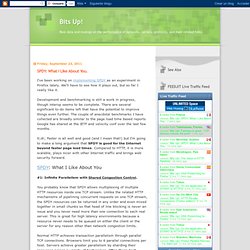 Paul Irish - Google+ - Two great talks on web performance & mobile, covering…
I/O 2011
NaCl; Has Native Client been sweet of too salty?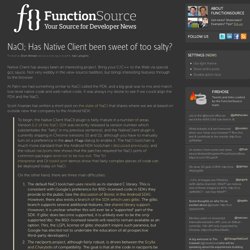 NaCl; Has Native Client been sweet of too salty? Posted by Dion Almaer about a year ago on c++ nacl plugins Native Client has always been an interesting project. Bring your C/C++ to the Web via special gcc sauce. Not very webby in the view-source tradition, but brings interesting features through to the browser. At Palm we had something similar to NaCl called the PDK, and a big goal was to mix and match low level native code and web native code.
Featured articles The Go Gopher The Go gopher is an iconic mascot and one of the most distinctive features of the Go project.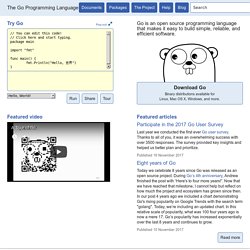 NOTE: Traceur has moved to GitHub: https://github.com/google/traceur-compiler What is Traceur? Traceur is a JavaScript.next-to-JavaScript-of-today compiler that allows you to use features from the future today. Traceur's goal is to inform the design of new JavaScript features which are only valuable if they allow you to write better code.
traceur-compiler - Google's vehicle for Javascript Language Design Experimentation