Social media
Social Media Analytics | Andiamo Systems
Andiamo Systems was born in 2006, and we launched our brand monitoring & word of mouth measurement services in early 2007. Our mission is to provide businesses easy-to-use, affordable, on-demand tools that help them identify, measure, better understand and act on consumer attitudes and opinions of their brands and their competitors brands to increase market share and profits. Some people call it brand monitoring, others call it business intelligence and more recently the preferred term is "word of mouth measurement". Measuring the effectiveness of an Internet sales campaign can be accomplished in a variety of ways but, truth be told, the bottom line is always the bottom line. For a top Los Angeles SEO company, effectiveness is demonstrated through the presence of more site visitors spending more time looking around and then finally pressing the button, making the call or filling out the form. That's called a conversion.
Safe Social Networking Tips and Advice
digup•tv | création numérique / trajectoires humaines
Design graphique, design interactif, animation, visualisation de données, installations, art numérique, laboratoires de nouveaux médias... La création numérique c'est la rencontre de la création visuelle, audiovisuelle et de l'ordinateur. Ce dernier n'est pas seulement l'outil principal de conception, c'est surtout le matériau. Son évolution permanente et le rythme d'innovation qu'il impose en fait aussi une part du sujet…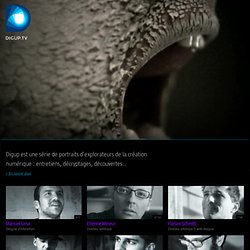 Flickr: Galerie de Freak's
Wuala - The social online storage
Backup. Securely store and back up your files online and access them from anywhere. All files are encrypted. Sync. Sync your files online and across multiple computers. Your files are always up to date - anywhere, anytime.