Google
About – Google in Education
At Google, we believe in the power of the web to help people discover, connect, and learn. Education lies at the very core of our company's mission "to organize the world's information and make it universally accessible and useful." Leading-edge technologies will play a vital role in helping equip future generations with the skills they need to thrive in the workforce of today and tomorrow. That is why we support collaborative learning in communities around the world, and why we invest heavily in education programs initiatives and partnerships through our products and tools. Our education initiatives focus on three key areas: Making learning magical Empowering innovative communities Building a foundation of technology and access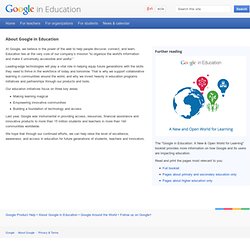 Good to Know – Google
Google Base
Places
Google Analytics - home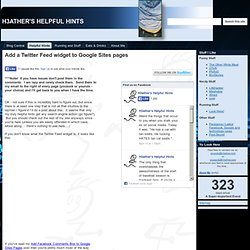 OK - not sure if this is incredibly hard to figure out, but since there is at least one step that is not all that intuitive to the layman I figure'd I'd do a post about this. It seems that only my truly helpful hints get any search engine action (go figure?). But you should check out the rest of my site anyways since you're here (unless you are easily offended in which case,
Add a Twitter Feed widget to Google Sites pages - H3ATHER'S HELPFUL HINTS
Insights for search
Adwords keyword tool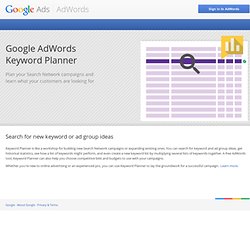 Search for new keyword or ad group ideas Keyword Planner is like a workshop for building new Search Network campaigns or expanding existing ones. You can search for keyword and ad group ideas, get historical statistics, see how a list of keywords might perform, and even create a new keyword list by multiplying several lists of keywords together.
AdWords Certification Program Help
SketchUp