Applications Web 2.0
LfdcDebut. Pourquoi ce site ?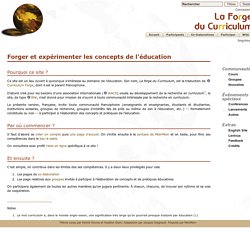 Ce site est un lieu ouvert à quiconque s'intéresse au domaine de l'éducation. Son nom, La forge du Curriculum, est la traduction de Curriculum Forge, dont il est le parent francophone. D'abord créé pour les besoins d'une association internationale (IAACS) vouée au développement de la recherche en curriculum1, le site, de type Wiki, s'est donné pour mission de s'ouvrir à toute communauté intéressée par la recherche en curriculum. SurveyMonkey : logiciel gratuit de sondage en ligne et d'enquête par questionnaire. Bienvenue sur Google Documents. Mind Mapping - Create Mind Maps online with MindMeister.
Prezi - The Zooming Presentation Editor.
---