PHP
SOAP_Tips.pdf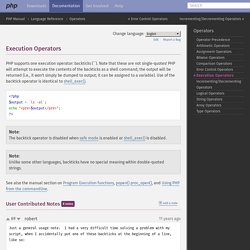 Execution Operators - Manual
waylanator's example can be dangerous, since it doesn't prevent characters with special meaning from being emitted to the commandline. Programming errors or untrusted data could cause serious problems. At the bare minimum, remove all non-alphanumeric characters before passing a string to the shell. escapeshellarg() is also useful in *nix environments, but usually the best approach is to bypass the shell, using exec() etc.
Bug #55300 :: \DirectoryIterator, parent::__construct() and \LogicException
apiClient.php - google-api-php-client - Google APIs Client Library for PHP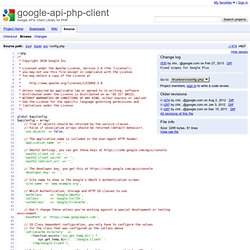 config.php - google-api-php-client - Google APIs Client Library for PHP
Older revisions r474 by chir...@google.com on Aug 2, 2012 Diff Namespace the Google APIs PHP Client - Rename apiClient to Google_Client. - Prefix all class names with "Google_*" instead of "api*". ... r297 by chir...@google.com on Jan 3, 2012 Diff
Y'en a d'autres comme ça ? #php6 (cc @mageekguy) #L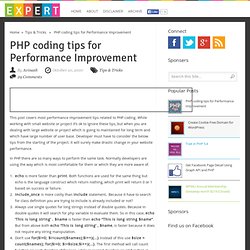 This post covers most performance improvement tips related to PHP coding. While working with small website or project it's ok to ignore these tips, but when you are dealing with large website or project which is going to maintained for long term and which have large number of user base. Developer must have to consider the below tips from the starting of the project. It will surely make drastic change in your website performance.
PHP coding tips for Performance Improvement | Xpert Developer
Carnet de notes - Seebz.net
http://davidwalsh.name/classlist Lien symbolique dans le repertoire du ftp - Proftpd http://www.developpez.net/forums/d35086/systemes/linux/reseau/lien-symbolique-dansle-repertoire-ftp-proftpd/ mkdir /home/ftp/lien_vers_programmes mount --bind /usr/programmes /home/ftp/lien_vers_programmes YQL Guide http://developer.yahoo.com/yql/guide/index.html YQL Console http://developer.yahoo.com/yql/console/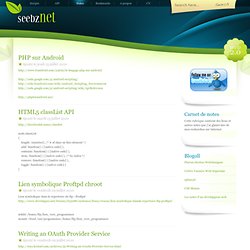 Nouveau tutorial qui vous permettra d'intégrer le service de paiement en ligne PayPal à votre site web PHP . Objectif du tutorial: Le but de ce tutorial est de vous guider pas à pas dans l'intégration du service de paiement en ligne paypal et de vous expliquer comment fonctionne le processus de paiement ... Ce tutorial s'applique uniquement aux sites développés en PHP.