Other
With all the talk about sneakers and their different designs, we need something more creative. I think we have featured about 100 different designs by now here on Bit Rebels , and even though it's a lot of fun, there should still be something more to all these sneakers, don't you think? What more is there to sneakers really? I mean, what else could be said or done with them? Well, we have seen them turned into fish bowls and all kinds of stuff, but that involves making them useless as shoes. The only thing left is really how to tie the laces I think.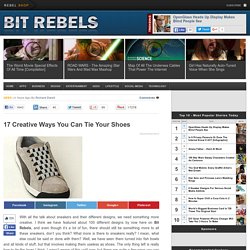 17 Creative Ways You Can Tie Your Shoes | Bit Rebels
Best of the Guest // Karl - Beyond Beyond | Beyond Beyond
Oh Karly – you are a naughty man, he brings to mind that old adage that it is"Better to keep your mouth closed and be thought a fool than to open it and remove all doubt". We wish that the lovely man would stick to making beautiful things, rather than passing comment on the bodies of others (especially considering he was formerly rather rubenesque himself!) However, it does open up the debate that whilst we can comment away on 'skinny minnies' and 'stick insects' but there is a great taboo when it comes to talking of size. If you want to get down with body image this week – you could go for a little meander over to love my dress and read the series of articles that Annabel has this week on body image . So, why have we stopped on Karl, well last week as we got all excited about his ready to wear range we were going to feature a few of his pieces.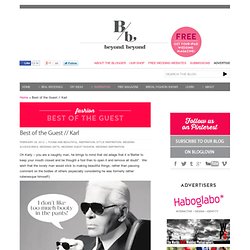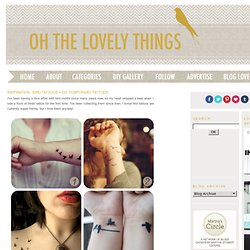 I've been having a love affair with bird motifs since many years now, so my heart skipped a beat when I saw a flock of birds' tattoo for the first time. I've been collecting them since then. I know bird tattoos are currently super trendy, but I love them anyway!
Ever wonder how some of your favorite fashionistas put colors together to create eye-catching and fabulously colorful outfits? Well so does Fashion Bombshell Kendra who wrote in asking, "As a recessionista engineer, I cannot afford to buy a new wardrobe for the spring/summer. I have great pieces in my wardrobe already so I want to know how to make the most of my wardrobe by playing around with different color combinations. My mom gave me a color wheel as a gift.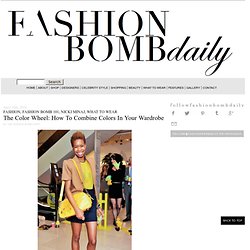 As a single girl, I look to Valentine's Day this year for a release of "cheesy" energy. Sometimes you just want to be a dork. So... what better way to celebrate than by getting all dressed up in the holiday's signature colors!