V2
It is always almost the same story: "As a customer I want to import data from the the superseded system in to the newly build environment". So whats the deal? Building the new system based on the database structure to make the import as easy as possible? No, way to many drawbacks and since we have our lessons learned we know that flexibility matters and we'd rather go for a better fitting database design. Web-services for the reScue As for the flexibility decoupling is the magic word.
Blog // Using the Symfony2 console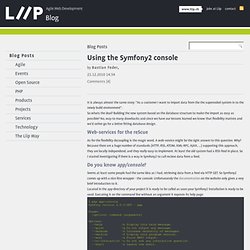 All 110 Bundles | Symfony2 Bundles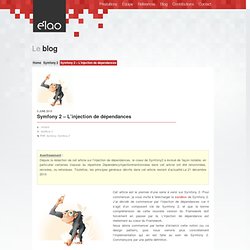 Avertissement : Depuis la rédaction de cet article sur l'injection de dépendances, le coeur de Symfony2 a évolué de façon notable, en particulier certaines classes du répertoire DependencyInjection mentionnées dans cet article ont été renommées, révisées, ou refondues. Toutefois, les principes généraux décrits dans cet article restent d'actualité.Le 21 décembre 2010 Cet article est le premier d'une série à venir sur Symfony 2.
Symfony 2 – L'injection de dépendances | Le blog technique de la team ELAO
Il y a environ 1 mois de cela, la première version bêta de Doctrine 2 a été rendue publique, une petite prise en main rapide s'imposait ! Je ne vais pas parler ici de l'intégration de Doctrine dans le framework MVC symfony, le plugin sfDoctrine2Plugin n'étant à l'heure actuelle pas testable en profondeur. Cet article porte donc sur Doctrine 2, l'ORM, uniquement. Le schéma de description du modèle
Quoi de neuf dans Doctrine 2 ? - Blog - Veille - Clever Age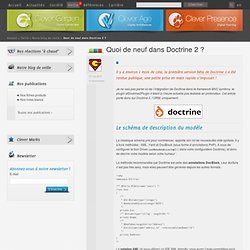 This is a small feedback regarding the new Symfony 2.2 feature which makes the subdomains handling easier. By the way you can see the official documentation about routing & subdomains here. Scenario: With the support of subdomains in the Symfony 2.2 routing component, you're all excited and decide to take advantage of that feature. Problem 1: Once you've opened one or … Continue reading Hi guys just a little reminder about Proxmox and NFS share. I encountered a little issue when I was setting up a proxmox server with a NAS (for medias files).
Le blog technique de la team ELAO
Beside being a full-stack framework, Symfony is also a set of decoupled and standalone components. What is a Component? Symfony Components implement common features needed to develop websites. They are the foundation of the Symfony full-stack framework, but they can also be used standalone even if you don't use the framework as they don't have any mandatory dependencies.
Symfony2 : créer un admin sécurisé
Tim Tutorials Jeudi 23 décembre 2010, 11:00 Non je ne suis pas mort ! Une grosse année qui arrive à son terme et qui m'aura un peu éloigné du blog ces derniers mois, mais me voilà de retour aux affaires avec la sortie imminente de Symfony2. J'ai donc décidé de monter un petit site pour tester en conditions réelles ce nouveau framework.
Justmarried | Le blog de Sébastien Porati
Apprendre les tests unitaires avec PHPUnit et Symfony2 « Jérôme Tamarelle
Symfony 2 reloaded - Mikael Randy
Ce mercredi 17 février 2010, en clôture du Symfony Live 2010, Fabien Potencier a présenté Symfony 2 qui porte le nom de code de « Symfony reloaded « . En voici un retour en quelques points clés. Vous ne trouverez dans cet article d'exemple de code, de description détaillées. J'ai rédigé cet article avec l'optique de vous donner envie d'en savoir plus et je vais donc me contenter de vous lister les points qui m'ont paru important Profitant du Symfony live 2010 , Fabien Potencier a levé le voile sur la nouvelle version de son framework : Symfony 2.0.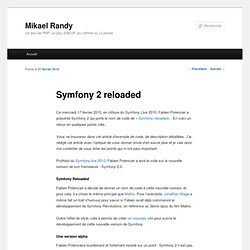 Oh, cela faisait un petit moment que je ne vous avais rien écris ! Il faut dire que j'ai été occupé ces derniers temps, fin de vacances, reprises des cours etc…Et puis F.Potencier nous sort la version PR3 de Symfony2 alors, autant vous dire que j'ai aussi passé quelques temps à apprendre la bête ! Je vous le dis tout de suite, le manque de documentation, à jour !, m'a fait perdre du temps pour faire fonctionner facilement les fonctions de bases.
Nos canards découvrent Symfony2 « Blog sur Symfony
Symfony 2, comment ça fonctionne ? - Le blog de Noël GUILBERT
This either means that the username and password information in your file is incorrect or we can't contact the database server at " ". This could mean your host's database server is down. Are you sure you have the correct username and password? Are you sure that you have typed the correct hostname?
A la découverte de Symfony 2 : tests unitaires sur le modèle (PHPUnit et Doctrine 2) | Le blog technique de la team ELAO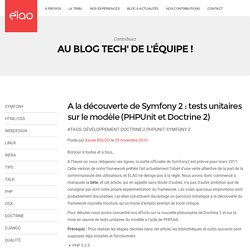 Bonjour à toutes et à tous, A l'heure où nous rédigeons ces lignes, la sortie officielle de Symfony2 est prévue pour mars 2011. Cette version de notre framework préféré fait actuellement l'objet d'une veille attentive de la part de la commmunauté des utilisateurs, et ELAO ne déroge pas à la règle.
1. The Big Picture — Documentation
sandbox configuration
symfony2
Documentation Format — Documentation