News
FOMC Minutes - The Quick Review, by Tim Duy: Running short on time tonight (a problem that I don't think will be resolved until the next week). Still, I want to make some quick comments - disjointed as they may be - on the minutes of the December 2013 FOMC meeting.Near the beginning of the minutes, the staff presents a survey on the expected costs and benefits of the asset purchase program. I feel I need to highlight this section since I have complained that the Fed is leaving us in the dark on the cost/benefit calculus. Now I know why they are leaving us in the dark - they are pretty much in the dark themselves.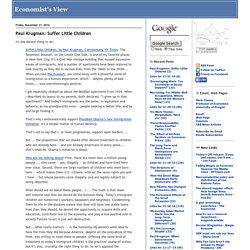 You can keep reading Jim`s market updates and financial commentary on the new website: Rogers on The Markets (click on the link or on the image below to access the new website) Jim Rogers is a legendary investor that co-founded the Quantum Fund and retired at age thirty-seven. He is the author of several books and also a financial commentator worldwide. Visit the new website Rogers On The Markets for exclusive content.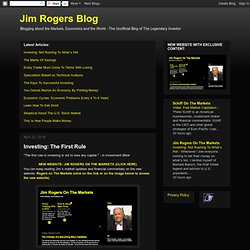 Jim Rogers Blog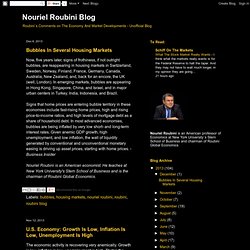 Now, five years later, signs of frothiness, if not outright bubbles, are reappearing in housing markets in Switzerland, Sweden, Norway, Finland, France, Germany, Canada, Australia, New Zealand, and, back for an encore, the UK (well, London). In emerging markets, bubbles are appearing in Hong Kong, Singapore, China, and Israel, and in major urban centers in Turkey, India, Indonesia, and Brazil. Signs that home prices are entering bubble territory in these economies include fast-rising home prices, high and rising price-to-income ratios, and high levels of mortgage debt as a share of household debt. In most advanced economies, bubbles are being inflated by very low short- and long-term interest rates. Given anemic GDP growth, high unemployment, and low inflation, the wall of liquidity generated by conventional and unconventional monetary easing is driving up asset prices, starting with home prices. - Business Insider
Nouriel Roubini Blog
On April 14, we'll kick off a special series on liquidity running each day for the week. Just Released: April Surveys Find Businesses Face Increasing Difficulty Retaining Skilled Workers Jason Bram and Richard Deitz The Federal Reserve Bank of New York's monthly business surveys include special supplementary questions on topics of interest. April's survey questions focused on how difficult it has been for firms in the region to find and retain workers with basic skills, such as math and English, as well as advanced computer skills and "soft skills," such as punctuality and interpersonal skills.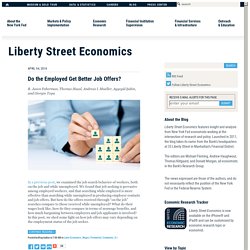 Liberty Street Economics
Climate Change 2013: The Physical Science Basis The Summary for Policymakers of the Working Group I contribution to the Fifth Assessment Report was approved, and the full report accepted, by the IPCC on 27 September 2013. The finalized version of the Summary for Policymakers was published on 11 November 2013 and is available for download below. For more on how the Working Group I report was prepared click here. Climate Change 2014: Impacts, Adaptation and Vulnerability The Working Group II (WGII) contribution to the Fifth Assessment Report on impacts, adaptation and vulnerability will be considered in Yokohama, Japan, on 25-29 March 2014.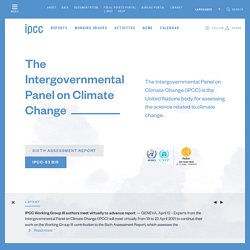 As China lawyers, we are all too frequently contacted by our clients who need help dealing with IP infringement in China. As a first step, we analyze the situation and propose a course of action. The following is an amalgamation of memoranda, done so as to convey both what goes on out there and how to deal with it. Most importantly, however, it is intended to provide a path towards preventing IP infringement through proactive trademark and copyright registrations.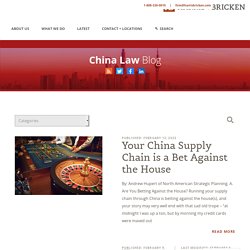 Economics Information and Economics News - Forbes.com
Economy
"When you throw in weakening stock prices, a weakness in the real estate market, the Fed is going to be forced to admit that the recovery that they're hoping to achieve is still eluding us. They're going to say that we need more stimulus. Of course, that's the last thing we need." - in Money News Peter Schiff`s comments on the economy, stock markets, politics and gold.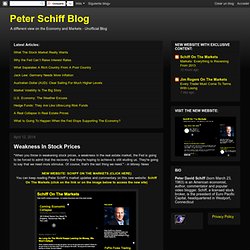 Peter Schiff Blog
The Pew Economic Policy Group | Financial Reform Project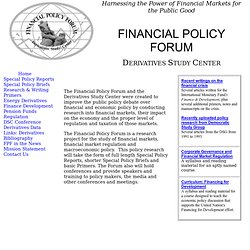 The Financial Policy Forum and the Derivatives Study Center were created to improve the public policy debate over financial and economic policy by conducting research into financial markets, their impact on the economy and the proper level of regulation and taxation of those markets. The Financial Policy Forum is a research project for the study of financial markets, financial market regulation and macroeconomic policy. This policy research will take the form of full length Special Policy Reports, shorter Special Policy Briefs and basic Primers. The Forum also will hold conferences and provide speakers and training to policy makers, the media and other conferences and meetings.
FINANCIAL POLICY FORUM -- Derivatives Study Center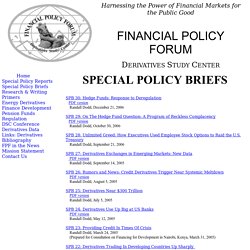 SPB 30: Hedge Funds: Response to Deregulation PDF version Randall Dodd, December 21, 2006
Special Policy Briefs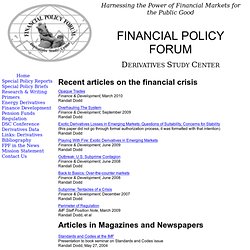 Recent articles on the financial crisis Opaque Trades Finance & Development, March 2010 Randall Dodd Overhauling The System
Research & Writing
The other day someone — I don't remember who or where — asked an interesting question: when did it become so common to disparage anyone who hasn't made it big, hasn't gotten rich, as a "loser"? Well, that's actually a question we can answer, using Google Ngrams, which track the frequency with which words or phrases are used in books: Sure enough, the term "losers" has become much more common since the 1960s. And I think this word usage reflects something real — a growing contempt for the little people.