French
Dictionary of French Expressions - French Dictionary of Expressions and Phrasal Verbs. French Language Course Pages. Created by Jacques Léon Page design by Roberth Andersson Presentation...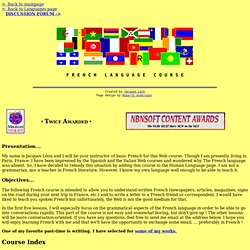 My name is Jacques Léon and I will be your instructor of basic French for this Web course. Though I am presently living in Paris, France. I have been impressed by the Spanish and the Italian Web courses and wondered why The French language was absent. MONDE : Informations - Toute l'actualité internationale : JT, vidéos, dossiers de la rédaction, blogs. Journaux télévisés en vidéo - France 2.
Free Online Pronunciation Guides with Instant Sound: English + 9 Languages. Languages - French: All you need to start learning French. Journal Quotidien boursier, économique et financier - Actualité et information bourse, finance et économie. Actualité économique et financière - Information économique et financière - Journal quotidien économique et financier - Les Echos.fr.
---