ICT4D Barcelona
Fill the Gap! ICT a catalyst for regional growth – Etisalat. The Etisalat Group unveiled its vision for regional economies to catalyze rapid growth and achieve national development goals through a coordinated response to ICT.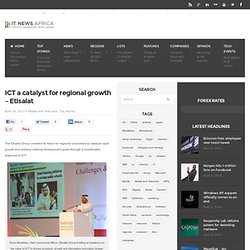 Essa Alhaddad, chief commercial officer, Etisalat Group briefing an audience on the value of ICT in driving economic growth and stimulating innovation (image: Etisalat) The Middle East's largest telecommunications company shared its blueprint for a modern economy to a think-tank of regional decision-makers at the Harvard Arab Alumni Annual Meeting held at the St. Regis Hotel, Saadiyat Island, Abu Dhabi. The opening address to the Etisalat sponsored event was delivered by His Excellency Dr Anwar Gargash, minister of state for foreign affairs and minister of Federal National Council affairs, who was immediately followed by Essa Alhaddad, chief commercial officer at Etisalat Group who presented the operator's ICT strategy.
Airtel powers Africa Movies Academy Awards. Leading telecommunications services provider, Airtel Nigeria, has been confirmed as the official sponsor of the African Movies Academy Awards (AMAA) by the organisers of the event.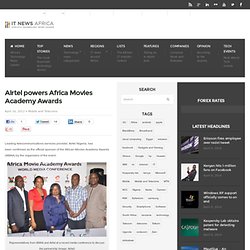 Representatives from AMAA and Airtel at a recent media conference to discuss the partnership (image: Airtel) The mobile operator was unveiled in Lagos during the week to the media at a press conference to announce the partnership and provide update on the pan African academy Awards scheduled for April 22 at the Expo Hall of Eko Hotel and Suites, Lagos. Speaking at the event, the Chief Executive Officer and Managing Director, Rajan Swaroop said through the partnership AMAA provides the company with a good platform to celebrate and reward excellence in the African film and movie industry, in addition to giving it a perfect opportunity to contribute Airtel's quota to the development of African film and cinema industry.
A new smart-phone interface and text-messaging app for the illiterate farmers - India. Information Society - Digital Agenda Scoreboard. Information society statistics. Data from August 2012.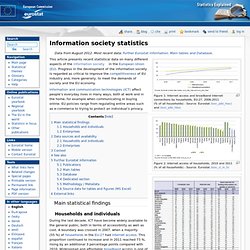 Most recent data: Further Eurostat information, Main tables and Database. Figure 1: Internet access and broadband internet connections by households, EU-27, 2006-2011(% of all households) - Source: Eurostat (isoc_pibi_hiac) and (isoc_pibi_hba) Figure 2: Internet access of households, 2010 and 2011(% of all households) - Source: Eurostat (isoc_ci_in_h) Table 2: Place of internet use, 2011(% of internet users aged 16 to 74) - Source: Eurostat (isoc_pibi_pai) LIFT12 Conference - Village Telco. 2n. ICT4Drinks in Barcelona. Invalid quantity.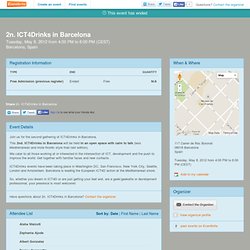 Please enter a quantity of 1 or more. The quantity you chose exceeds the quantity available. Women in technology solicit support for rural partners. The Association of Information and Communications Technology women practitioners, under the flagship of Women in Technology in Nigeria (WITIN), has disclosed its plans to rally support for women who trade at markets within rural areas.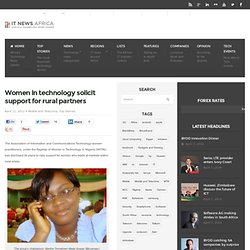 The group's chairperson, Martha Omoekpen Alade (image: Bikyamasr) This was unfolded by the group's chairperson, Martha Omoekpen Alade in a statement to the prss in Lagos. The rally, according to the group, would create web presence for such women to enable their wares or businesses to receive global attention. Upcoming seminar to assess the future potential of mobile technology in agriculture. Stockholm, Sweden. Why Mobile Ads in Emerging Markets are the Future [INFOGRAPHIC] There are 5.3 billion mobile subscribers around the world, meaning 77% of the world's population uses a phone.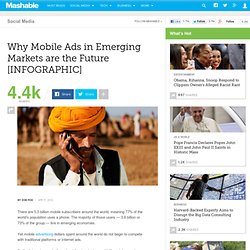 The majority of those users — 3.8 billion or 73% of the group — live in emerging economies. Yet mobile advertising dollars spent around the world do not begin to compete with traditional platforms or Internet ads. As the Internet spreads throughout the developing world, it's arriving on phones before traditional computers. Some 70% of Internet users in Egypt, 59% in India, 57% in South Africa, 50% in Ghana and 44% in Indonesia get online via mobile phones alone.
Wireless Wednesday: sharing agricultural knowledge in Kenya. Next2us. CITI Project on Broadband as a Platform for Video in Africa. COLUMBIA INSTITUTE FOR TELE-INFORMATION Columbia University Business SchoolIn Arms-Length Partnership with Private Sector companies, and other Academic & Research Institutions This conference examines the role and prospects of broadband in Africa as a video platform - the strategies and building blocks for deployment and advancement.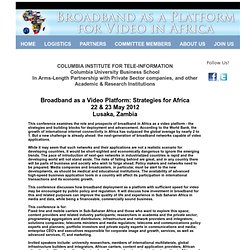 According to the World Bank, the growth of international internet connectivity in Africa has outpaced the global average by nearly 2 to 1. But a new challenge is already ahead: the next-generation of broadband networks capable of video applications. World News: How the developing world is using cellphone technology to change lives. In Nigeria, a young girl can ask questions about sex discretely through SMS and get accurate information.
After the earthquake in Haiti, survivors in remote towns could receive money for food straight to their cellphone. In Senegal, election monitors sent updates on polling stations through their mobile phones, revising an online map in real time with details about late openings or worse. Projects like Learning about Living in Nigeria, MercyCorps in Haiti and Senevote2012 in Senegal are just a few examples of how the rapid spread of mobile technology has changed life in the global south. Many places are jumping straight from paper records to mobile information because they are getting cellphone towers before Internet connections or even traditional phone lines.
Guestpost: Business Models, Entrepreneurship, and Poverty Alleviation in Kenya. This guestpost tells the special story of how Sebastián Salinas Claro and Joshua Bicknel connected across the globe on the Business Model Hub.
They joined efforts in their aim to defeat poverty by teaching entrepreneurship. The results are amazing. Ethnosproject. Euro-Africa Cooperation Forums on ICT Research - Portugal. Next Euro-African FP7/ICT awareness workshop - Lesotho. These workshops aim at raising awareness on FP7/ICT, at enhancing the participation of Africa organisations in EU-funded FP7/ICT collaborative research projects and to introduce local stakeholders to the cooperation opportunities offered by the FP7 Programme.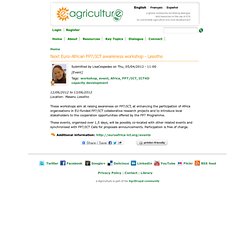 These events, organised over 1,5 days, will be possibly co-located with other related events and synchronised with FP7/ICT Calls for proposals announcements. Participation is free of charge. Additional information: Media (R)evolutions: Global Internet Use | Exploring the interactions among public opinion, governance, and the public sphere. Our Top Ten Blog Posts by Readership in 2012 Originally published on April 4, 2012 New developments and curiosities from a changing global media landscape: People, Spaces, Deliberation brings trends and events to your attention that illustrate that tomorrow's media environment will look very different from today's, and will have little resemblance to yesterday's. Note: *Estimate The world is home to 7 billion people, one third of which are using the Internet. 45% of the world's Internet users are below the age of 25.Over the last five years, developing countries have increased their share of the world's total number of Internet users from 44% in 2006, to 62% in 2011.
Source: ITU. Coders4Africa In Action: Python African Tour. Invalid quantity. Please enter a quantity of 1 or more. The quantity you chose exceeds the quantity available. Please enter your name. Launching the New Wiki and Video Initiatives. I dream of Ushahidi community members sharing best practices and mentoring others to change their world. To make this more possible, we have a new wiki and video channel. Both community zones are available for all of you to collaborate and share content. But, most of all, build, spread and change Ushahidi. Ushahidi exists to give people voice. Education and development in a world of networks. The Future Of Mobile [DECK] 'Smart farming' in Africa: Mobile telecoms revolution. EmailTemp.jpg. Beta. Local content in Africa, three ways. Why we should fund ICT for education. ALIN wins the UNESCO-IPDC Prize for Rural Communication. Connecting,Empowering & Grouping Farmers | MFarm Kenya.
Windows 7 is Now the Most Popular Operating System in Kenya | Techmtaa. Cometh the hour. Cometh the technology. TICs para Desarrollo | en Latino América. Crisis Mapping and Early Warning. A Water Drop Microscope for the XO Laptop. Our Modern Toolkit: Free and Open Source Tools for Social Impact. Mobilemediatoolkit. Internet Buttons | Welcome. 2012 Infopoverty World Conference: Who Drives the Digital Revolution? Development Through Innovation. Kenya's Safaricom upgrading mobile money service. WhiteAfrican : What's on Tap for 2012. Ictd2012Frias. Nigerian telcos blame taxes for slow development. Globacom installs broadband in another Nigeria city. African Union Research Grant Programme: Call for proposal 2012. Last week the n… « Laptop Burns.
Webinar 2012. Aprendizaje Ubicuo. ICT-led Interventions to boost Agriculture in Uganda. "ICTs Along the Ag Value Chain" database relased by GBI. March ICT4Drinks in NYC - International development- Eventbrite. Broadband tariffs in Latin America and the Caribbean: Benchmarking ... Ictreport2011. ICT4D and Sustainability. Nigerian government commits to 2015 digital economy. Question 4. ICTD 2012: Does Openness Enhance Development? - Open ICT for Development. In pictures: Mobile phones boost Ivory Coast cashew nuts. Infographic: Mobile Phones Tackling Poverty. Think Pieces | Gender-IS-Citizenship. Foursquare switches from Google Maps to OpenStreetMap. ICT for climate-smart agriculture and "green growth": Online forum 5-16 March 2012. Educational technology and innovation at the edges | A World Bank Blog on ICT use in Education.
Less Than 10% Of The Web In 2012 Is Mobile Ready. Millennials will benefit and suffer due to their hyperconnected lives. International Development 2.0. Mobile Agriculture: the Market Opportunity (session at Mobile World) Digital revolution needed for agriculture says Bill Gates. Library - CaLP. Cybernauts.com | Business Strategy Consulting, Enterprise Developers and ICT experts. Ict4drinks, Barcelona, Ict4d, Bcn tweets | Jaume Fortuny Twitter. WSIS Project Prizes 2012: cast your vote and support the e-Agriculture Community! APC WNSP | Women's Networking Support Program | Feminist Mix With A Tech Fix.
ICTDrinks in Barcelona: 23 February 2012.
---