ICT4D Barcelona
Fill the Gap!
The Etisalat Group unveiled its vision for regional economies to catalyze rapid growth and achieve national development goals through a coordinated response to ICT.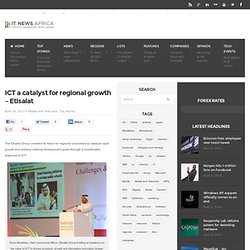 ICT a catalyst for regional growth – Etisalat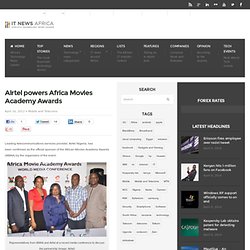 Airtel powers Africa Movies Academy Awards
Leading telecommunications services provider, Airtel Nigeria, has been confirmed as the official sponsor of the African Movies Academy Awards (AMAA) by the organisers of the event.
A new smart-phone interface and text-messaging app for the illiterate farmers - India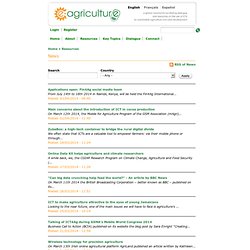 [News] Helping illiterate farmers access information via smart phones and text messaging applications.
Information Society - Digital Agenda Scoreboard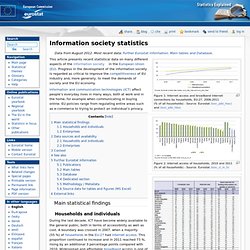 From Statistics Explained
Information society statistics
LIFT12 Conference - Village Telco
Invalid quantity. Please enter a quantity of 1 or more. The quantity you chose exceeds the quantity available.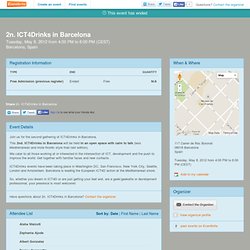 2n. ICT4Drinks in Barcelona - Eventbrite
The Association of Information and Communications Technology women practitioners, under the flagship of Women in Technology in Nigeria (WITIN), has disclosed its plans to rally support for women who trade at markets within rural areas.
Women in technology solicit support for rural partners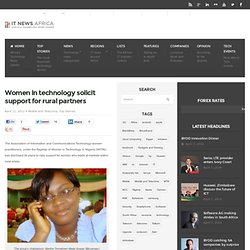 Upcoming seminar to assess the future potential of mobile technology in agriculture. Stockholm, Sweden
[Event] From 29/05/2012 to 29/05/2012 Location: Stockholm, Sweden Can mobile phones improve agricultural productivity, resilience and food security?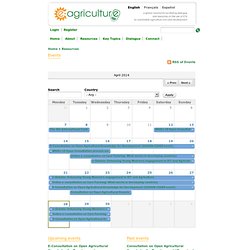 There are 5.3 billion mobile subscribers around the world, meaning 77% of the world's population uses a phone.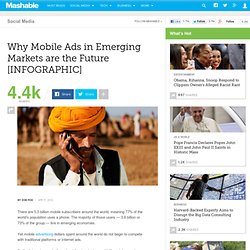 Why Mobile Ads in Emerging Markets are the Future [INFOGRAPHIC]
[News] Wireless Wednesday events are focus group discussion sessions, between mobile developers or experts in various domains, in which farmers and rural community members are invited to participate and share their experiences. The first event of the year was held in Kenya with the theme: "Using technology to enhance productivity in agricultural value chains".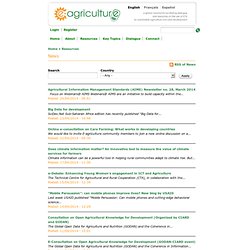 Wireless Wednesday: sharing agricultural knowledge in Kenya
Next2us
COLUMBIA INSTITUTE FOR TELE-INFORMATION Columbia University Business SchoolIn Arms-Length Partnership with Private Sector companies, and other Academic & Research Institutions
CITI Project on Broadband as a Platform for Video in Africa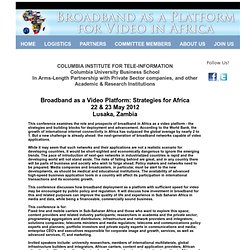 World News: How the developing world is using cellphone technology to change lives
In Nigeria, a young girl can ask questions about sex discretely through SMS and get accurate information.
This guestpost tells the special story of how Sebastián Salinas Claro and Joshua Bicknel connected across the globe on the Business Model Hub. They joined efforts in their aim to defeat poverty by teaching entrepreneurship. The results are amazing.
Guestpost: Business Models, Entrepreneurship, and Poverty Alleviation in Kenya
Euro-Africa Cooperation Forums on ICT Research - Portugal
Next Euro-African FP7/ICT awareness workshop - Lesotho
[Event] From 13/06/2012 to 14/06/2012 Location: Maseru, Lesotho
Our Top Ten Blog Posts by Readership in 2012 Originally published on April 4, 2012
Media (R)evolutions: Global Internet Use | Exploring the interactions among public opinion, governance, and the public sphere
Coders4Africa In Action: Python African Tour - Eventbrite
Launching the New Wiki and Video Initiatives
Education and development in a world of networks
GIEW: Global Information and Early Warning System. Web mapping application
The Future Of Mobile [DECK]
'Smart farming' in Africa: Mobile telecoms revolution
emailTemp.jpg
Local content in Africa, three ways
Why we should fund ICT for education
ALIN wins the UNESCO-IPDC Prize for Rural Communication
Connecting,Empowering & Grouping Farmers | MFarm Kenya
Windows 7 is Now the Most Popular Operating System in Kenya | Techmtaa
Cometh the hour. Cometh the technology.
TICs para Desarrollo | en Latino América
Crisis Mapping and Early Warning
A Water Drop Microscope for the XO Laptop
Our Modern Toolkit: Free and Open Source Tools for Social Impact | InSTEDD
mobilemediatoolkit
2012 Infopoverty World Conference: Who Drives the Digital Revolution? Development Through Innovation
Kenya's Safaricom upgrading mobile money service
WhiteAfrican : What's on Tap for 2012
ictd2012Frias
Nigerian telcos blame taxes for slow development
Globacom installs broadband in another Nigeria city
African Union Research Grant Programme: Call for proposal 2012
Last week the n… « Laptop Burns
Webinar 2012. Aprendizaje Ubicuo
ICT-led Interventions to boost Agriculture in Uganda
"ICTs Along the Ag Value Chain" database relased by GBI
March ICT4Drinks in NYC - International development- Eventbrite
Broadband tariffs in Latin America and the Caribbean: Benchmarking ...
ictreport2011
ICT4D and Sustainability
Nigerian government commits to 2015 digital economy
Question 4
ICTD 2012: Does Openness Enhance Development? - Open ICT for Development
In pictures: Mobile phones boost Ivory Coast cashew nuts
Infographic: Mobile Phones Tackling Poverty
Think Pieces | Gender-IS-Citizenship
Foursquare switches from Google Maps to OpenStreetMap
ICT for climate-smart agriculture and "green growth": Online forum 5-16 March 2012
Educational technology and innovation at the edges | A World Bank Blog on ICT use in Education
Less Than 10% Of The Web In 2012 Is Mobile Ready
Millennials will benefit and suffer due to their hyperconnected lives
Mobile Agriculture: the Market Opportunity (session at Mobile World)
Digital revolution needed for agriculture says Bill Gates
Library - CaLP
Cybernauts.com | Business Strategy Consulting, Enterprise Developers and ICT experts
Ict4drinks, Barcelona, Ict4d, Bcn tweets | Jaume Fortuny Twitter
WSIS Project Prizes 2012: cast your vote and support the e-Agriculture Community!
APC WNSP | Women's Networking Support Program | Feminist Mix With A Tech Fix
ICTDrinks in Barcelona: 23 February 2012