Surveys, pools & quizzes webquest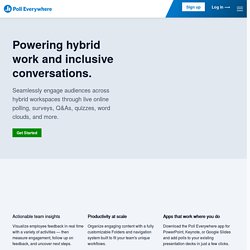 Professional look and feel Poll Everywhere gives you the power to design and customize polls to your own specifications. Match your presentation template, use your organization's logo and color scheme, or let your own imagination run wild. A joy to use
Get a free poll for your website - Vorbeo.com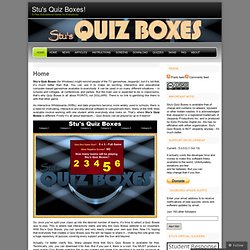 Stu's Quiz Boxes (for Windows) might remind people of the TV gameshow, Jeopardy!, but it's not that, it's much better than that. You can use it to make an exciting, interactive and educational computer-based gameshow available to everybody. It can be used in so many different situations – in schools and colleges, at conferences and parties. But the main use is expected to be in classrooms, that's why Quiz Boxes is all about POINTS, not DOLLARS. There is no link to gambling like there is with that other game.
Create your free poll for MySpace etc.
Making an xat.com poll is easy and completely free. Just fill in the boxes below and press the "Update" button. When you are happy with your poll copy and paste the code in the box below into your web page, forum or blog.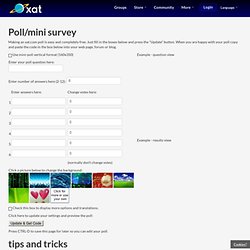 Sign In
Weltstatistiken in Echtzeit
Quickly Create Online Quizzes For Free
easy online dot voting -- no registration needed
Create new Stickymoose EnglishNederlands What do you want to decide? Multiple questions?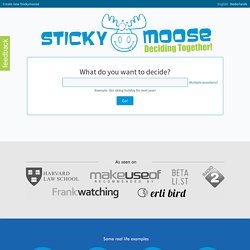 Voting Tool | Stickymoose