Surveys, pools & quizzes webquest
Text Message (SMS) Polls and Voting, Audience Response System | Poll Everywhere. Best Online Quiz Maker | Zoho Challenge. Get a free poll for your website - Vorbeo.com. Stu's Quiz Boxes! QuizRevolution - Embeddable Online Quizzes for Business and Fun. Create your free poll for MySpace etc.
Making an xat.com poll is easy and completely free.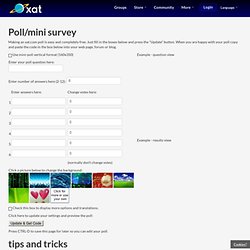 Just fill in the boxes below and press the "Update" button. When you are happy with your poll copy and paste the code in the box below into your web page, forum or blog. SurveyMonkey: Software di indagine online gratis e strumento questionario. Online survey software - conduct your customer surveys and polls with Polldaddy | Polldaddy.com.
Sign In. Free online puzzle maker. Online Testing Free Quiz Maker Create the Best web-based quizzes ClassMarker. GetPolling! Create free online polls in seconds. No registration required! Flisti - Create free online polls without signing-up. Weltstatistiken in Echtzeit. Quickly Create Online Quizzes For Free. WebQuest Maker. Twtpoll - From Simple Twitter Polls to Powerful Web Surveys. Social Media Feedback Tool. Easy online dot voting -- no registration needed.
Create a free poll - Instant & easy. No sign up | Pollcode. Voting Tool | Stickymoose.
---