Socialbusiness
More Than Facebook: The Time Is Right For Social Business. Kernels Of Innovation. All things social represent the acceleration of millions upon millions of conversations in real-time.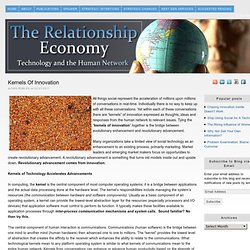 Individually there is no way to keep up with all these conversations. Yet within each of these conversations there are "kernels" of innovation expressed as thoughts, ideas and responses from the human network to relevant issues. Tying the "kernels of innovation" together is the bridge between evolutionary enhancement and revolutionary advancement. Many organizations take a limited view of social technology as an enhancement to an existing process, primarily marketing. Deconstructing Your Social Business Plan For 2011.
Originally posted on Logic + Emotion.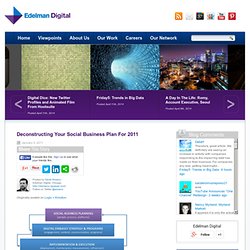 It's 2011 and as you gear up for planning initiatives for the new year, it's the best time ever to take a step back and think about what needs to be done before you take action. But before even doing that, you may want to think about how you've approached initiatives in the past. Here's a simple framework to consider: Do CEO's Need "Social" Leadership Instructions? In McKinsey's article titled Leadership Lessons For Hard Times the leaders of 14 major companies, all seasoned CEOs or chairmen, were interviewed, asking them to reflect on what they felt they learned during hard times.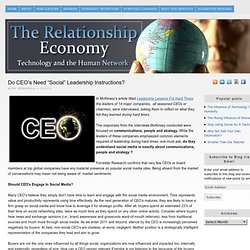 The responses from the interviews McKinsey conducted were focused on communications, people and strategy. While the leaders of these companies emphasized common elements required of leadership during hard times, one must ask, do they understand social media is exactly about communications, people and strategy ? Forrester Research confirms that very few CEOs or board members at top global companies have any material presence on popular social media sites. Being absent from the market of conversations may mean not being aware of market sentiments. Social Leadership, Strategy & Management | Many people are calling themselves "social media strategist" because they think they understand the use of all things social.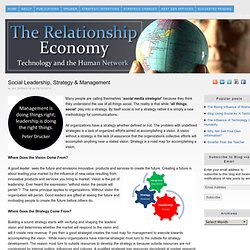 The reality is that while "all things social" play into a strategy. By itself social is not a strategy rather it is simply a new methodology for communications. All organizations have a strategy whether defined or not. The Art of Social Strategy blog. Nokia: Social Media Communications at Nokia, presented by Molly Schonthal. Warning: Information Armageddon | In an interview with the Wall Street Journal, Google CEO Eric Schmidt warns of the future consequences of social media and networks, and the vast amount of personal data that users put out there on the Web.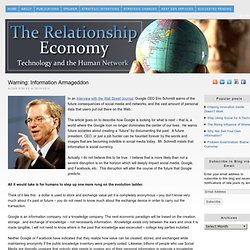 The article goes on to describe how Google is looking for what is next – that is, a world where the Google Icon no longer dominates the center of our lives. He warns future societies about creating a "future" by documenting the past. A future president, CEO, or just a job hunter can be haunted forever by the words and images that are becoming indelible in social media today. Social: Useful vs. Useless | Lets take an exam.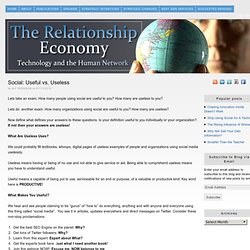 How many people using social are useful to you? How many are useless to you? Culture in Social Business Design. My last post discussed the Open/Closed culture fallacy in social business design.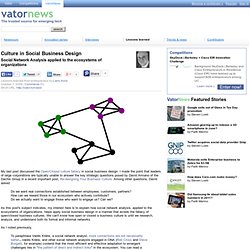 I made the point that leaders of large corporations are typically unable to answer the key strategic questions posed by David Armano of the Dachis Group in a recent important post, Re-designing Your Business Culture. Among other questions, David asked: Do we want real connections established between employees, customers, partners? How can we reward those in our ecosystem who actively contribute? Do we actually want to engage those who want to engage us? 2020 Social: Because Business is Social | We build and nurture o.
---