socialbusiness
Get flash to fully experience Pearltrees
All things social represent the acceleration of millions upon millions of conversations in real-time.
Originally posted on Logic + Emotion .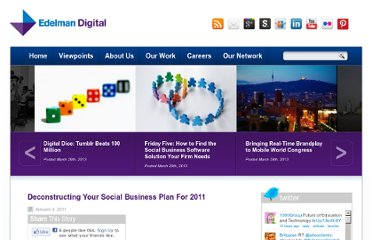 In McKinsey's article titled Leadership Lessons For Hard Times the leaders of 14 major companies, all seasoned CEOs or chairmen, were interviewed, asking them to reflect on what they felt they learned during hard times.
Many people are calling themselves " social media strategist " because they think they understand the use of all things social.
In an interview with the Wall Street Journal , Google CEO Eric Schmidt warns of the future consequences of social media and networks, and the vast amount of personal data that users put out there on the Web.
Lets take an exam. How many people using social are useful to you? How many are useless to you?
My last post discussed the Open/Closed culture fallacy in social business design. I made the point that leaders of large corporations are typically unable to answer the key strategic questions posed by David Armano of the Dachis Group in a recent important post, Re-designing Your Business Culture .