Toys
There are certain dates we remember – The Super Bowl, when pitchers and catchers report and when Sam Adams changes their seasonal beers – everything else, long shot. Luckily, Forgetful Gentleman not only reminds us when we need to send out a Congratulations, Happy Birthday, or Anniversary note but also helps us send one that will stand out. The Correspondence System will shoot you off an email or a text when it's time to mail out a note and, in true gentleman fashion, provides quality Italian paper cards to send it on.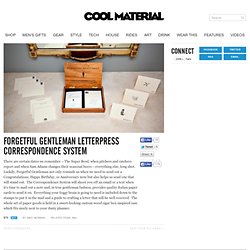 Forgetful Gentleman Letterpress Correspondence System
Paintball Robot
At some point in your life you wanted to build a robot and be on Battle Bots. It could have been when you were a kid, or five years ago, or even yesterday, but that moment exists. Building things with your bare hands isn't just something you enjoy doing, it's essential in some way to our continued existence as men. Depending on how much Tim "The Toolman" Taylor you have in your blood, you too can build one of Chris Rogers' Paintball Robots. He started with a RC monster truck and turned it into the Remotely Operated Mobile Platform by upgrading the shocks, gearing and electronics.
There are few things in life as serious as a bullet. Most of us don't have to rely on one of man's most deadly weapons on a regular basis, so we don't have use for bullets regularly. Pens are a different story. Signing checks, bar tabs and taking notes will be less of a chore and more of a reason to show off – if you have a Fisher Space Pen that's made from a real .375 caliber bullet. Getting your point across will never be as easy as it is with this bullet pen.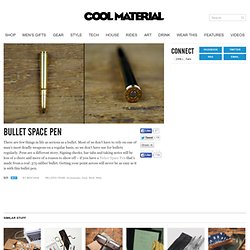 Bullet Space Pen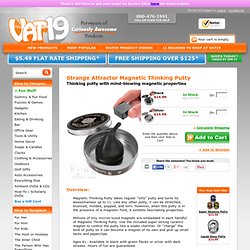 Thinking putty with mind-blowing magnetic properties $4.99 to $10.99 Overview: Magnetic Thinking Putty takes regular "silly" putty and turns its awesomeness up to 11. Like any other putty, it can be stretched, bounced, molded, popped, and torn. However, when this putty is in the presence of a magnetic field, it exhibits fascinating properties.
People who drink coffee know how much it sucks when you grab a cup from your local coffee shop, take sip, and recoil from the burning hot liquid you need so badly to start your day.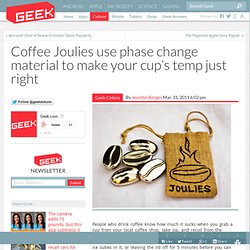 Coffee Joulies use phase change material to make your cup's temp just right
Your Business Card Usually Goes Before U.
- The Right of The People
Red Jacket Firearms
Move over Taurus Judge here comes the Smith & Wesson Governor ! - GUNBOOK
Bulk Ammo | Bulk Ammunition Purchases
Bulk Ammunition Purchases For The General Public If you are a dealer who sells ammunition through gun shows, a pawn shop, a sporting goods store, or a firearms store and usually purchase your ammo in excess of 25,000 rounds per month, the team at Lucky Gunner Ammo can offer you an additional channel of procurement for your bulk ammo! If you are interested in placing a single order for less than 25,000 rounds, please just use our website as both a menu for what is available and the avenue to purchase it. While everything on our website is in stock and ready to ship (and usually arrives in 2-4 days after you place the order), this is not the case for our wholesale product.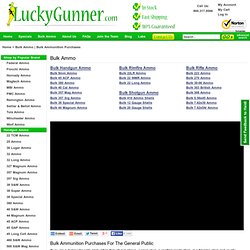 Weird Awesome Stuffs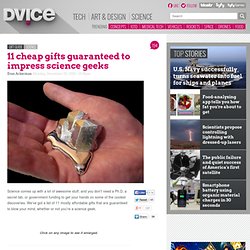 Science comes up with a lot of awesome stuff, and you don't need a Ph.D, a secret lab, or government funding to get your hands on some of the coolest discoveries. We've got a list of 11 mostly affordable gifts that are guaranteed to blow your mind, whether or not you're a science geek. Click on any image to see it enlarged. 1. Aerogel
Peeling With Three Variations There is a reason why potato peelers come with brown handles; to blend in with the peels, so that you accidentally throw it out with the trash and replace it with a new one. With a sophisticated peeler like this Rotary Peeler, I doubt any such accidents will happen. Not only is it designed really simple, it's got functionality multiplied 4 times! How? Well for starters it's got three different blade options for peeling (one for potatoes, a serrated one for soft fruits and veggies and a third to cut uber-smooth juliennes), and a potato-eye weeder.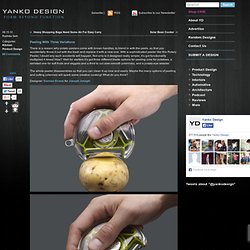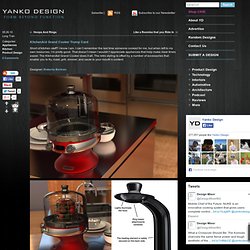 KitchenAid Grand Cooker by Roberto Bertran
KitchenAid Grand Cooker Trump Card Short of kitchen staff? I know I am. I can't remember the last time someone cooked for me, but when left to my own resources, I'm pretty good. That doesn't mean I wouldn't appreciate appliances that help make meal times easier.
10 Luxurious Gold Plated Cars « OpenFreak.Com
Holden Efijy Concept 2005 Holden Efijy – Luxury Issues
Mercedes-Benz F800 – Vision of Luxury Car of the Future from Mercedes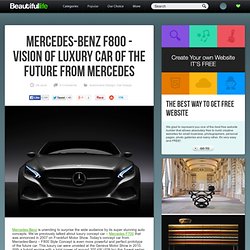 Mercedes-Benz is unending to surprise the wide audience by its super stunning auto concepts. We've previously talked about luxury concept car – Mercedes F700 that was annonced in 2007 on Frankfurt Motor Show. Today's concept car from Mercedes-Benz – F800 Style Concept is even more powerful and perfect prototype of the future car. This luxury car were unveiled at the Geneva Motor Show in 2010. With a hybrid engine with a total power of around 300 kW (409 hp) this 5-seat sedan – is a clear example of what could be a luxury car in the near future. Unsurpassed emotional design, latest technology, traditional for Mercedes-Benz comfort – this luxury concept car once again underlines the leadership of Mercedes-Benz as a manufacturer of the best luxury cars.
Simple Ideas That Are Boderline Genius (Part 3)
Robb Report - The Global Luxury Source
5 Of The Most Outrageously Expensive Gifts You Can Buy Online! | GiftStumped