Pretzels
Get flash to fully experience Pearltrees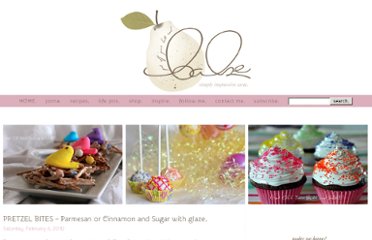 Saturday, February 6, 2010 Do you need a perfect snack for the big game? These Pretzel bites will hit the spot for sure.
On Fridays, I teach cooking classes to two kids in our neighborhood. They are pretty knowledgeable-so my job is easy:) I think it is fantastic that they want to learn how to cook at such a young age-they are in the 3rd and 4th grade.
On Saturday Doug, Angie, Noah, and Leah came over to watch the University of Utah football game.
MENU: Perfect Mini Crab Cakes with Chipotle Mayo and Corn-Pepper Relish; Lobster Rolls on Brioche; Squash Slivers with Truffle Salt and Lemon; Coronas; Mark Bittman's Tofu Chocolate Pudding (chili powder omitted)
I saw these on the Betty Crocker website one day & immediately began drooling!
So, of all the things that I have made and blogged about since The Curvy Carrot began (in July!), these…by far….are my most favorite treats yet.
Preparation
I am slightly phobic about cooking fish. For one, I've just taken out a second mortgage to afford it. For another, I've had too many experiences overcooking it.
The weather in Los Angeles has been unbelievable the last few weeks and it makes me want to be out by the pool all the time! These crab and avocado dipped tortilla chips, which were inspired by a recipe from the latest Curtis Stone Cookbook "Relaxed Cooking" are the perfect snack or appetizer on a warm day. Curtis' recipe calls for a few variations that what I used… so this has been slightly adapted for my kitchen.
We sometimes call this "Inside-Out" pizza too.