FLASH
Flash CMS / Flash Content Management System / Flashblocks
Welcome to Flashblocks Flash CMS for actionscript 1, 2 & 3.The Flash Content Management System for web designer. Simplicity, expandability and power; Update Flash websites from any computer, anytime, anywhere. Flashblocks, content management, for Flash Designers, allowing you and your clients to easily create, update, and arrange Flash content from any web browser. Content is edited intuitively while browsing, therefore there is practically no learning curve nor client training required. Simply login, mouse over glowing areas in your Flash website, and immediately begin changing content.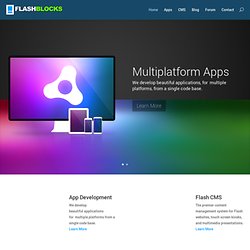 Development and sales ended on April 23, 2012 Sales of Adobe® Flash® Catalyst® software ended on April 23, 2012. Flash Catalyst CS5.5 will no longer be available in future versions of Adobe Creative Suite® software. Adobe recommends that designers who are looking for interaction design software consider Creative Suite 6 Master Collection, which delivers the professional creative tools you need to create interactive apps that can reach audiences virtually anywhere. Adobe has decided to discontinue the production of Flash Catalyst in order to streamline the product line. Adobe will continue to honor all technical support contracts until they expire.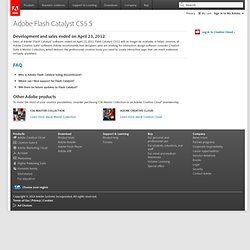 interaction design software | Adobe Flash Catalyst CS5
Flashandmath.com Site Search NEW TUTORIALS, EFFECTS AND HOW-TOs AS3 Events Tutorial AS3 Events Properties: target, currentTarget, eventPhase, localX, localY We look at basic properties of events in AS3: target, currentTarget, localX, localY, as well as eventPhase. We provide a simple utility that displays those properties for MouseEvent.CLICK. Some results may surprise you, especially Event.target and localX, localY.