FLASH
Flash CMS / Flash Content Management System / Flashblocks.
Interaction design software | Adobe Flash Catalyst CS5. Development and sales ended on April 23, 2012 Sales of Adobe® Flash® Catalyst® software ended on April 23, 2012.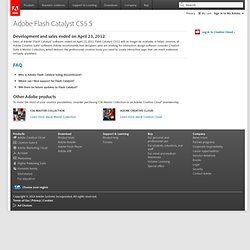 Flash Catalyst CS5.5 will no longer be available in future versions of Adobe Creative Suite® software. Adobe recommends that designers who are looking for interaction design software consider Creative Suite 6 Master Collection, which delivers the professional creative tools you need to create interactive apps that can reach audiences virtually anywhere. Adobe has decided to discontinue the production of Flash Catalyst in order to streamline the product line. Adobe will continue to honor all technical support contracts until they expire. Flash Builder 4: features. ActionScript 3 Tutorials.
---