Unschooling ideas
The Creative Dance Center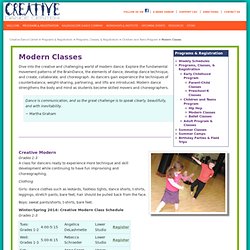 Dive into the creative and challenging world of modern dance. Explore the fundamental movement patterns of the BrainDance, the elements of dance, develop dance technique, and create, collaborate, and choreograph. As dancers gain experience the techniques of counterbalance, weight-sharing, partnering, and lifts are introduced.
Continuous Ink Jet Printing Theory Inkjet technology has been in existence since the 1950s and has been used commercially since the 1970s. Nowadays, continuous inkjet technology has... Purpose of a Piezo Buzzer Piezo buzzers are small electronic devices that emit sounds when driven by low voltages and currents. They are also called piezoelectric buzzers.... DIY Simple Circuit Piezoelectric Driver Piezoelectric transducers, also called buzzers or benders, make inexpensive and handy electronic noisemakers. Thinner, lighter and simpler in design than a speaker...
How to Connect a Piezo Crystal in the Circuit
Process of Making Piezo Crystals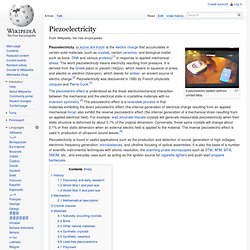 Piezoelectricity ( pron.: / p i ˌ eɪ z oʊ ˌ i l ɛ k ˈ t r ɪ s ɪ t i / ) is the electric charge that accumulates in certain solid materials (notably crystals , certain ceramics , and biological matter such as bone, DNA and various proteins ) [ 1 ] in response to applied mechanical stress . The word piezoelectricity means electricity resulting from pressure. It is derived from the Greek piezo or piezein (πιέζειν), which means to squeeze or press, and electric or electron ( ήλεκτρον ), which stands for amber , an ancient source of electric charge. [ 2 ] Piezoelectricity was discovered in 1880 by French physicists Jacques and Pierre Curie . [ 3 ]
How Quartz Watches Work"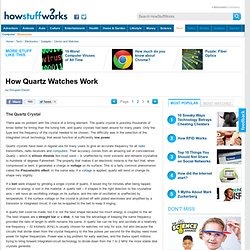 There was no problem with the choice of a timing element. The quartz crystal is possibly thousands of times better for timing than the tuning fork, and quartz crystals had been around for many years. Only the type and the frequency of the crystal needed to be chosen.
Quartz is the second most abundant mineral in the Earth 's continental crust , after feldspar . It is made up of a continuous framework of SiO 4 silicon – oxygen tetrahedra , with each oxygen being shared between two tetrahedra, giving an overall formula SiO 2 . There are many different varieties of quartz, several of which are semi-precious gemstones . Especially in Europe and the Middle East, varieties of quartz have been since antiquity the most commonly used minerals in the making of jewelry and hardstone carvings . The word "quartz" is derived from the German word "Quarz" and its Middle High German ancestor "twarc", which probably originated in Slavic (cf. Czech tvrdý ("hard"), Polish twardy ("hard")). [ 6 ]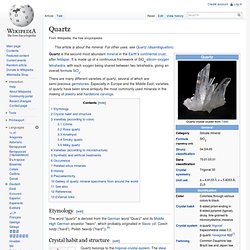 Quartz
How to Make Real Life Homemade Crystals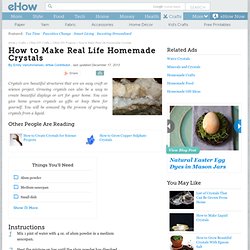 How to Make Homemade Crystals Whether it's homemade rock candy or a school science experiment, making your own crystals can be fun and interesting. It will take... How to Make a Real Crystal Snowflake Decoration Real crystal snowflakes not only make great winter and holiday decorations, but they also make wonderful science projects. Your child can learn... How to Make Crystals at Home Growing crystals is a simple project for homeschooling families or to alleviate summer boredom. There are commercially available crystal making kits available,...
How to Grow Salt Crystals
How to Enroll in Washington Virtual Academies | Washington Virtual Academies
Important Announcement Enrollment is now open for the 2013–2014 school year! Follow the steps below to begin the enrollment process. Enrollment Steps Complete the Online Enrollment Application New Families
Loyal Heights Community Center
Parks & Recreation: Loyal Heights Community Center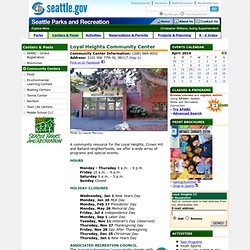 Community Center Information: (206) 684-4052 Address: 2101 NW 77th St, 98117 (Map It) Find us on Facebook A community resource for the Loyal Heights, Crown Hill and Ballard neighborhoods, we offer a wide array of programs and special events. Hours Monday, Wednesday & Friday 9 a.m. - 9 p.m.
The Outback Kangaroo Farm, Home Page
Washington Homeschool Groups, Events, & Activities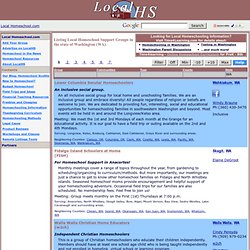 Heritage Homeschool Cooperative (HHC) A Supportive and Caring Place! Heritage Homeschool Co-Op is a community of 100+ homeschooling families.
Washington (WA) Local Homeschool Support Groups - Local Homeschool.com
UW Botany Greenhouse: Tours
The Department of Biology's Botany Greenhouse and Medicinal Herb Garden at the University of Washington offer guided tours for school groups of all ages, garden clubs, senior centers, and other community groups. The standard tour takes about one hour and focuses on diversity in the plant world. On Greenhouse tours visitors will learn about carnivorous plants, plants that have mutualistic relationships with ants, plants that smell sweet, plants that smell bad, orchids, cacti, and much more. On Medicinal Herb Garden tours visitors will learn about the medicinal properties of many plants, historical uses of Pacific Northwest native plants, and the origin of many medicines still used today.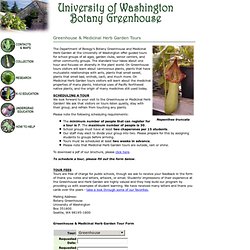 Homeschooling – Homeschooling Resources | Seattle's Child
Seattle Homeschool Group - Welcome!
Seattle Aquarium
How to Make a Paper Towel
How to Make Cardboard