Arts
Marabout (résine) Lion *(plâtre) Lion belle crinière *(plâtre) Lionceau *(plâtre) Cheval fringant *(plâtre) Cheval nez au vent *(plâtre)
Galerie - Francoise Coutant Sculptrice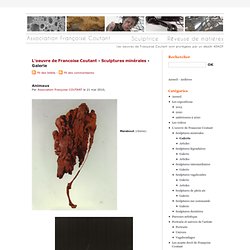 La Coupe Exstra : Florian Javet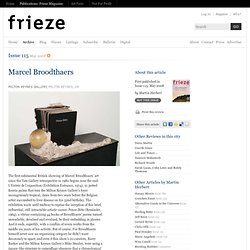 Marcel Broodthaers Milton Keynes Gallery, Milton Keynes, UK The first substantial British showing of Marcel Broodthaers' art since the Tate Gallery retrospective in 1980 begins near the end: L'Entrée de l'exposition (Exhibition Entrance, 1974), 21 potted Kentia palms that turn the Milton Keynes Gallery's foyer incongruously tropical, dates from two years before the Belgian artist succumbed to liver disease on his 52nd birthday. The exhibition waits until midway to reprise the inception of this brief, influential, still intractable artistic career: Pense-Bête (Reminder, 1964), a vitrine containing 44 books of Broodthaers' poems turned unreadable, devalued and revalued, by their embedding in plaster. And it ends, superbly, with a conflux of seven works from the middle six years of his activity.
Archive | Marcel Broodthaers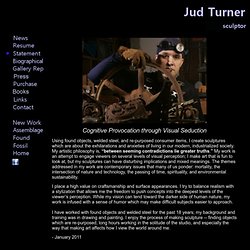 Cognitive Provocation through Visual Seduction Using found objects, welded steel, and re-purposed consumer items, I create sculptures which are about the exhilarations and anxieties of living in our modern, industrialized society. My artistic philosophy is, "between seeming contradictions lie greater truths . " My work is an attempt to engage viewers on several levels of visual perception; I make art that is fun to look at, but my sculptures can have disturbing implications and mixed meanings. The themes addressed in my work are contemporary issues that many of us ponder: mortality, the intersection of nature and technology, the passing of time, spirituality, and environmental sustainability.
Jud Turner - Artist Statement
Blog MY Arts » Le monde des nouvelles artistiques
Caméraman 6 mars 2012 Si vous vouliez devenir un caméraman professionnel, la première chose que vous aviez à apprendre, c'est de tenir la caméra d'une main de maitre, stable, confiance et concentré. L'accent est toujours mise sur la scène devant.
home : ismaïl bahri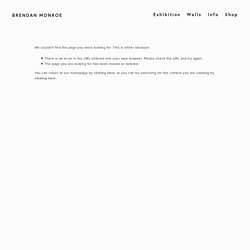 Brendan Monroe Observations of Light & Matter March 2, 2012 - March 25, 2012
Brendan Monroe : Dust and Gas Prints : Resurrection : Limbic Place