R
R in Action - early thoughts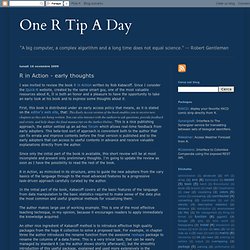 I was invited to review the book R in Action written by Rob Kabacoff. Since I consider the Quick-R website, created by the same smart guy, one of the most valuable resources about R, It is both an honor and a pleasure to have the opportunity to take an early look at his book and to express some thoughts about it. First, this book is distributed under an early access policy that means, as it is stated on the editor's web site , that: This Early Access version of the book enables you to receive new chapters as they are being written. You can also interact with the authors to ask questions, provide feedback and errata, and help shape the final manuscript on the Author Online . This is a nice publishing approach, the editor settled up an ad-hoc forum which allows real-time feedback from early adopters.
[Thanks for dropping by, Hacker News readers! If you want to see more about what R can do, check out these posts on using R to create calendar heat maps , or to do live social network analysis on Twitter . You can run the code in REvolution R .] In an article at Information Management, Steve Miller casts an analyst's eye at the future of R in the commercial analytic software market currently dominated by SAS and the recently-acquired SPSS. He discusses the recent round of venture funding here at REvolution, and identifies innovation as one of the reasons why there is so much momentum behind R recently:
R's Statistical Revolution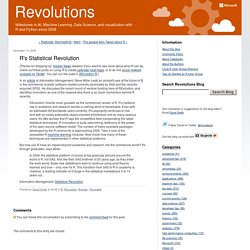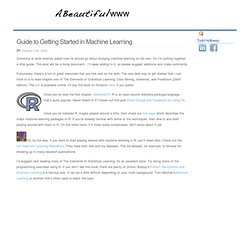 Someone at work recently asked how he should go about studying machine learning on his own. So I'm putting together a little guide. This post will be a living document…I'll keep adding to it, so please suggest additions and make comments. Fortunately, there's a ton of great resources that are free and on the web.
Guide to Getting Started in Machine Learning
Machine Learning in R, in a nutshell
Welcome, Hacker News readers! You may also be interested in this analysis of Hacker News survey data done in R. Josh Reich has created a concise R script demonstrating various machine-learning techniques in R with simple, self-contained examples.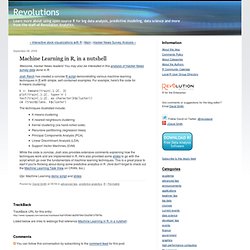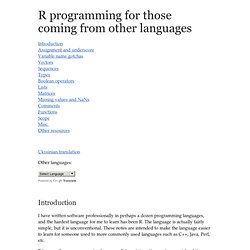 Introduction Assignment and underscore Variable name gotchas Vectors Sequences Types Boolean operators Lists Matrices Missing values and NaNs Comments Functions Scope Misc. Other resources Ukrainian translation
Table of Contents An Introduction to R This is an introduction to R ("GNU S"), a language and environment for statistical computing and graphics. R is similar to the award-winning S system, which was developed at Bell Laboratories by John Chambers et al. It provides a wide variety of statistical and graphical techniques (linear and nonlinear modelling, statistical tests, time series analysis, classification, clustering, ...).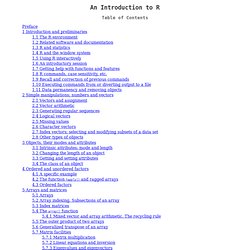 R Graph Gallery
(March 26th Update: Video now available) Last night, I moderated our Bay Area R Users Group kick-off event with a panel discussion entitled "The R and Science of Predictive Analytics", co-located with the Predictive Analytics World conference here in SF. The panel comprised of four recognized R users from industry: Bo Cowgill, Google Itamar Rosenn, Facebook David Smith, Revolution Computing Jim Porzak, The Generations Network (and Co-Chair of our R Users Group)
How Google and Facebook are using R