About food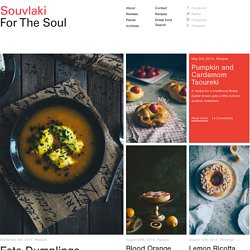 Mushroom cigars enhanced with Middle Eastern inspired ingredients. Perfect for entertaining. Click through to see the recipe... Read more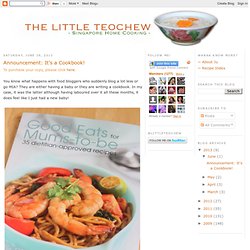 To purchase your copy, please click here. You know what happens with food bloggers who suddenly blog a lot less or go MIA? They are either having a baby or they are writing a cookbook. In my case, it was the latter although having laboured over it all these months, it does feel like I just had a new baby! Hot off the press and officially launched today at KK Women's and Children's Hospital! Read on for more details.
The Little Teochew: Singapore Homecooking
Thursday, January 16, 2014 pear and hazelnut muffins We all know that muffins teeter precariously on a razor-thin line that divides the food categories of "Acceptable for Breakfast" and "Nope, This Is Dessert" and one must maintain firm boundaries during the breakfast hours lest the day that follows devolve into a full-on bacchanal of Resolution decompensation that ends with one passed out amid scatters of Cheetos, ketchup packets and French fry grease with a side of cronut.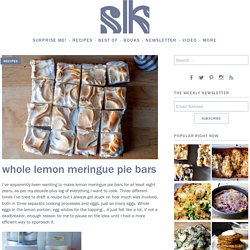 NEA Hawker | Home
Almost Bourdain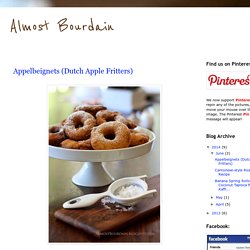 Chicken liver pate with some sweet sauce/onion jam on the side Is my favorite entree to order when we are eating out. So one day, thanks to my little sister's birthday, I decided to try and make one on my own. After I discovered how much butter it contains I don't believe I will prepare it a lot, but eating a small portion on special occasion I am sure will do no harm. Any way, it tasted so great especially with the onion jam, we all just loved it. There was a lot of onion jam leftovers and we ate it with entrecote steak over the weekend, it was Delicious!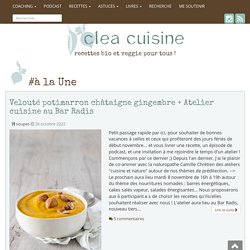 Burger : nom masculin (de hamburger). Sorte de sandwich rond, produit de base de la restauration rapide. (On distingue les hamburgers, les fishburgers, etc.) (Larousse) Et la question existentielle : comment peut-on s'intéresser à ce symbole du fast-food dans ce qu'il a de pire et en même temps revendiquer une passion pour une cuisine bio et équilibrée ? Facile. La réponse tient en deux mots : fait maison.
Je vous souhaite de très belles fêtes d'année, qu'elles soient remplies de joie, d'amitié, d'amour, et surtout...de bons repas! Quant à moi, je m'envole pour l'autre bout du monde, direction l'Australie! Si vous avez de bonnes adresses incontournables, n'hésitez pas à me les faire partager! A très vite... I wish you a very happy holiday season, may your last 2013 days be filled with love, friendship, laughter, joy and...food!
About Foood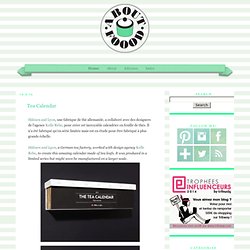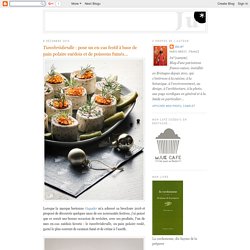 En Bretagne, l'Automne a été doux et fructueux : les récoltes de pommes sont plus spectaculaires que jamais... il parait que c'est le soleil de l'été qu'il faut remercier :-) Nous entrons donc dans l'hiver avec des pommes plein les clayettes et ça tombe bien car le gâteau sur lequel j'ai jeté mon dévolu est un Äpplekaka med kanel... Ce gâteau suédois aux pommes et à la cannelle m'a tapé dans l'oeil ici, mais j'ai voulu faire quelques ajustements pour lui donner davantage de moelleux et de légèreté. Pour tout vous dire, il m'a fallu 3 essais pour mettre au point cette variante bretonne de l'Äpplekaka : un gâteau aérien comme un nuage qui aurait pu trouver sa place sur le comptoir du MJUK CAFE. Ce qui distingue ce gâteau breton de son homologue suédois, ce sont les ingrédients : pommes, oeufs et beurre bretons, lait Ribot (à la place du gräddfill) et sel de Guérande. Les proportions et la méthode diffèrent un peu aussi, mais rassure-vous, il a encore tout d'un gâteau suédois :-)
Ju*|carnets|
PASTAPARTY
Je continue dans les recettes végétales avec cette tarte au citron qui n'a rien a envier à sa cousine classique. Tout ne monde n'y verra que du feu, même les plus récalcitrants à la cuisine végétalienne ! L'huile de coco est une bonne alternative au beurre.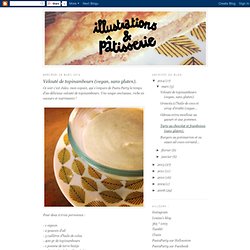 Bonjour! Les vacances d'été approchent et j'ai pensé que certains d'entre vous iront peut-être passer quelques jours à Paris? Je partage donc avec vous les quelques très bonnes adresses que j'ai testé récemment, c'est parti! Takara Un de mes restaurant Japonais favoris (apparemment un des plus anciens de Paris)l'accueil est toujours charmant, et j'y ai très bien mangé à chaque fois.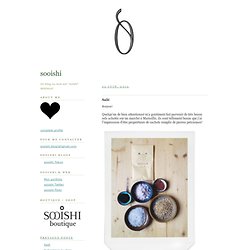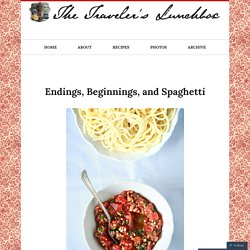 So, Sicily. As much as I loved Palermo, I have to say it paled in comparison to the the five days I spent with the most incredible group of bloggers at the Anna Tasca Lanza Cooking School. If the name Anna Tasca Lanza rings a bell for you, there's a good reason.
4Photo by Juta Kübarsepp for the February issue of Kodu ja Aed magazine. Time for another Estonian classic! There are two lovely-sounding dishes in Estonia, kooreklops and sibulaklops. The first one is pan-fried steak simmered in creamy gravy, the other is the kooreklops with a generous amount of fried onions.
nami-nami: a food blog