Flyinggoatman
SERIOUS GAME. SERIOUS GAME. This Vegas-Style Water Gun Ballet Makes Me Really Miss Summer. You just got REICHROLL'D! Unusual Words.
Pearltrees videos
Help. The Game (mind game) The Game is a mental game where the objective is to avoid thinking about The Game itself.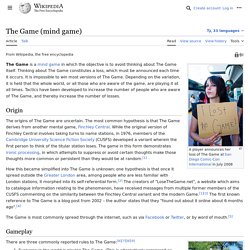 Thinking about The Game constitutes a loss, which, according to the rules of The Game, must be announced each time it occurs. It is impossible to win most versions of The Game; players can only attempt to avoid losing for as long as they possibly can. The Game has been variously described as pointless and infuriating, or as challenging and fun to play.[1] "The Game" can be played by anyone at anytime, and, depending on which rules for the game one subscribes to, the whole world, or at least all those who are aware of the game, are playing it.[1][2][3][4][5] Gameplay.
---