UNIVERSIDADES BEST IN CLASS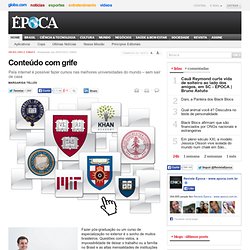 UNIVERSIDADES BEST IN CLASS - Conteúdo com grife - ÉPOCA | Vida útil
Fazer pós-graduação ou um curso de especialização no exterior é o sonho de muitos brasileiros. Questões como vistos, a impossibilidade de deixar o trabalho ou a família no Brasil e as altas mensalidades de instituições prestigiadas, como Harvard e Oxford, tornam esse projeto inviável para a maioria.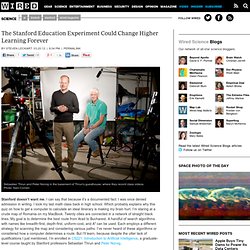 Sebastian Thrun and Peter Norvig in the basement of Thrun's guesthouse, where they record class videos.Photo: Sam Comen Stanford doesn't want me.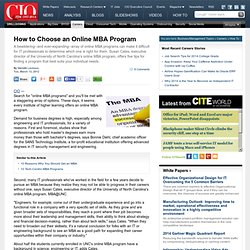 How to Choose an Online MBA Program CIO
Search for "online MBA programs" and you'll be met with a staggering array of options. These days, it seems every institute of higher learning offers an online MBA program. Demand for business degrees is high, especially among engineering and IT professionals, for a variety of reasons.
Início de ano costuma ser o momento ideal para refletir sobre a carreira e pensar em como avançar profissionalmente. Se o primeiro passo geralmente é apostar nas resoluções e criar metas para si mesmo, o próximo costuma ser arranjar os meios de alcançá-las. Mas e quando os objetivos não cabem no bolso?
20 sites com cursos online grátis que você deveria conhecer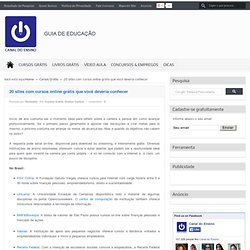 .Cursos Grátis
Oi pessoal!
BBC Mundo - Noticias - Estudiar gratis y en línea en una de las universidades más prestigiosas
Cursos gratuitos atraem alunos para instituições privadas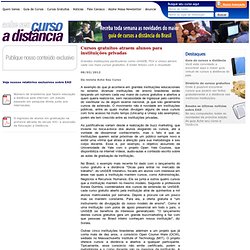 Grandes instituições particulares como UniSEB, FGV e Unisul abrem cada vez mais cursos gratuitos.