Revue de presse 23 mars
Mohamed Merah - vidéo - FRANCE 2 - Adrian Hamilton: France is a deeply racist country, and Toulouse will only make that worse - Adrian Hamilton - Commentators. It's unseemly.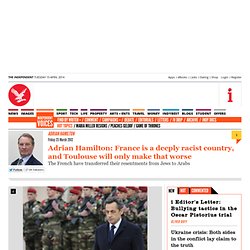 It's obscene. It has precious little to do with the facts of the case, the question of religion or the future of society in France. Marine Le Pen à l'offensive pour revenir dans la course. "Pour le sortir vivant, il faut d'entrée décider qu'il n'y aura pas d'affrontement direct" (fondateur du GIGN) - Faits divers. MARINE LE PEN: a la Poste - Images | french-politics.com. French terror suspect Mohammed Merah is dead.
---