Blogs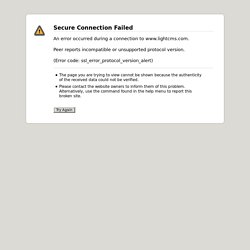 CMS Tools That Anyone Can Use Whether you're a beginner or an experienced website builder, LightCMS was created with you in mind. Simple, intuitive controls make it easy for anyone to build and manage a website. The Online Store Made Easy LightCMS revolutionizes the website experience by combining content management system features and a complete online store in a single platform.
Les bons liens WordPress
Envato Studio is an online marketplace for freelance services focused on design and web-development. Services range from designing a logo to WordPress customization, and all service providers have been reviewed and recommended by our expert review team. If you were a user of the FreelanceSwitch Job Board (as either a freelancer or client) we recommend you check out Envato Studio. Also check out the Envato Studio Blog.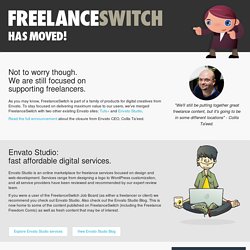 Voilà… le grand jour est enfin arrivé ! Le grand jour pour annoncer ce projet sur lequel je travaille depuis l'année dernière : La naissance de SkeelBox, Agence de Conseil & Stratégie E-commerce que j'ai fondé avec Benoit Gaillat. Cela fait plus de 2 ans que l'idée me trottait dans la tête.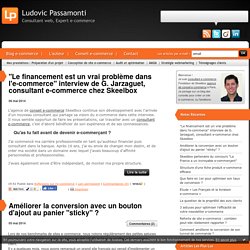 boostworthy is ryan taylor
Fleb Framework | Turtlebite's Blog
Adobe Illustrator is the first program that comes to our mind when thinking about creating outline art. This is the best solution for making a cool company logo, a technical drawing, and the customized drawing of any commercial product. We often use its most recent and enhanced features, like new panels, enhanced edit appearances, etc. forgetting about some basic tools that can do magic as well. Today we're going to talk about one of such Adobe Illustrator tools – brushes.
Web Templates Blog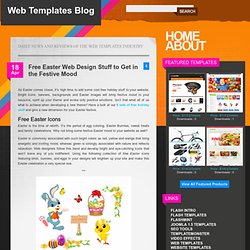 Dev & Design
samedi 10 novembre 2012 Par jeanphilippe, samedi 10 novembre 2012 à 17:52 :: Flash Media Server Les fichiers sources (Adobe Flex et Adobe FMS) pour réaliser de la vidéoconférence... Lire la suite 133 commentaires :: lu 9155 fois :: aucun trackback
jeanphiBlog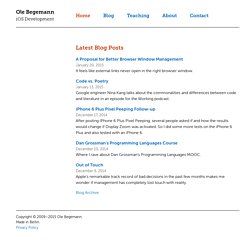 Ole Begemann: iOS Development
When I work on an app with location-based features, I often need the latitude and longitude of a specific place for testing. I created a service for OS X to streamline the workflow of getting the coordinates for a given address or place name. After my previous post about the data lock-in of the Storehouse app, I would be remiss not to mention Sunlit, which takes a different approach. The recently released Storehouse app is beautifully designed and executed and yet I will probably never use it as a content creation tool because it does not give me control over my creation.
Le blog groupe Reflect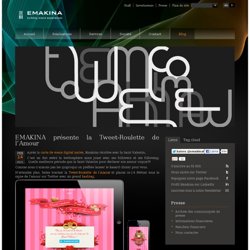 Il y a quelques semaines sur Doc News , Virginie Achouch a consacré un dossier sur le lancement de la marque Karl. Lors d'une interview croisée, Caroline Lebar, directrice de la communication de Karl Lagerfeld et Manuel Diaz, président d'Emakina.FR, sont revenus sur les débuts de cette passionnante histoire . Lorsque l'icône de la mode, Karl Lagerfeld, lance en janvier dernier sa gamme de prêt-à-porter, il crée la révolution. Emakina a tenu ici un rôle essentiel. Karl est une collection haut-de-gamme tant au niveau de son design que de sa conception, c'est aussi et surtout une collection dont la gamme de prix reste accessible. Le recours au digital était donc une étape incontournable pour toucher son public cible.
How Do Native Apps and Web Apps Compare?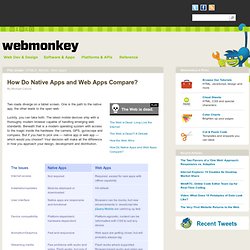 Two roads diverge on a tablet screen. One is the path to the native app, the other leads to the open web. Luckily, you can take both.
Starter kits are great timesavers for web designers and they are particularly useful for those who often create mock-ups for project pitching on daily basis. If you are a designer-cum-programmer think of it as your code snippets So what's in a starter kit?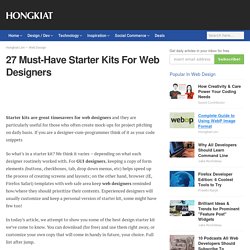 Après TEDxBordeaux 2012 j'ai replongé ! Ceci-dit, c'était difficile de résister d'intégrer la super équipe d'organisation du 1er TEDx Women en France le TEDxChampsElyséesWomen Extraits de l'édito de Béatrice Duboisset qui porte le projet : "Il y a de nombreux moyens pour trouver l'inspiration : livres, journaux, magazines, films, blogs ou sites de tendances par exemple.