Logo´s
Business card size. Gorgeous Packaging Designs and Concepts - Web Design Blog – DesignM.ag. Get the FlatPix UI Kit for only $7 - Learn More or Buy Now Packaging design is all around us.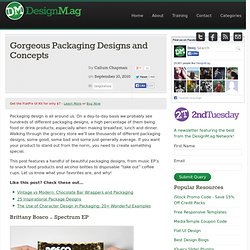 On a day-to-day basis we probably see hundreds of different packaging designs, a high percentage of them being food or drink products; especially when making breakfast, lunch and dinner. Walking through the grocery store we'll see thousands of different packaging designs, some good, some bad and some just generally average. 50 examples of logo design that cleverly use negative space in typography. Logos are symbols used to quickly communicate a brand to an audience, just one small logo design can communicate so much.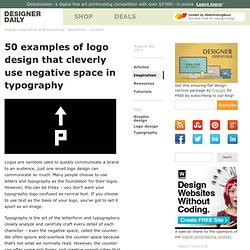 Many people choose to use letters and typography as the foundation for their logos. However, this can be tricky – you don't want your typographic logo confused as normal text. If you choose to use text as the basis of your logo, you've got to set it apart as an image. Typography is the art of the letterform and typographers closely analyze and carefully craft every detail of each character – even the negative space, called the counter. We often ignore and overlook the counter space because that's not what we normally read. 70 Beautiful Vector Business Cards. 70 Beautiful Vector Business Cards Posted by Prakash on July 1st in Inspiration.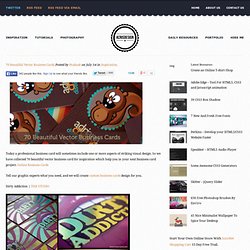 Today a professional business card will sometimes include one or more aspects of striking visual design. So we have collected 70 beautiful vector business card for inspiration which help you in your next business card project. 35+ Awesome Black Business Cards | Unique Business Cards. First Impressions are the most important!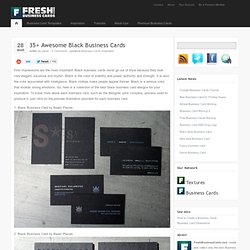 Black business cards never go out of style because they look very elegant, luxurious and stylish. Black is the color of stability and power, authority and strength. It is also the color associated with intelligence. 20 Questions To Ask Clients Prior To Designing A Logo. Before starting any project it's essential to get the right preliminary information from your clients.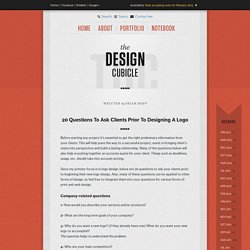 This will help pave the way to a successful project, assist in bringing client's vision into perspective and build a lasting relationship. Many of the questions below will also help in putting together an accurate quote for your client. Designing and Producing Creative Business Cards: Techniques and Details - Smashing Magazine. Advertisement Plenty of creative business card showcases are available out there.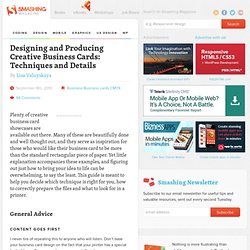 Many of these are beautifully done and well thought out, and they serve as inspiration for those who would like their business card to be more than the standard rectangular piece of paper. Yet little explanation accompanies these examples, and figuring out just how to bring your idea to life can be overwhelming, to say the least. This guide is meant to help you decide which technique is right for you, how to correctly prepare the files and what to look for in a printer.
36 Cool Business Cards You Should've Seen | Dzine Blog. Learn how to earn $125 or more per hour as a freelancer - Click Here Looking for hosting?.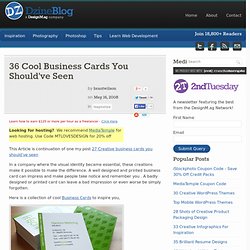 We recommend MediaTemple for web hosting. Use Code MTLOVESDESIGN for 20% off This Article is continuation of one my post 27 Creative business cards you should've seen. 46 Sample Party Invitations and Announcements | Online Printing & Print Design Blog | UPrinting.com. By admin | June 2, 2010 | Design As an invited guest, you may have felt that buzz of excitement when you were given a beautifully prepared card invite, or saw a high-impact poster announcing a big bash or event.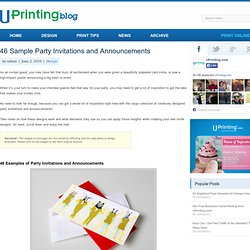 When it's your turn to make your intended guests feel that way for your party, you may need to get a lot of inspiration to get the idea that makes your invites click. No need to look far though, because you can get a whole lot of inspiration right here with this large collection of creatively designed party invitations and announcements! Take notes on how these designs work and what elements they use so you can apply those insights when creating your own invite designs. Sit back, scroll down and enjoy the ride!
Logo Design Trends for Big Companies | Flash, Design, Vector, Photoshop, Adobe Tutorials | GraphicMania.net. Logos are one of the most important components of a brands identity which promotes instant public recognition.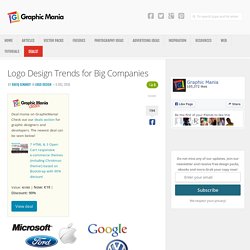 Although logos are designed to be instantly recognizable, they don't always remain the same. Some modifications are minor; others can result in an almost entirely different logo. In this article, we will look at some logos from well known companies and see how they have changed throughout the history of the company. Google Google's first logo was designed by Sergey Brin using the free graphic design application, GIMP. LogoPond - Identity Inspiration - 30 Unique Logo Designs That Actually Say Something. 90+ Most Unusual Business Card Designs Of All Time. Top 10 Offbeat Stories of the Day – June 14th, 2012 Football and Girls: Erotic calendar Presents The 2014 World Cup Top 10 Videos of the Day – August 25th 2012 15 Weird Art on Human Faces 90+ Most Unusual Business Card Designs Of All Time Posted on November 13, 2011 by Jaspal • 21 Comments.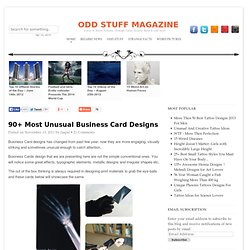 20 Unique and Creative Logo Designs. Logo is a symbol or emblem commonly used by companies and individuals to aid and promote instant public recognition. This post features our favorite examples of unique, memorable, and creative logos designed by talented artists from all over the world. Killed Productions Logo Clever logo designed by Sean Heisler for Killed Productions. [link]
---