Modern Web Programming
Seriously cross-platform with HTML5 jQuery Mobile framework takes the "write less, do more" mantra to the next level: Instead of writing unique applications for each mobile device or OS, the jQuery mobile framework allows you to design a single highly-branded responsive web site or application that will work on all popular smartphone, tablet, and desktop platforms. Graded Browser Support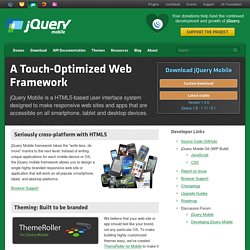 This specification defines the 5th major revision of the core language of the World Wide Web: the Hypertext Markup Language (HTML). In this version, new features are introduced to help Web application authors, new elements are introduced based on research into prevailing authoring practices, and special attention has been given to defining clear conformance criteria for user agents in an effort to improve interoperability. This section describes the status of this document at the time of its publication. Other documents may supersede this document. A list of current W3C publications and the latest revision of this technical report can be found in the W3C technical reports index at http://www.w3.org/TR/. If you wish to make comments regarding this document in a manner that is tracked by the W3C, please submit them via using our public bug database.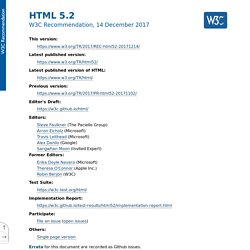 All-in-one Guide to Detecting Everything
Dive Into HTML5 elaborates on a hand-picked selection of features from the HTML5 specification and other fine standards. We encourage you to buy the printed work — Mark Pilgrim's artfully titled "HTML5: Up & Running" — published on paper by O'Reilly, under the Google Press imprint. Your kind and sincere feedback is always welcome, and this work shall remain online under the CC-BY-3.0 license. This particular edition of Dive Into HTML5 is advanced by the diveintomark team. We work hard to add and update content, links, APIs, and actively maintain this fine resource; refreshing and reflecting the relevant and current state of HTML5, just as Mark Pilgrim did during his tenure.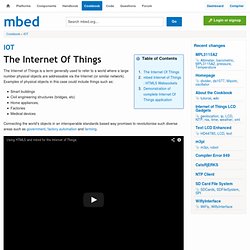 HTML5>MicroController
The Internet of Things is a term generally used to refer to a world where a large number physical objects are addressable via the Internet (or similar network). Examples of physical objects in this case could include things such as: Smart buildings Civil engineering structures (bridges, etc) Home appliances, Factories Medical devices
TypeSelect - Javascript-based Selectable Typefaces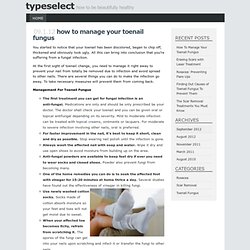 How To Manage Your Toenail Fungus You started to notice that your toenail has been discolored, began to chip off, thickened and obviously look ugly. All this can bring into conclusion that you're suffering from a fungal infection. At the first sight of toenail change, you need to manage it right away to prevent your nail from totally be removed due to infection and avoid spread to other nails.
The SDKs will make it easier to access the SoundCloud API on your framework of choice. We officially provide and support Ruby, Python, PHP, Java, JavaScript and Cocoa. All other SDKs are supported by third-party developers. We welcome contributions to the open source projects so imagine how happy we'd be if you submit an SDK of your own for any additional language. The JavaScript SDK lets you easily integrate SoundCloud into your website or webapp. Basic Use
Docs - Custom Player - SoundCloud Developers