Desserts
Strawberry Valentine Oreo Cookies Recipe. I'm the only girl in my house which means we don't see much of the color pink, so when Valentine's Day rolls around I finally have an excuse to bake and decorate with pink!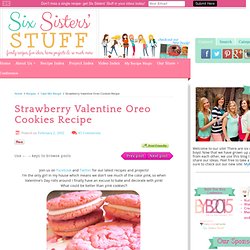 What could be better than pink cookies?! Strawberry Valentine Oreo Cookies Recipe: Slow Cooker Hot Fudge Peanut Butter Pudding Cake. Let's break things down, shall we?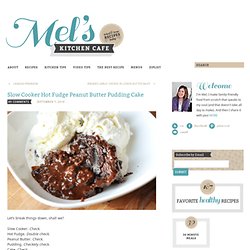 Slow Cooker. Check. Hot Fudge. DIY-Reese Peanut Butter Egg. Oh yeah its here…… Have you ever had one of these?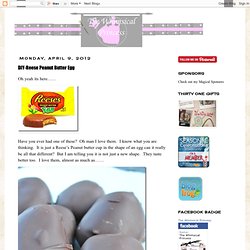 Oh man I love them. - VIPpins.com. How to make homemade ice cream in a baggie.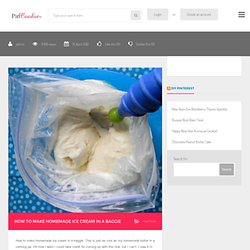 This is just as cool as my homemade butter in a canning jar. Oh how I wish I could take credit for coming up with this one, but I can't. I saw it in Disney Family Fun Magazine the other day and thought it was such a great idea. I whipped up a few batches in no time and soon we were eating homemade ice cream from a baggie. Food Snots: Peanut Butter Chocolate Chip Cupcakes. I'm off tomorrow morning for California and The Price Is Right!!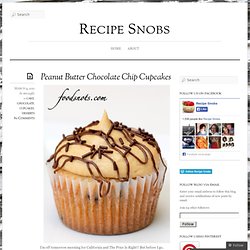 But before I go, here is an amazing recipe for the weekend. When I did my race a couple weeks ago we stopped by Sprinkles Bakery and I tried these delicious creations. Don't hold this against me, but normally, I don't see what the big deal is about cupcakes. Ultimate Death by Chocolate Brownie Cake | Baby Gizmo Blogs. Don't forget to check out our new FOOD BLOG – SKINNY NOT SKINNY – dedicated 100% to food!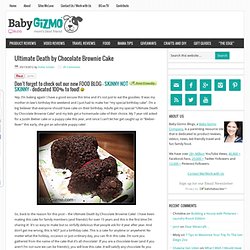 Yep, I'm baking again! I have a good excuse this time and it's not just to eat the goodies. It was my mother-in-law's birthday this weekend and I just had to make her "my special birthday cake". Black-Bottom Caramel Pudding Recipe from Gourmet. Keep an eye on the caramel as it nears the end of cooking-it can go from deep amber to just plain burned very quickly. servings:Makes 6 servings prep time: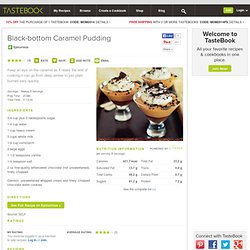 S'more Dip Recipe. The Perfect Couple. I'm addicted to the new NBC sitcom Perfect Couples.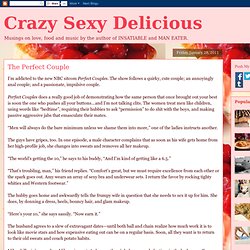 The show follows a quirky, cute couple; an annoyingly anal couple; and a passionate, impulsive couple. Perfect Couples does a really good job of demonstrating how the same person that once brought out your best is soon the one who pushes all your buttons…and I'm not talking clits. The women treat men like children, using words like "bedtime", requiring their hubbies to ask "permission" to do shit with the boys, and making passive aggressive jabs that emasculate their mates.
"Men will always do the bare minimum unless we shame them into more," one of the ladies instructs another. OREO Cookie Balls recipe. What i made for monday-naughty donuts. I apologize for what I am about to tell you and encourage you to do.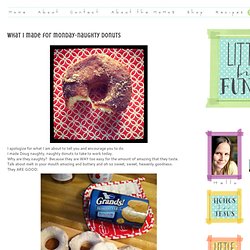 I made Doug naughty, naughty donuts to take to work today. Why are they naughty? Because they are WAY too easy for the amount of amazing that they taste. Talk about melt in your mouth amazing and buttery and oh so sweet, sweet, heavenly goodness. Better Than Sex Cake. OK, it's not really, but if you need a chocolate fix this is it!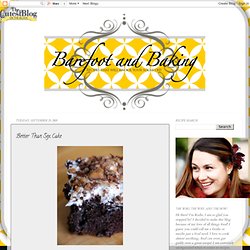 I know that this is a pretty well known recipe and that there are many versions, but this is my favorite one. Besides anything that calls for loads of chocolate and a can of sweetened condensed milk is worthy of my blog! Better Than Sex Cake 1 box chocolate cake mix (+ whatever it calls for on the back) 1 can sweetened condensed milk 1 jar hot fudge sauce 1-8 oz container of cool whip 4 Skor* Bars, crushed (or Heath Bar) Make and bake cake according to box directions in a 9x13 in pan.
Apple Cinnamon Roll Cupcakes. How can it possibly be the last day of September already?? I feel like fall just started and its already going to be October? I just turned off the air conditioner this past weekend. I've been meaning to get this recipe posted all week and time has just not cooperated. (No Sugar!) Cookie Dough Dip. *Super-excited face* On Friday night, my previous post went viral. It is absolutely crazy. Thank you so much to everyone who's been sharing it!
With so many more people finding that post, I spent yesterday afternoon doing something I'd meant to do for a long time: creating a sugar-free version of the cookie dough dip. Since posting the original recipe, I've received a lot of requests for a sugar-free option, but until now, the only suggestion I had was to replace the sugar with stevia.
Peanut Butter Cup Brownies. They are as good as they look. I saw these quite some time ago on Bake or Break and then again on Nosh and Tell and I knew I had to make them. If you have been following my blog, you know I love anything chocolate and peanut butter and so does my boyfriend Zack. He and I went to visit his parents for the 4th of July and I always like to bring some kind of baked good with me when we visit. I always bring Buckeyes at Christmas and they go crazy for them. Old-Fashioned Sour Cream Donut Drops. Deep-fried donuts! Anything better? Not much. I love donuts. In fact I can safely say it is 3rd on my list of addictions. Mini Cheesecake Recipe « College Cookbook. I've always heard that cheesecake requires a little talent and skill.
This one sounds pretty simple, kind of healthy and a single serving. Homemade Oatmeal Cream Pies. FOOD! / hot chocolate cupcake... like what?! Ultimate Pretzel Crusted Peanut Butter Cookie Candy Brownie Bars | Baby Gizmo Blogs. Peanut Butter Banana Pie with Nutella, with Love for Mikey and Jennie. Oreo Puddin' Poke Cake. Reese's Peanut Butter Banana Bread. St. Patrick's Chocolate & Mint Cheesecake Bars Recipe. Easy Bite Size Apple Pie Recipe. Chocolate Mint Brownies Recipe from Betty Crocker.
Adorable Banana Split Bites. One more Moore: When it's too hot to bake, we no-bake. Frozen Reese's Peanut Butter Pie. Sweets..... / put strawberries in an ice cube tray, add your favorite chocolate, viola! Homemade Girl Scout Cookies: Samoas Bars. The Best Cookie Dough Dip. Northern Cottage: S'MORE croissants. Sugar Baby Aprons - I'm Dreamin of a Pink Christmas. Frozen Banana Bites. 11/17/08. Peppermint Patty Frappés Recipe. Big Girl Smore's Pie. Boston Cream Pie. Vanilla Cake with Strawberry Cream Frosting Recipe | Baby Gizmo Blogs. DIY Crafts & Recipes / Strawberry Lemonade Layer Cake, so easy!
Recipies / Cast iron skillet chocolate chip cookie brownies. Ultimate Chocolate Chip Cookie n' Oreo Fudge Brownie Bar.
---