Science Photography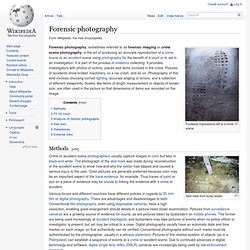 Forensic photography
Footwear impressions left at a crime scene. Methods[edit] Skid mark from faulty ladder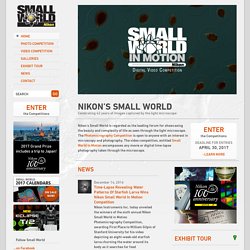 Small World is regarded as the leading forum for showcasing the beauty and complexity of life as seen through the light microscope. The Photomicrography Competition is open to anyone with an interest in microscopy and photography. The video competition, entitled Small World In Motion encompasses any movie or digital time-lapse photography taken through the microscope.
Scientific photography - Photography - Library Subject Guides at RMIT University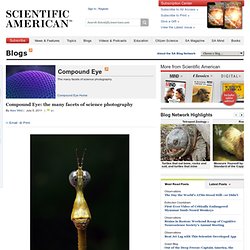 Compound Eye: the many facets of science photography | Compound Eye
A compound eye is a visual sensory organ composed of numerous small lenses. This charming South American grasshopper sports an especially large pair. Welcome to Compound Eye, a Scientific American photography blog! The blog is new, but the blogger is not. My name is Alex Wild. I am an entomologist and nature photographer based in Champaign-Urbana, Illinois, and I have been writing about insects, science, and photography at Myrmecos Blog since 2007.
The microscopy Image Library of science photographs shows a diversity of science images taken with light microscopes (LM) and electron microscopes (transmission electron microscope - TEM; scanning electron microscope - SEM). Search the image library for microscopy images from the following categories: Algae, Arachnids, Bacteria, Crystals, Fungi & Slime Molds, Insects, Invertebrates, Medical, Miscellaneous, Plants, Protozoa, Vertebrates, and Viruses. Use a Virtual SEM to find out what it is like to load and zoom-in on specimens at increasing magnifications with a scanning electron microscope.
Dennis Kunkel Microscopy, Inc. Microscopy and Science Education Web Site
Special Report - International Science and Engineering Visualization Challenge
Camera Labs :: View Forum - Technical and scientific photography
Medical and Scientific Photography Home Page
This site is designed as a resource base for doctors, scientists and students wanting practical information on medical and scientific imaging techniques. It is authored by international experts and based on tested and peer reviewed information. Please respect the intellectual property contained on this site. Do not copy or re-use the images without the written authority of the authors. Always credit this site where it was the source of your information. Wherever possible appropriate attribution has been given for all images; failure to do so is purely omission, or our inability to trace sources.
Pioneers of Invisible Radiation Photography - Contents
about | articles | authors | contact | links Home > Articles > Pioneers of invisible radiation photography > Table of Contents Authors: Prof. Robin Williams and Gigi Williams
Infrared Photography - Contents
about | articles | authors | contact | links Home > Articles > Infrared Photography > Table of Contents Authors: Prof. Robin Williams and Gigi Williams Contents Acknowledgments
Reflected Ultraviolet Photography - Contents
about | articles | authors | contact | links Home > Articles > Reflected Ultraviolet Photography > Contents Authors: Prof.
about | articles | authors | contact | links Home > Articles > Fluorescence Photography > Table of Contents Authors: Prof.
Fluorescence Photography - Contents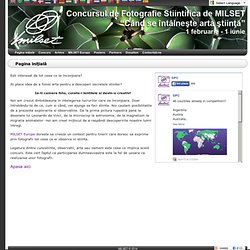 Esti interesat de tot ceea ce te înconjoara? Iti place idea de a folosi arta pentru a descoperi secretele stiintei? Ia-ti camera foto, curate-i lentilele si devin-o creativ! Noi am crezut dintotdeauna in intelegerea lucrurilor care ne înconjoara. Doar întrebându-te de ce, cum si când, vei ajunge sa faci stiinta. Noi cautam posibilitatile de a prezenta explorarile si observatiile.
Concursul de Fotografie Stiintifica de MILSET - Pagina iniţială
Scientific Photography
Scientific photography is about visualizing things that can't be seen with the unaided eye. It is used to describe natural and man-made phenomena in a way that clarifies, educates, and illuminates. Through scientific photography, we can describe things to other scientists, but also to the public, which in many cases supports the research with its tax money. Science photography that is beautiful and otherwise aesthetically pleasing is able to capture the imagination of the viewer to a degree unlike any other style of photography. Something about images of things never scene before: witness the fascination with the remarkable space photographs brought back by the Hubble telescope.
Science Photography Spotlight | Learn Science at Scitable
On January 7, 1839, an installation artist and chemist named Louis-Jacques-Mandé Daguerre announced to the French Academy of Sciences in Paris that he had perfected a photographic imaging technology that could be used on a large scale and was reproducible. His invention, later named the daguerreotype, was based on a special property of silver iodide: when exposed to light, the molecules undergo a chemical transformation that can be turned into charcoal-colored shadows and lines when later exposed to developing mercury fumes. The more intense the light, the darker the resulting silver-mercury amalgam. When a sheet of metal copper coated with silver iodide, for instance, was exposed to a street scene for a prolonged period, an image of the street was represented on the daguerreotype plate as lines and shadows of varying brightness. Daguerre initially thought his invention would be suitable mostly for personal use in travel logs, art installations, and architectural records.