Fora
Endless Sphere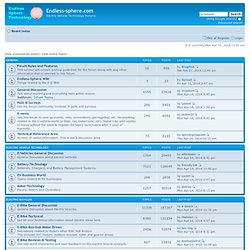 It is currently Thu Jan 09, 2014 10:06 pm View unanswered posts • View active topics Forum Rules and Features This section will contain posting guidelines for the forum along with any other information that is relevant to this forum. 12 Topics 337 Posts Last post by fechter Fri Nov 15, 2013 7:27 pm Endless-Sphere Wiki Things related to the E-S Wiki 2 Topics 22 Posts Last post by crossbreak Mon Dec 16, 2013 3:25 pm General Discussion Talk about anything and everything here within reason. Subforum: E-pic Topics 4003 Topics 54633 Posts Last post by Giovanni LiCalsi Thu Jan 09, 2014 8:45 pm Polls & Surveys Get the forum community involved in polls and surveys. 254 Topics 5247 Posts Last post by The fingers Sun Jan 05, 2014 9:01 pm E-vents Use this forum to post up events, rally, conventions, get-together, etc. for anything related to the e-vehicle world (e-bike, car, motorcycle, etc). Guest may post replies to topics without the need to register.
V is for Voltage
DIY Electric Car
BMW Uses Siri-like Tech to Promote Electric Car Posted: 12-18-2013 - 05:07 AM by lawelsmith The "i Genius" service will be promoted across BMW's advertising for the BMW i3, which is due to go on sale in the UK in late 2013. I Genius uses software that is capable of interpreting words, their context and sentiment to instantly respond to questions. Consumers can text their questions for free and the system will instantly respond.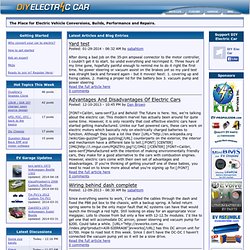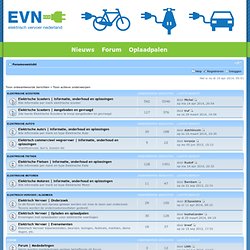 EVN
Het is nu vr 10 jan 2014, 04:05 Toon onbeantwoorde berichten • Toon actieve onderwerpen Elektrisch Vervoer | Onderzoek In dit forum kan een oproep gedaan worden om mee te doen aan onderzoek.
Electric Motoring