Themes
Traduction WordPress : Graphene
Personal blogs reflects the identity of each of us on the Internet. That's why I consider that a well arranged blog in terms of aesthetics, will be a plus for it's author. This collection was created to help in choosing a perfect theme for your WordPress Blog, regardless of the thematic of your blog. All themes are absolutely FREE! Annexation Theme info Demo
50+ Free WordPress Themes for Personal Blogs of High Quality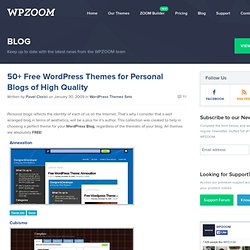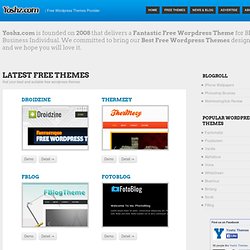 Today, almost all bloggers use wordpress as their blog engine. Is not surprised wordpress have become the most popular blog engine nowadays. Yoshz dot com also used wordpress as a blog engine.
Yoshz - Web Designer Resources | Wordpress Theme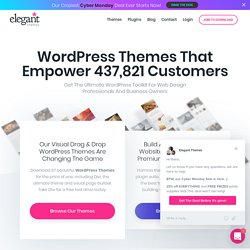 Stellar Design Design is our art and our passion. Our goal is to create the best WordPress Themes with a pixel-perfect eye for detail and a high standard for aesthetic excellence.
It seems like every time you go looking for a new WordPress theme, you find countless roundups of the same old themes. And while many of those themes are featured for good reason, they're also used on countless blogs around the web. We've all seen them a hundred times. But WordPress themes are being released on nearly a daily basis. Not all of them are great, but plenty of them are. Below are more than 60 of those great themes, none older than October of 2009 and many from as recent as this month.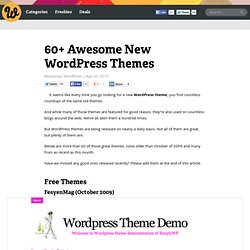 60+ Awesome New WordPress Themes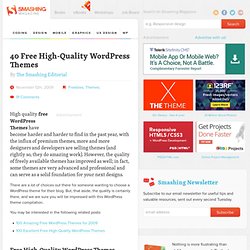 Advertisement High quality free WordPress Themes have become harder and harder to find in the past year, with the influx of premium themes, more and more designers and developers are selling themes (and rightly so, they do amazing work). However, the quality of freely available themes has improved as well; in fact, some themes are very advanced and professional and can serve as a solid foundation for your next designs. There are a lot of choices out there for someone wanting to choose a WordPress theme for their blog. But, that aside, the quality is certainly there, and we are sure you will be impressed with this WordPress theme compilation.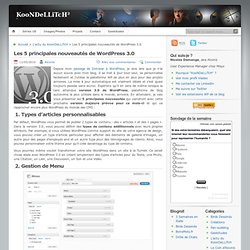 Depuis mon passage de Dotclear à WordPress, je dois dire que je n'ai aucun soucis avec mon blog. Il se met à jour tout seul, se personnalise facilement et j'utilise la plateforme WP de plus en plus pour des projets annexes. La mise à jour automatique est vraiment idéale et s'est quasi toujours passée sans accroc. Espérons qu'il en sera de même lorsque la tant attendue version 3.0 de WordPress, plateforme de blog autonome la plus utilisée dans le monde, arrivera. En attendant, je vais vous présenter les 5 principales nouveautés qui viendront avec cette prochaine version majeure prévue pour ce mois-ci et qui va rapprocher encore plus WordPress du monde des CMS :
Les 5 principales nouveautés de Wordpress 3.0
10 usages alternatifs de WordPress
Create a New NameBright Account | Forgot Password? Welcome to DropCatch! Space in the Early Access Beta is limited, so sign up now! Whether you heard about us from one of our happy customers or we got a domain you were keeping an eye on, we're sure you want to be one of the select few that get a chance to use our awesome drop-catching technology to take some names. In order to get a chance at an invite to our Early Access Beta program, sign up below and we'll contact you when a spot opens; if you get in you'll be lucky enough to help us make DropCatch into the best experience possible, while having access to one of the most powerful domain-acquisition tools on the market. Note: Signing up is a show of interest and does not guarantee immediate or future access to DropCatch.com's services as part of the Early Access Beta program.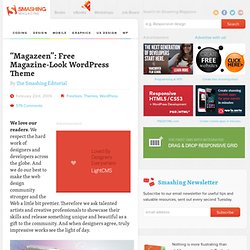 "Magazeen": Free Magazine-Look WordPress Theme - Smashing Magazine
Advertisement We love our readers. We respect the hard work of designers and developers across the globe. And we do our best to make the web design community stronger and the Web a little bit prettier. Therefore we ask talented artists and creative professionals to showcase their skills and release something unique and beautiful as a gift to the community.