ENGLISH LANGUAGE
What are 'Mrs' and 'Ms' short for?
The abbreviations Mr and Mrs are in common use, and are straightforward to pronounce when we see them written down: an approximation would be 'mister' and 'missus'. But what are they abbreviations of? We seldom, if ever, write them out in full – and most of us probably never stop to think what the full versions of these words are. It may come as a surprise that 'Mr' and 'Mrs' aren't actually short for mister and missus – they were originally abbreviations of master and mistress. 'Mistress' used to be the title prefixed to the name of a married woman, a usage dating back to the 15th century, as these early examples in the Oxford English Dictionary (OED) show: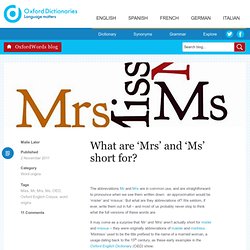 What's Your Reaction? (Preferences: Gerund and Infinitive)
Jamie says: "Fifteen London is my baby - I had a beautiful idea that somehow became a reality in 2002 when we first opened our doors. My intention was really simple: on one hand to create one of London's finest restaurants and, on the other, to use the magic of cooking to give young people who've often faced enormous challenges in their lives, the opportunity to unlock their true talent, through great training and mentoring. "Ten years later, it's still unique to have a high-profile restaurant that donates all of its profits to our charity, The Jamie Oliver Food Foundation. In those ten years, we've remained busy, but also partnered with Fifteen restaurants in Cornwall and Amsterdam, who hold all the same values of good food and youth training at their heart.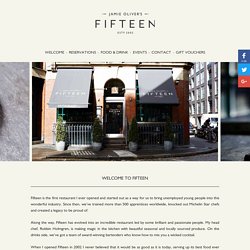 Fifteen London | Welcome page for the flagship London restaurant | Jamie Oliver (UK)
Yesterday I was standing in for a colleague who's gone to Disney with her kids, and so I was teaching an Upper Intermediate 2 class (they're preparing for FCE in december). The previous class they'd read a text about Pompeii and the other teacher had left me with the remit of continuing on into the language focus that followed on from the reading – participle clauses! While I can imagine some of you might think participle clauses aren't for the faint hearted, I was actually quite excited at the prospect, since it gave me the opportunity to try out a game I designed for the IHWO Games Bank, which I've never actually had the chance to use in a class before.
Participles in boxes « A Muse Amuses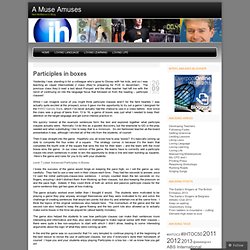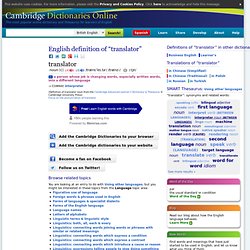 The most popular online dictionary and thesaurus for learners of English British English Learn Share Develop About Help
translator noun
English for Airline Staff : Vocabulary - ESL
August Calendar Template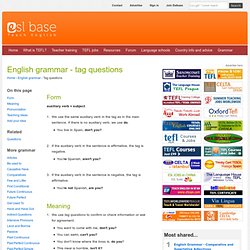 English Grammar - Tag questions
Form auxiliary verb + subject We use the same auxiliary verb in the tag as in the main sentence.
Lesson A word order in questions (1)
British Broadcasting Corporation Home Accessibility links History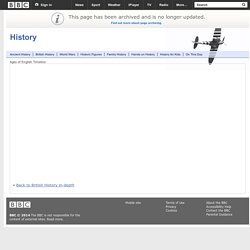 BBC - History - British History in depth: Ages of English Timeline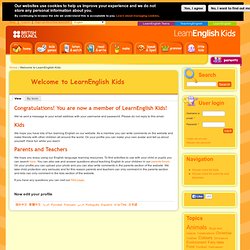 Welcome to LearnEnglish Kids
We've sent a message to your email address with your username and password. Please do not reply to this email. We hope you have lots of fun learning English on our website.
Create a Crossword Puzzle!
Daily Critical Thinking Quick Prints Puzzles
Hotmail - tutayalda
Text Builder
Search - pearltrees
Debemos explicar que este Diccionario Bilingüe En Línea incluye todo: Word Magic Dictionary & Tools Professional (diccionario bilingüe de referencia general Inglés-Español), nuestra versión completa del Diccionario Médico, Diccionario de Leyes, Diccionario de Negocios y Finanzas y del Diccionario de Informática. Usted puede comprarlos por separado para instalar en su PC y además como accesorios para su Microsoft Word y Excel. Haga clic aquí para comprar nuestro Paquete Completo de Diccionario General, que incluye imágenes, definiciones y ejemplos de uso. El programa de Diccionario Bilingüe En Línea que le brindamos aquí es un servicio gratuito de Word Magic Software Inc.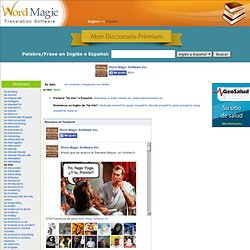 be into - traducción de español - Diccionario Inglés-Español de Word Magic