The Global Warming Debate
Why the Global Warming Skeptics Are Wrong by William D. Nordhaus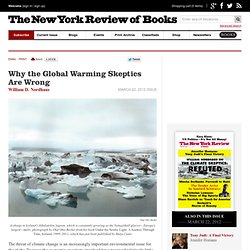 Olaf Otto Becker Icebergs in Iceland's Jökulsárlón lagoon, which is constantly growing as the Vatnajökull glacier—Europe's largest—melts; photograph by Olaf Otto Becker from his book Under the Nordic Light: A Journey Through Time, Iceland, 1999–2011 , which has just been published by Hatje Cantz The threat of climate change is an increasingly important environmental issue for the globe. Because the economic questions involved have received relatively little attention, I have been writing a nontechnical book for people who would like to see how market-based approaches could be used to formulate policy on climate change. When I showed an early draft to colleagues, their response was that I had left out the arguments of skeptics about climate change, and I accordingly addressed this at length.
Greenland Research Station Reveals Past and Future of Climate Change Impacts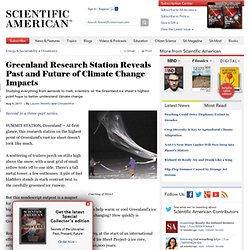 BASE CAMP: From a lab perched atop Greenland's ice sheet, scientists strive to better understand climate change. Image: Courtesy of NOAA Second in a three-part series . SUMMIT STATION, Greenland -- At first glance, this research station on the highest point of Greenland's vast ice sheet doesn't look like much. A scattering of trailers perch on stilts high above the snow, with a neat grid of small yellow tents off to one side. There's a tall metal tower, a few outhouses.
Columbus Blamed For Little Ice Age
Depopulation of Americas may have cooled climate By Devin Powell
Reign Check: Abundant Rainfall May Have Spurred Expansion of Genghis Khan's Empire
Energy & Sustainability :: News :: March 21, 2012 :: :: Email :: Print It is generally thought that changing precipitation patterns impacted the rise of the Mongols and their domination of the Eurasian continent in the 13th century--but was it rain or drought? By Charles Q. Choi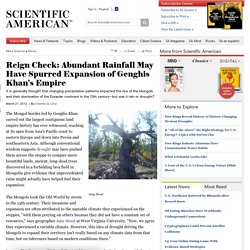 Humans may have been causing climate change for much longer than we've been burning fossil fuels . In fact, the agrarian revolution may have started human-induced climate changes long before the industrial revolution began to sully the skies. How? Through the clearing of forests , which still remains the second-largest source of greenhouse gas emissions from human activity.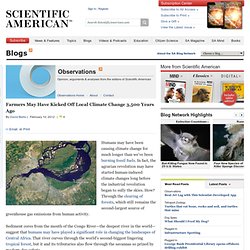 Farmers May Have Kicked Off Local Climate Change 3,500 Years Ago
DUST is all that's needed to plunge the world into an ice age. When blown into the sea, the iron it contains can fertilise plankton growth on a scale large enough to cause global temperatures to drop. The finding adds support to the idea of staving off climate change by simulating the effects of dust - perhaps by sprinkling the oceans with iron filings. Iron-rich dust falling on the ocean has long been known to spark blooms of plankton, and researchers suspect the process could have intensified the ice ages that have occurred over the past few million years.
Iron-rich dust fuelled 4 million years of ice ages - environment - 03 August 2011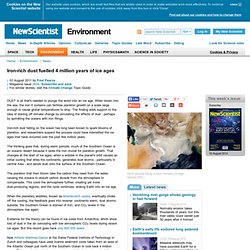 Can Fracking and Carbon Sequestration Co-Exist?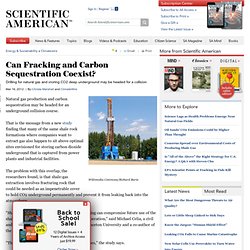 Energy & Sustainability :: Climatewire :: March 16, 2012 :: :: Email :: Print Drilling for natural gas and storing CO2 deep underground may be headed for a collision By Christa Marshall and ClimateWire UNDERGROUND CONFLICT: Fracking for natural gas may require shattering geologic formations that efforts to store CO2 permanently underground require to be impermeable. Image: Wikimedia Commons/Richard Bartz Natural gas production and carbon sequestration may be headed for an underground collision course.
Energy & Sustainability :: Climatewire :: March 26, 2012 :: :: Email :: Print German researchers suggest that greenhouse gas emissions from human activity are linked to an increase in extreme weather events By Lauren Morello and ClimateWire EXTREME WEATHER: Greenhouse gas emissions from human activity may be predisposing the climate to produce more extreme weather events, such as Hurricane Katrina.
Human Pollution Tipping Scales Toward More Weather Extremes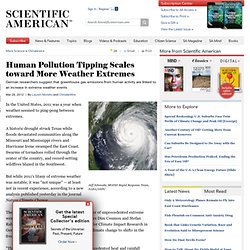 EXTREME WEATHER: The world will face more risk of natural disasters as a result of ongoing climate change. Image: Flickr/FEMA 17238 Climate change is bringing more droughts, heat waves and powerful rainstorms, shifts that will require governments to change how they cope with natural disasters to protect human lives and the world economy, a new U.N. report says. The 592-page analysis by the Intergovernmental Panel on Climate Change, released yesterday, also makes clear the uneven toll extracted by extreme weather , because its effects can be magnified by a lack of resources to plan for disasters and cope with their aftermath.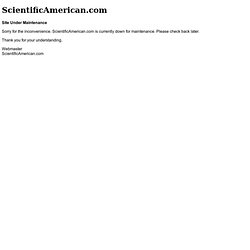 Climate Change Poses Disaster Risk for Most of the Planet
Global Warming Close to Becoming Irreversible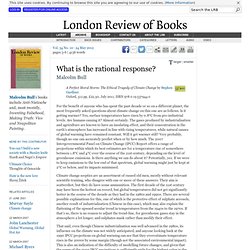 Malcolm Bull reviews 'A Perfect Moral Storm' by Stephen Gardiner · LRB 24 May 2012
For the benefit of anyone who has spent the past decade or so on a different planet, the most frequently asked questions about climate change on this one are as follows. Is it getting warmer? Yes, surface temperatures have risen by 0.8°C from pre-industrial levels.
Cultural values, not knowledge, shape global warming views, a study finds
Climate Skepticism Not Rooted In Science Illiteracy
The Battle Over Climate Science
Energy & Sustainability :: Climatewire :: June 7, 2012 :: :: Email :: Print Humanity may be pushing the planet toward sudden, irreversible ecological changes By Lauren Morello and ClimateWire
Is Earth Nearing an Environmental "Tipping Point"?
Exit from comment view mode. Click to hide this space Comments View/Create comment on this paragraph COPENHAGEN – Extreme weather is often said to be one of the main reasons for taking firm action on global warming.
The Climate Extremists - Bjørn Lomborg - Project Syndicate
NOconsensus.org - Global warming info you deserve to hear.
Not Too Hot to Handle - By Charles Kenny
It's a great time to be depressed about the fate of the planet. The last United Nations confab on climate change, a November meeting in Durban, South Africa, suggested we're unlikely to see any new deal on greenhouse gasses having an impact before 2020. And it was over less than a day before Canada withdrew from what is the only current legally binding treaty on climate change -- the Kyoto Protocol, which expires at the end of this year. The United States never signed up for Kyoto in the first place, of course -- and Barack Obama's administration has hardly been leading the charge for a replacement.
March 13, 2012 at 4:18 pm Remember that old adage – The road to hell is paved with good intentions ? I wish there was a short YouTube video that made this point clearly, persuasively, and humorously.
The Authoritarian Impulse and Climate Change « NoFrakkingConsensus
NoFrakkingConsensus
When to Doubt a Scientific 'Consensus'
The Emperor's New Climate-Change Agreement - Bjørn Lomborg - Project Syndicate
Hot Air: The EU's Emissions Trading System Isn't Working - SPIEGEL ONLINE - News - International
"Carbon Emissions' Friendly Skies" by José Maria Figueres
Will the EU ground its flying carbon tax?
Airline CO2 Friction Hints at New Climate Politics
EU Carbon Emissions Rise, Ending Multi-Year Decline
India Balks at Greenhouse Gas Emission Cuts
The Climate Threat We Can Beat
A Tour of the New Geopolitics of Global Warming
Climate politics: hockey-stick to hamster-wheel
"Green Unilateralism" by Simon Zadek
"The High Stakes of Rio+20" by Achim Steiner
"When Democracies Collide" by Volker Perthes
Mexico puts climate change action into law - environment - 25 April 2012
"The Particle-Emissions Dilemma" by Henning Rodhe
Beijing Emission Cuts May Underestimate Use of Coal
China Emissions Suggest Climate Change Could Be Faster than Thought
In North Carolina, a Political Storm Over Rising Seas