Mode et chiffons
Happy New Year my little chestnuts ! I allowed myself one more day to recover from my atomic new year's eve… But I've heard that you can wish people happy new year until the end of January so no rush… There we are, I wish you, in no particular order, love (of course), but also health (we don't think about it when everything is fine but is is incredibly important), work (a lot of work), creativity (especially), trips (lots) and encounters (inspiring)… Wonderful Year 2014 to all… I'd like to use this post to talk to you about the news in 2014.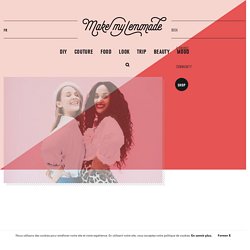 The last time I posted about my current situation I was in a terrible state. I was pretty much crying everyday. Now I am just trying to stay positive and look at brighter side of things. But then there is the moment when I have to leave Gavin home with Kevin and that breaks me. It's extremely hard to be away from him.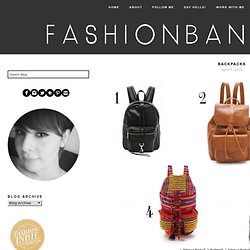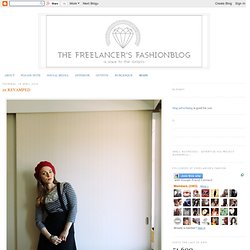 I am a list person. I need to make lists in order to get things in order, or, at least to feel things migh be getting into order at some point. The more there is to do, the more lists there are to be written, both on tasks and want-to's.
Friday, April 4, 2014 On the Street……Sixteenth St., New York Yes, it's still that cold in New York! I love how the b&w of the image places the focus on the texture of these two beautiful coats! (the people seem to be beautiful too) Thursday, April 3, 2014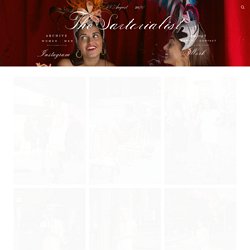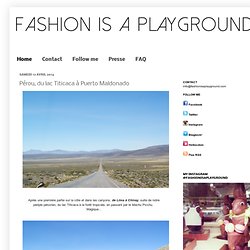 Après une première partie sur la côte et dans les canyons, de Lima à Chivay, suite de notre périple péruvien, du lac Titicaca à la forêt tropicale, en passant par le Machu Picchu. Magique... - Laguna Lagunillas sur la route -
My sister found these Frye work boots at a Nordstrom outlet a few months back, but in a beautiful grey-blue color with white laces. Carol has been wearing them non-stop with scrunchy socks and making them look extremely adorable. I looked online and found the same boot in a stunning cognac color with contrasting laces. What with sale season and all I had to order a pair for me and a pair for my mom. Can't wait! You can get them on sale here!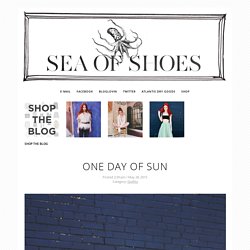 OUH QUE ÇA FAIT DU BIEN une petite (grosse) pause. J'ai récemment découvert Pinterest, et malgré mes réticences - pas le temps, je suis déjà sur suffisamment de réseaux sociaux - je suis devenue accro. Tout ça grâce à l'appli, je me réveille, je "pin", dans le métro, je "pin", à l'heure du repas je "pin" encore.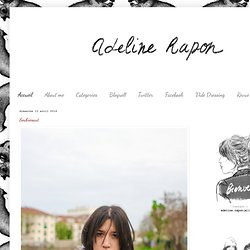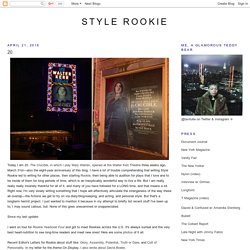 LONG TIME NO TALK. Here's what's happened since last spring: Rookie Yearbook Two is out!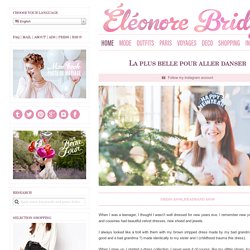 Pull croppé renards Asos, Teddy Urban Outfitters, bague girafe Kenneth Jay Lane, ballerines Asos, short Topshop, collants Wolford*, sac Madewell, ROUGE À LÈVRES ARMANI ECSTASY N°301 GIO* Je ne sais pas vous mais j'ai toujours du mal à résister à tout ce qui porte un petit animal en matière de fringues et accessoires. Et si j'en crois tous les petits cris qui ont accompagné l'entrée en scène de ce pull renard la semaine dernière je suis loin d'être la seule ! Je commence également à avoir une jolie collection de bagues animaux avec laquelle je vais pouvoir ouvrir un petit zoo en toc ! Bon ça c'était pour le mignon et comme on est sur un blog mode parlons salon de thé (enfin plutôt café mais ça fait moins blog mode) : le broken arm dans le quartier du temple et sa bien connue école Duperré rue Dupetit-Thouars abrite désormais un charmant endroit : le broken arm où on mange de délicieux gâteaux anglais !
Hakone est un joli coin de campagne, à environ 1h30 de train de Tokyo. On peut suivre un parcours pour admirer la nature environnante. Au choix: trams, téléphériques, balade à pied, et même bateaux de pirate ! Il y a aussi un grand nombre de musées (ça vaut le coup de rester deux jours ). Mais grâce à ses sources chaudes, la spécialité de la région, c'est le Honsen !