ROCK
Grateful Dead. The Grateful Dead was an American rock band formed in 1965 in Palo Alto, California.[1][2] The band was known for its unique and eclectic style, which fused elements of rock, folk, bluegrass, blues, reggae, country, improvisational jazz, psychedelia, and space rock,[3][4] and for live performances of long musical improvisation.[5][6] "Their music," writes Lenny Kaye, "touches on ground that most other groups don't even know exists.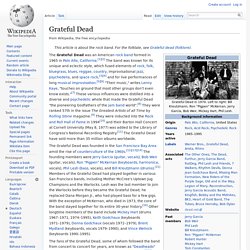 "[7] These various influences were distilled into a diverse and psychedelic whole that made the Grateful Dead "the pioneering Godfathers of the jam band world".[8] They were ranked 57th in the issue The Greatest Artists of all Time by Rolling Stone magazine.[9] They were inducted into the Rock and Roll Hall of Fame in 1994[10] and their Barton Hall Concert at Cornell University (May 8, 1977) was added to the Library of Congress's National Recording Registry.[11] The Grateful Dead has sold more than 35 million albums worldwide.
Jimi Hendrix. James Marshall "Jimi" Hendrix (born Johnny Allen Hendrix; November 27, 1942 – September 18, 1970) was an American musician, singer, and songwriter.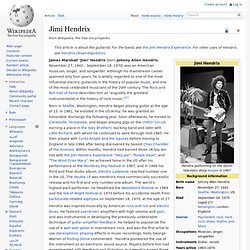 Although his mainstream career spanned only four years, he is widely regarded as one of the most influential electric guitarists in the history of popular music, and one of the most celebrated musicians of the 20th century. The Rock and Roll Hall of Fame describes him as "arguably the greatest instrumentalist in the history of rock music.
"[1] Born in Seattle, Washington, Hendrix began playing guitar at the age of 15. The Beatles. The Beatles were an English rock band that formed in Liverpool, in 1960.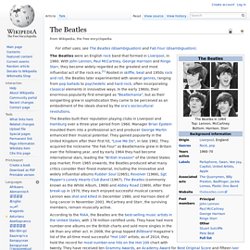 With John Lennon, Paul McCartney, George Harrison and Ringo Starr, they became widely regarded as the greatest and most influential act of the rock era.[1] Rooted in skiffle, beat and 1950s rock and roll, the Beatles later experimented with several genres, ranging from pop ballads to psychedelic and hard rock, often incorporating classical elements in innovative ways. In the early 1960s, their enormous popularity first emerged as "Beatlemania", but as their songwriting grew in sophistication they came to be perceived as an embodiment of the ideals shared by the era's sociocultural revolutions. Kings of Leon. Kings of Leon is an American rock band that formed in Nashville, Tennessee, in 1999.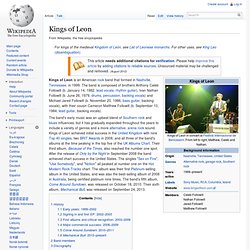 The band is composed of brothers Anthony Caleb Followill (b. January 14, 1982, lead vocals, rhythm guitar), Ivan Nathan Followill (b. June 26, 1979, drums, percussion, backing vocals) and Michael Jared Followill (b.
---