Later
happy
There are no items for this category happy adj. enjoying or showing or marked by joy or pleasure or good fortune; "a happy smile"; "spent many happy days on the beach"; "a happy marriage" happy , pleased adj. experiencing or expressing pleasure or joy; made happy: "glad that they succeeded" glad , happy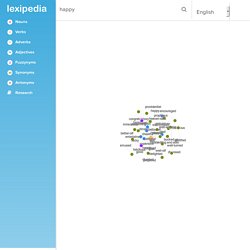 Edudemic often features posts providing a list of top resources for a particular category. Recently, the site gettingsmart.com posted the names of the LAUNCHedu finalists chosen by the SXSWedu® Conference, offering even more resources for the Edudemic staff to consider! On March 7, 2012, they will choose winners after a full day of presentations by the finalists. There are so many sites and programs on the Internet already, but this competition just goes to show that the need for educational resources is still great. Necessity is the mother of invention, they say. The cliche works because it is true.
Free eCards, Online Greetings for Birthday, Holiday, and More
Advientos - Online Advent Calendar
Microtraining is a smart way of conveying information between people in only 15 minutes. It is a time-saving method for sharing knowledge and using the expertise of everyone in the organization. Microtraining does not replace formal learning but works as an updater and knowledge enhancer.
What is Microtraining?