Reportagens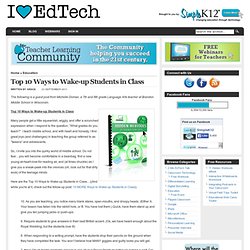 The following is a guest post from Michelle Doman, a 7th and 8th grade Language Arts teacher at Brandon Middle School in Wisconsin. Top 10 Ways to Wake-up Students in Class Many people get a little squeamish, wiggly, and offer a scrunched expression when I respond to the question, "What grades do you teach?"
World News America - Why do Finland's schools get the best results?
Finland's schools score consistently at the top of world rankings, yet the pupils have the fewest number of class hours in the developed world. Last year more than 100 foreign delegations and governments visited Helsinki, hoping to learn the secret of their schools' success. In 2006, Finland's pupils scored the highest average results in science and reading in the whole of the developed world. In the OECD's exams for 15 year-olds, known as PISA, they also came second in maths, beaten only by teenagers in South Korea. This isn't a one-off: in previous PISA tests Finland also came out top.
News TED@NYC: TED's talent search heads to Manhattan Remember TED Talks by Joshua Prager, John McWhorter, Sleepy Man Banjo Boys and Hannah Brencher? All fantastic finds from previous talent searches.
The World Peace Game: John Hunter on TED