DISEÑO
The Old Painted Cottage, Unique Goods and Curious Finds. Erotica. How To Make a Wall-Mounted Magnetic Spice Rack Reader Tips | Apartment Therapy The Kitchn. Lapicero1.jpg (JPEG Image, 800x600 pixels) Online | Furniture Made From Close-Packed Tennis Balls. Actually these HEX chairs from designer Hugh Hayden made the rounds back in 2009, but they're just now coming across my radar via this round-up of tennis ball furniture that recently tripped one of my Google auto-alerts.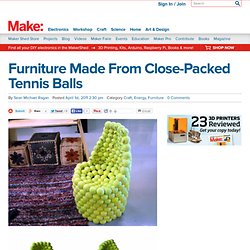 There are plenty of unusual chairs in the world, and though I like these better than many, I'm more interested in Hayden's process for joining the tennis balls together. He has done pretty well selling them, I think, so it's perhaps understandable that Hayden hasn't published an Instructable giving away all his secrets just yet. Lego Island - Ideas. Billund, Denmark, could easily be considered the prefab capital of the world: Each year, its factories pump out more than 19 billion modules, which are sent around the world and pieced together by more than 400 million people.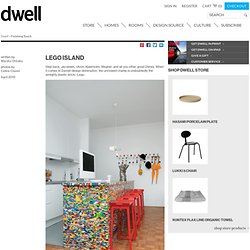 Billund is, after all, the home of Lego, one of the most intensely used building blocks on Earth. The company's 2,350 different pieces and 52 colors form a nearly infinite number of combinations—–and for as many purposes, from creating a land of shipwrecked pirates to assembling an actual kitchen island in a Paris apartment.
The idea for Simon Pillard and Philippe Rossetti's Lego kitchen sprouted five years ago, when Pillard put 500 blocks and a day's worth of work into building a Lego-legged chair. The designing duo—–who create products together under the name Munchausen—–recently gave the seat a colorful companion. They covered their kitchen island—–a simple wooden block—–with 20,000 Lego pieces. Suitcase-chair.jpg (JPEG Imagen, 684x513 pixels)
---