ANIMALES
Funny Pictures and nothing else! Funny Pictures and nothing else! Photos. Turtle_eating_flower_girl-600x400.jpg (JPEG Image, 600x400 pixels) Photos. Picture12.jpg (JPEG Image, 800x567 pixels) 400d8ba1-s.jpg (JPEG Imagen, 550x413 pixels) 6a00d8341bf8f353ef0133f308cabd970b-pi (JPEG Image, 900x441 pixels) Albino Animals. Birdwatchers are rushing to Avebury, near Marlborough, Wiltshire to hopefully catch a glimpse of a rare albino jackdaw.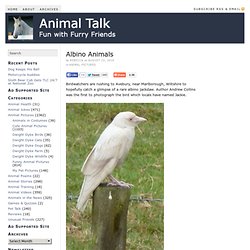 Author Andrew Collins was the first to photograph the bird which locals have named Jackie. Other fabulous albino animals include: According to Wikipedia there is no reported case of a true "albino" horse even though white horses have been referred to as albino in literature and some registries. WhaleBAR_450x592.jpg (JPEG Imagen, 450x592 pixels) 25 LOL Animal Pics (2.12.11) | 8slcqru2gqb14s6tzia8qjgbjf4yb51ohoh9rbsl.jpg (JPEG Image, 600x600 pixels) Camels-cross-the-desert-k-003.
Wildlife1. 1504_d54e10cdb57ba3138ab2a637e4fbaf7a_3. 11. Sir Nutalot. Africa111-2. Washing hedgehog Pictures. Itty Bitty Calico, Bundle of Joy. Itty bitty calico kitty Bundle of joy A feral mama cat Heidi gave birth to a litter of three tiny fuzzballs.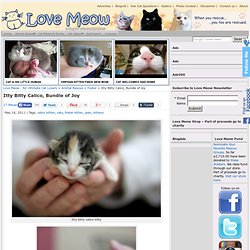 One of them is a Calico. She looks different from her siblings who are grey and white polydactyls. This dainty little girl enjoys her lap time with her siblings and can't wait to grow bigger and stronger. 1884607. Cat%20with%20too%20much%20time. Shark Hunt | ZzZzZzZZzZzZzZzZzZz. Zzzzzzzzzzzzzzzzz.org Related Searches Ads. 10-found-the-sun-b.jpg (JPEG Image, 600x399 pixels) Damsel" by Ian Grainger. Goodtoseeyou7rl.jpg (JPEG Imagen, 550x811 pixels) - Escalado (80%) Stefano Unterthiner Photography : Animals Face to Face | COLT + RANE.
---