Content Marketing Strategies 2013
Before you can implement any of these Content Marketing Strategies • You must complete an Audit of your Social Media Footprint. In other words, you need to ID what socials you are active on now • which ones are missing • which socials your prospects and customers and clients are active on • which ones you have the best reputation on Dec 29
Top Content Marketing Profiles on Google+ by Neil ... | Content Marke…
Best Practices Content Marketing System via ... | Content Marketing
Content marketing one of the most reliable and effective tactics available to digital marketers. Brands are increasingly employing content marketing strategies to generate product awareness and drive demand. Keyword-optimized blog posts, white papers, press releases, articles, and social media content create brand awareness, inspire audience engagement, and move customers through the sales funnel from initial consideration to purchase.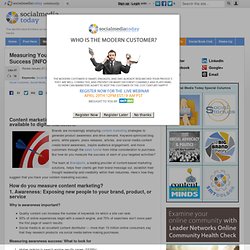 Measuring Your Content Marketing
Content Marketing with Authorship and DiY Process is the Perfect Storm
Content Marketing System Best Practices | Socia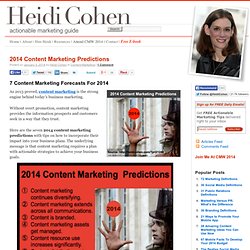 2014 Content Marketing Predictions - Heidi Cohen
As 2013 proved, content marketing is the strong engine behind today's business marketing. Without overt promotion, content marketing provides the information prospects and customers seek in a way that they trust. Here are the seven 2014 content marketing predictions with tips on how to incorporate their impact into your business plans. The underlying message is that content marketing requires a plan with actionable strategies to achieve your business goals. 1. Content marketing diversifies in terms of type, format and size.
Content Curation & Syndication | E-Learning
Content marketing has become an increasingly hot topic in the digital marketing world with searcher interest hitting an all-time high in 2013, following a path that suggests continued growth into the new year. As big brands and small businesses alike have realized the value of content marketing and rushed to develop and implement a strategy, marketers have felt the need to educate themselves on this rapidly growing field. How do I put together a content marketing plan?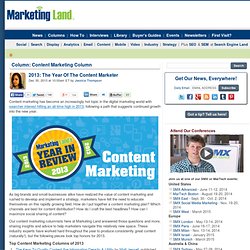 2013: The Year Of The Content Marketer
This strategy takes into account you already know why Google Plus is the anchor to all of your Hummingbird friendly social content marketing efforts. The Slideshare Deck includes an embedded YouTube video 19 minutes that will be updated and replaced before the Ball Drops in Times Square tonight Dec. 31, 2013 and when you fill out the form or hit the vCita link, I'll explain why this social embedded triage is so important? Every small business owner should have a custom content marketing system in place in 2014.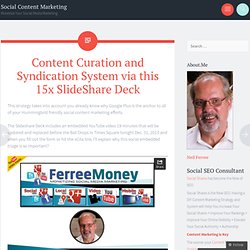 Content Curation and Syndication System via this 15x SlideShare Deck
Content Curation Syndication by Neil Ferree ... | Content Marketing
content marketing system
Content Curation Syndication System
Content Curation Syndication System
Content Marketing for Law Firms #attorney ... | Content Marketing
15 Rocking Content Marketing Tools with Advice
Building Personal Brand Authority Online via Content & Social SEO
Date posted: July 11, 2013 The rapidly evolving fields of Content and Social Media converge in a very busy intersection of marketing objectives, strategy, tactics and tools.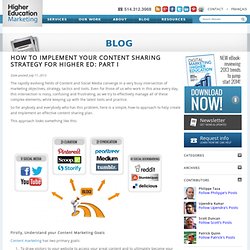 How to Implement Your Content Sharing Strategy for Higher Ed: Part I
Content marketing is white hot!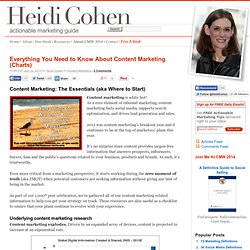 Everything You Need to Know About Content Marketing (Charts) - Heidi Cohen
Curation Tools by Formats & Tech
The Ultimate Content Marketing Plan Outline
Content, marketing, SEO — it's all the same to me. And that's exactly how you should approach your content marketing strategy. Every good project start has a great exploration phase before the strategy can be put together.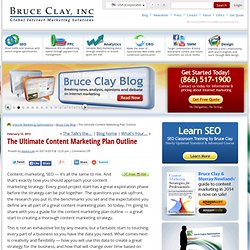 How to Build a DIY Content Marketing System
How to Build and Operate a Content Marketing Machine – Marketo Resources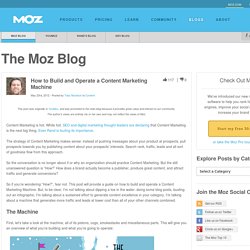 How to Build and Operate a Content Marketing Machine
Content Marketing is hot.
Step-by-Step Guide to your Social Media Success
Social Media Audit Neil Scaffer
Content Marketing Essentials 2012