Online Website builder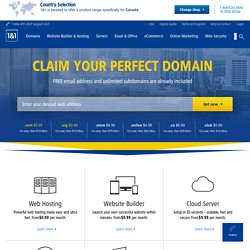 The Internet makes your business successful and 1&1 provides support as an expert in e-business and web hosting. Whatever your needs are for online success, we offer the right solution! Over 20 Years of Success
Domain Names | The World's Largest Domain Name Registrar
Elliott Manghamcompany director of web & design studio Creative Collusions Using the uCoz website builder has revolutionized my opportunities to reach like minded people. The commitment to customer service has ensured that my thoughts have been turned into reality. I look forward to continuing the development of my own business based on this foundation. Khen Salcehttp://www.affordablecebu.com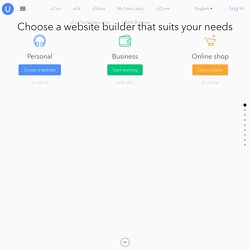 Site Builder Shopping Cart Start selling, today! Use our quick and easy Shopping Cart Add-on for the Angelfire Site Builder and get an online store up and running in minutes. Site Builder Styles
FreeWEB.me - Get a Free Website! Free Site Builder, no HTML knowledge!
Drag & Drop! Drag and drop subpages to set new menu order, drag one page under another page to create a submenu! Widgets & Add-ons! Blog? Gallery?
Our fully hosted ecommerce software helps you succeed. It's powerful, affordable and backed by professional services, business tools and dedicated support from real Volusion experts, 24x7. We are level 1 PCI compliant-ensuring credit card data security-and our 99.9% uptime guarantee means your web store will stay up and running to collect more sales. We'll help you get started today, whether you're just beginning to sell online or you're a professional looking for a new ecommerce solution to maximize your sales.
Criar um site grátis e fácil! - Jimdo
Easy Online Website Builder The Seven Second Rule If web users don't find what they are looking for in seven seconds, they leave.
Easy online website builder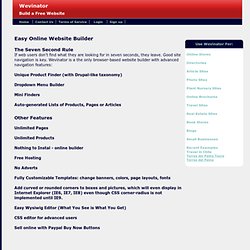 Crie um website gratuito e um blogue gratuito
" É uma maneira para que nossos clientes possam nos conhecer e conhecer nossa cultura sem visitar pessoalmente a loja. Eu não pude acreditar que montei e publiquei o site em uma semana. " " Eu fui um empresário por muitos anos, mas de repente, o licenciamento de minha arte está realmente se encaixando e eu preciso ter uma frase simples e arrojada sobre minha arte. O meu site no Weebly se encaixa nessa visão para mim. " " Eu fiquei surpreso com a velocidade que tive para montar o site. Eu precisei apenas de uma noite calma clicando pelo site, enquanto sentava em frente à TV para botá-lo no ar.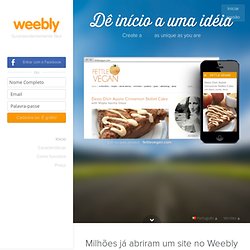 Todos os dias nós exibimos um site incrível construído com o Wix. Quer ver o seu site aqui? Envie o seu endereço URL para wixofday@wix.com Nozomu Hope Ojika, fotógrafo freelance do Japão,...Leia mais Nozomu Hope Ojika, fotógrafo freelance do Japão, construiu um site grátis, preciso e minimalista para promover seu trabalho e talento. Em vez de texto, que é restrito ao mínimo, Nozomu prefere deixar suas fotos falarem por si próprias.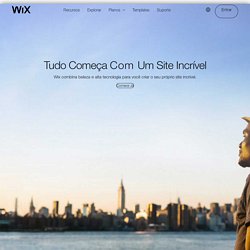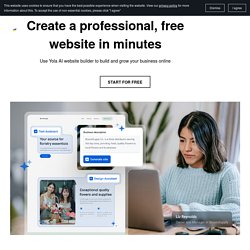 Easy to Use No technical experience required! Make your free website with our easy drag & drop functionality. Everything you need is at your fingertips.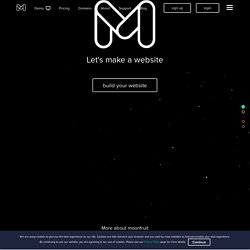 Publish once, be everywhere Your audience expects to find you everywhere, via their PCs, mobiles, tablets and social networking sites. Our new HTML5-powered website builder takes care of this for you. And all for free!
Crie um site grátis. - Webnode