Design
Industrial Design Served :: Gallery. Circle Hook Light Design&|&Design,future technology - Future Design, Technology, Industrial Design, Car Concept, Futuristic Gadget, and Product Concept. Hook the bulb onto the fixture to turn on, unhook and rotate to turn off.
This fixture is made for a standard FC16T9 circle shaped fluorescent light. This piece reengages our relationship to the ubiquitous circle shaped fluorescent. Usually these bulbs are found inside ceiling fixtures in kitchens and bathrooms. (You know the ones that look like boobs.) They are hard to reach, annoying to maintain and often conceal the bulb itself. Rapunzel Descending Device by Sin Sun Ho & Yanko Design. :::::: carnovsky :::::: RGB Color est e pluribus unus RGB is a work about the exploration of the "surface's deepness".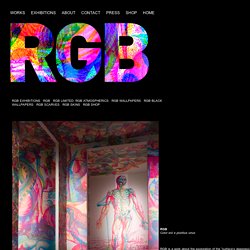 RGB designs create surfaces that mutate and interact with different chromatic stimulus. Carnovsky's RGB is an ongoing project that experiments with the interaction between printed and light colours. Cool gadgets for creative offices | Awwwards - StumbleUpon. Each designer or agency office should be filled with creative and innovative gadgets that surprise our clients and stimulate the imagination.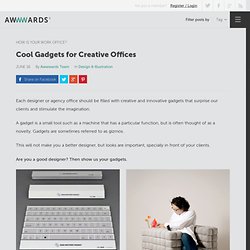 A gadget is a small tool such as a machine that has a particular function, but is often thought of as a novelty. Gadgets are sometimes referred to as gizmos. This will not make you a better designer, but looks are important, specially in front of your clients. Are you a good designer? Then show us your gadgets. Nigel Coates. 34 Cleverly Designed Inventions - StumbleUpon. Bad Control - 15 Most Awesome Clock Designs. Fascinating Lamps by Calabarte | Pondly. Article by Lily I'm a French full time student and a part-time blogger.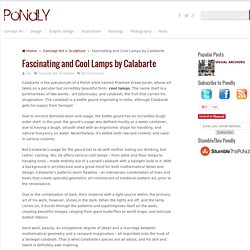 I like Pondly because it allows me to share what I find on the Internet, for everyone to see. Dornob. PennDesign.
Selfmade
Ten Unusual Shapes For Mobile Phones & Yanko Design. Ten Unusual Shapes For Mobile Phones The form factor of your cellphone is quite a defining factor on whether you approve of it or not.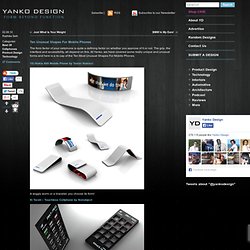 The grip, the interface and accessibility, all depend on this. At Yanko, we have covered some really unique and unusual forms and here is a re-cap of the Ten Most Unusual Shapes For Mobile Phones. 10) Nokia 888 Mobile Phone by Tamer Nakisci A wiggly worm or a bracelet, you choose its form! Fiona Krüger|Product Design and Creative Consultancy. The Chromatic Typewriter. Washington-based painter Tyree Callahan modified a 1937 Underwood Standard typewriter, replacing the letters and keys with color pads and hued labels to create a functional "painting" device called the Chromatic Typewriter.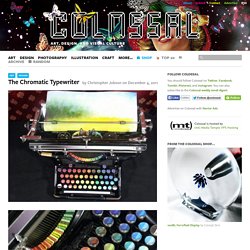 Callahan submitted the beautiful typewriter as part of the 2012 West Prize competition, an annual art prize that's determined by popular vote. I don't know how practical painting an image with a color typewriter is, but if Keira Rathbone can do it… (via dark silence in suburbia) Bartlett & Associates. 25 Unusual Usb Designs. July 13th, 2011 Anila Arshad This is my second part on usb designs, my first post is 10 Most Unique Usb Designs.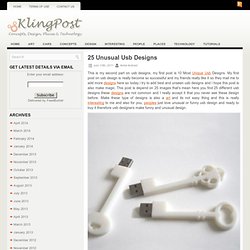 My first post on usb design is really become so successful and my friends really like it so they mail me to add more designs here so today i try to add best and unseen usb designs and i hope this post is also make magic. This post is depend on 25 images that's mean here you find 25 different usb designs these designs are not common and I really accept it that you never see these design before. Make these type of designs is also a art and its not easy thing and this is really interesting to me and also for you, peoples just love unusual or funny usb design and ready to buy it therefore usb designers make funny and unusual design.
A different deck of cards. A different deck of cards Nice cards by Felix Blommestijn, more on his blog. 1st of September 2010.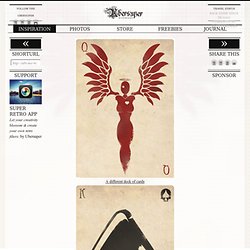 Noam Toran.
---