Semantic 1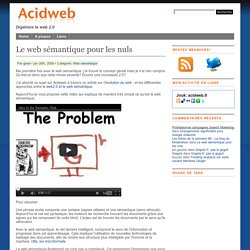 Par Guillaume Noé • Jan 30th, 2008 • Catégorie: Web sémantique Ma première fois avec le web sémantique, j'ai trouvé le concept génial mais je n'ai rien compris. Qu'est-ce donc que cette chose savante? Encore une nouveauté 2.0?
Web sémantique » Le web sémantique pour les nuls
Primer - Getting into the semantic web and RDF using N3
[translations into other languages ] The world of the semantic web, as based on RDF, is really simple at the base. This article shows you how to get started.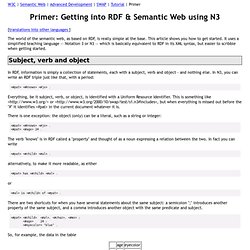 Web 3.0 and semantic web applications in the public sector #govweb3 - Social Matters
1. Métadonnées — Éducnet
currently without a clever subtitle | MilStan's blog
Practical Semantics Seminars in Brussles, Leipzig and Utrecht
Social Media's Web 2.0 Merges Into Semantic Web With Paper.li
Did you ever think about becoming Editor-in-Chief of your own newspaper? Well, Paper.li can score you that gig. In an automated process, those you follow on Twitter and the links included in their tweets, can essentially become the subject matter of your own daily online newspaper that you can create in less than 5 minutes. As social media generates real-time news, it can now interface with Paper.li to not only publish this news onto a micro-site, it will also tweet it out to all of one's Twitter followers daily. Social Media Scientist Daily by Ron Callari Curation of existing Web content is being explored by a number of semantic technology companies today, like Adaptive Semantics that's been generating content for the Huffington Post (see previous post, "HuffPo & The 'Wisdom of Machines' Crack Open Semantic Web Portal").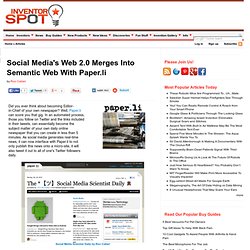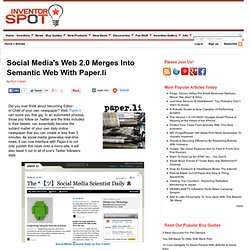 Social Media's Web 2.0 Merges Into Semantic Web With Paper.li
Did you ever think about becoming Editor-in-Chief of your own newspaper? Well, Paper.li can score you that gig. In an automated process, those you follow on Twitter and the links included in their tweets, can essentially become the subject matter of your own daily online newspaper that you can create in less than 5 minutes.
Semantic Web: In Quest for the Next Generation Killer Apps
About Us | webBackplane
Why Cognition-as-a-Service (CaaS) is the Next Operating System Battlefield December 7th, 2013 Read my article in Gigaom on the coming cognition-as-a-service wars. The next thing after the Semantic Web. The Semantic Web may have failed, but higher intelligence is coming to applications anyway, in another form: Cognition-as-a-Service (CaaS).
Nova Spivack -- Minding the Planet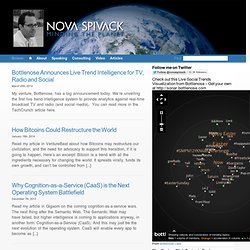 CFP: Semantic Web Journal - Special Issue on Semantic Web and Reasoning for Cultural Heritage and Digital Libraries
The Semantic Web, Part V: Getting Ready | Smart Data Collective
This series on the semantic web started with an introduction in Part I. In Part II, I made the business case for going semantic. Part III focused on complementary technologies. In Part IV, I provided a case study of how one company is already successfully reaping the benefits of the semantic web.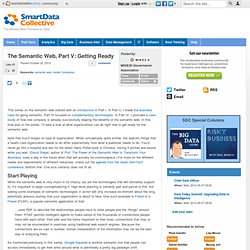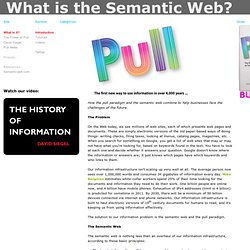 The Semantic Web & THE POWER OF PULL » Introduction
How the pull paradigm and the semantic web combine to help businesses face the challenges of the future. The Problem On the Web today, we see millions of web sites, each of which presents web pages and documents. These are simply electronic versions of the old paper-based ways of doing things: writing checks, filing taxes, looking at menus, catalog pages, magazines, etc. When you search for something on Google, you get a list of web sites that may or may not have what you're looking for, based on keywords found in the text.
The core Semantic Web technology is RDF, a W3C standard that reduces all data to three-part statements known as triples. If your data fits into the triple data model and is stored in one of the specialized databases known as triplestores, the advantages of Semantic Web technology are obvious. This doesn't mean, though, that the technology has nothing to offer you if your data is in more traditional formats such as relational databases and spreadsheets. Open source and commercial tools are available to convert data in these formats to triples, giving you an easy way to combine data from multiple sources using different formats.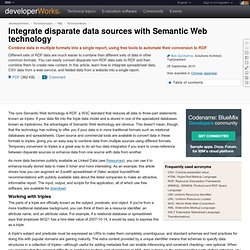 Integrate disparate data sources with Semantic Web technology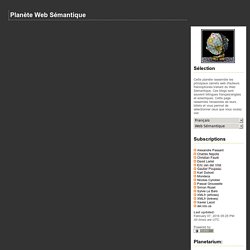 Dans le développement logiciel, les démarches « Lean » inculquent une culture de l'amélioration continue qui s'articule autour de méthodes et d'outils, parmi lesquels : le kanban, la gestion des flux, le WIP, la taille des lots, la gestion des queues, l'intégration poussée des tests depuis les phases de spécifications, etc. Mais je remarque que, outre les nombreuses vertus de ces démarches, elles peuvent avoir des effets anesthésiants sur le comportement des équipes et peuvent s'avérer néfastes si l'on n'y prend pas garde. Car, à force de travailler à petit pas, à flux tendu et dans une perspective systémique ; à force d'être attentif aux petites corrections et optimisations, on devient aveugle aux aspects environnementaux et architecturaux qui rendent possible cette logique de l'amélioration continue.
The Semantic Web is the extension of the World Wide Web that enables people to share content beyond the boundaries of applications and websites. It has been described in rather different ways: as a utopic vision, as a web of data, or merely as a natural paradigm shift in our daily use of the Web. Most of all, the Semantic Web has inspired and engaged many people to create innovative semantic technologies and applications. semanticweb.org is the common platform for this community. You can extend semanticweb.org. Make sure that your favourite semantic tool, event, or ontology is here! Task Force Spam Fighting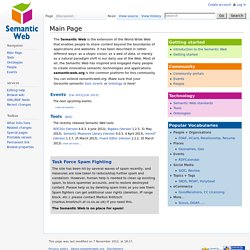 ScopeOpen CallsOpen and Transparent ReviewsEditorial Board Scope The journal Semantic Web – Interoperability, Usability, Applicability (published and printed by IOS Press, ISSN: 1570-0844) brings together researchers from various fields which share the vision and need for more effective and meaningful ways to share information across agents and services on the future internet and elsewhere. As such, Semantic Web technologies shall support the seamless integration of data, on-the-fly composition and interoperation of Web services, as well as more intuitive search engines.
About the Journal | www.semantic-web-journal.net
Exemple d'utilisation de Dbpedia Labs > Exemples d'utilisation de Dbpedia Cette page rassemble une série d'exemples d'utilisation de DBpedia.org, qui propose les données de Wikipedia sous une forme structurée grâce à RDF. A ce titre, ces exemples ne proposent pas de graphisme ou de design travaillé et leur pérennité n'est pas assurée.
Yogi Berra once said, "It's like deja-vu, all over again." With regard to new technologies, the same continues to hold true: The technologies themselves might be new, but they are fundamentally addressing old problems. Many of today's emerging technologies such as cloud computing, SaaS, MDM, and social networks are really attempts to deal with core business issues. These include: Cost Communication Collaboration Data integrity Access to data Network reliability Scale The eternal battle to do more with less And many, many others
The Semantic Web, Customer Service, and the Financial World | Smart Data Collective
The Semantic Puzzle | Marrying ARML with Linked Data
First of all, since ARML (augmented reality markup language) is based on KML and KML uses "Placemarks" (which all have corresponding identifiers) as basic entities, these could be identified quite easily via URIs within the W3C Resource Description Framework (RDF). Another basic concept of KML is "Point". Geo RDF provides properties like "geo:long" or "geo:lat" which express longitude and latitude of a POI and thus makes it possible to uniquely identify certain points on a map using RDF standards. Thus it is possible to map the geo conventions of ARML to the geo conventions of the Semantic Web which are mainly based on Geo RDF. As soon as a placemark has received a URI it is also possible to expose it as linked data and interlink it with repositories like Geonames, DBpedia or LinkedGeoData (which is based on Open Street Map) to generate Linked Geodata. ARML makes it possible to link / make a relation between a "Provider" and a "Placemark".
Why the Semantic Web Will Fail
Semantic Weblogs
How does the emergence of the semantic web change the way we think about information architecture? : block, slab, pillar
Infochimps Twitter Data APIs Get A Refresh
How Twitter could beat Google to the semantic web
Le Web sémantique | Vincent Mazenod, aka mazenovi, aka voisin de gennetines
Deriving meaning from unstructured data with semantic web
The Semantic Web, Linked Data, and Knowledge Organisation
Are You Prepared for the Semantic Web? >
The Road to the Semantic Web
NUI web researcher shapes the future of semantic search - Irish Innovation News
News » SourceCon's Semantic Search Series: Understanding Semantic